A new artist with a quite powerful touch of country music – Elvie Shane with his EP County Roads made it into my selection of reviews when I checked out the 23rd April 2021 releases. Unfortunately, I don't have too much bio about him – but I hope you enjoy his music.
Elvie Shane – About The Artist
Elvie Shane is a country music singer, who is originally from Caneycville, Kentucky, a small village between Nashville and Louisville. He got some publicity in the 2016 edition of American Idol, where he was eliminated in the first round though. County Roads is his debut EP.
Elvie Shane – County Roads – Track by Track
The six track EP lasts 21 minutes.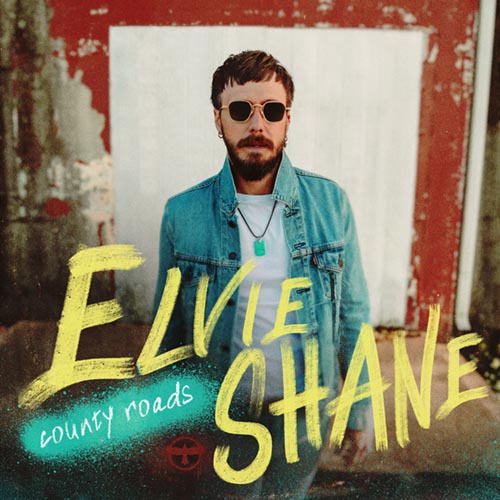 1. County Roads
Powerful guitar riffs from the very first second. No doubt, this guy wants to rock your country soul with County Roads.
Here's to the lessons that don't come cheap
To the long lost lovers in the shotgun seat
Here's to the wild and restless souls
Who got their street smarts
Runnin' down them county roads, county roads
Even though County Roads is by far not as successful as My Boy, it is a cool track. It will be great when the backing vocals are taken over by human country fans again soon. Great song.
2. Keep On Strummin'
Not as energetic and full of powerful guitar chords as the opener, but therefore with some nice piano sprinkles here and there:
3. Sundays In The South
I really like Sundays In The South. The song has a nice groove, is that laid back. Again, the piano in the background gives a very classic and straight touch. Cool song.
4. My Boy
This one is Elvis Shane's biggest one so far: a decent airplay success in 2020 and seven million streams on Spotify only for this track – that's indeed quite huge to step into country music business like that. Ain't that a lovely way to praise your stepson?
He ain't my blood, ain't got my name
But if he did, I'd feel the same
I wasn't there for his first steps
But I ain't missed a ball game yet
And that ain't ever gonna change
I could never walk away
Yeah, he's my son and that's my choice
He ain't my blood but he's my, he's my boy
5. Sundresss
I have to admit that Sundress is the song I can relate to least on this EP. The chorus has a lovely, melodic and catchy character – but I struggle with other parts of the song. Matter of taste, as the song has a nice plot.
6. My Mississippi
The EP closes with a nice Southern Rock / counry song. Really powerful tunes at My Mississippi to me. Well done.
Elvie Shane – County Roads – Spotify
Here is the EP on Spotify:
Elvie Shane – County Roads – My View
No doubt, this is a promising debut. Even though I felt to spot some weakness at Sundress, these songs are really a treat and deserve the Top Pick! banner. I recommend to give Elvie Shane's EP a try!
Media Review – Debut EP / Album Top Picks!
Here are Media Reviews of debut EPs and albums, which I assigned the Top Pick! rating to:
Finland at Flyctory.com
Here are all postings on Flyctory.com about Finland: