Kameron Marlowe indeed made best use of the publicity he gained by participating in The Voice: his debut single, Giving You Up performed overwhelmingly and is currently at 27 million streams at Spotify only. Of course, Nashville wants more tunes from that guy – and thus, on 13th November 2020, he released his debut EP – which is simply called EP. My review:
Kameron Marlowe – About The Artist
Kameron Marlowe competed in the first episode of the 15th season of The Voice on 24th September 2018. He performed One Number Away by Luke Combs and chose Blake Shelton in favor of Kelly Clarkson as his coach. Later, he was "stolen" by Adam Levine. He was eliminated in the Top 24 Live Playoffs. He was born in 1997 and is originally from Kannapolis in North Carolina in the Charlotte metropolitan area. Giving You Up was released independently in 2019 – the huge success finally lead to a record deal, though. His single Burm 'Em All was the first one which has been released under that contract. It also lead to close to eight million streams so far.
Kameron Marlowe – EP – Track by Track
Kameron Marlowe's EP includes six tracks and runs 21 minutes.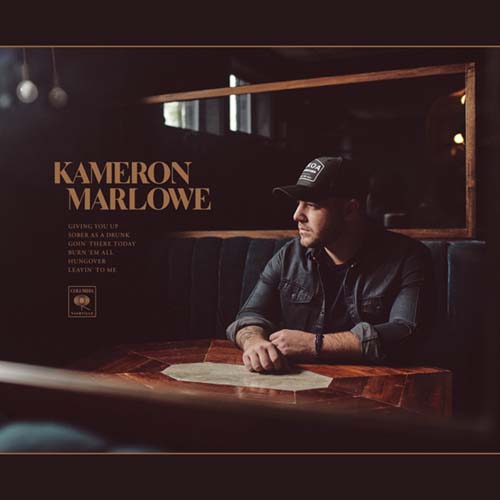 1. Giving You Up
Better safe than sorry – if you had such a successful start in your career, it might be the safest way to start your debut track with the chartbuster. Giving You Up does not feel like a debut single at all – what a sophisticated and well done song with great lyrics.
2. Sober as a Drunk
I'm as sober as a Drunk – the second track also hits the sound just as Nashville loves it nowadays. Hard to say whether the clear and powerful melody is better or this impressive voice. The result is simply good.
3. Goin' There Today
Not a ballad, but defintely a slower track. When the guitars are mixed in a slightly more quiet volume, Marlowe's voice is even more catching.
4. Burn 'Em All
As mentioned above, Marlowe released Burn 'Em All as a single before the album.
Pour the gas, light the match, set the night on fire
Set the the blaze, let the flames get higher
Every cigarette, еvery dollar, every problеm
You got on you from a town this small
Tonight we're gonna burn 'em all
The guitars are playing at full force towards the end of chorus – overall, this song is just powerful, in lyrics, in vocals, in melody. Love it even more than Giving You Up. 
5. Hungover
Hungover is again simply a cool track. Nice bass groove and good rhythm – Kameron Marlowe makes you move and feel good. Great one!
6. Leavin' to Me
The EP closes with a lot of emotions: Leavin' to Me is a beautiful ballad. Marlowe delivers these kind of songs in style as well. Great for cold winter night hugging.
Kameron Marlowe – EP – Spotify
Here is the Spotify link to Kameron Marlowe's EP:
Kameron Marlowe – EP – My View
Six tracks, six hits – this EP is just that mature, that powerful, that well done – you can hardly imagine that this is really a debut. With these songs, Kameron Marlowe is about to become the Rookie of the year, using sports language. Fantastic sound.
Media Review – Debut EP / Album Top Picks!
Here are Media Reviews of debut EPs and albums, which I assigned the Top Pick! rating to:
Aviation Museums
Here are all postings about museums concentrating on aviation: