It took Olly Murs almost four years to release a new album. From 2nd December 2022 onwards, the fans have been able to listen to Marry Me, his latest eleven song collections. After ups and downs in his international career, I was really curious about this one.
Olly Murs – About The Artist
Oliver Stanley Murs was born on 14th May 1984 in Wiltham, Essex, United Kingdom. He turned into a professional musician in 2007, but became popular in his home country two years later, when he finished the sixth series of The X Factor as runner-up. This also lead to his debut single Please don't Let Me Go, which topped the U.K. charts immediately and gained a golden record. Similar to the self-titled debut album released in November 2010, though, he did not manage to sell well outside the U.K. and Ireland. The international breakthrough was rather the 2011 song Heart Skips a Beat, recorded with Rizzie Kicks, which also has been on the top of the German and Swiss charts, for example. This also boosted the second album release, the 2011 In Case You Didn't know, in several markets.
Murs' third album Right Place Right Time has finally been the first one which also made it bigger in the United States. Other big singles were Troublemaker (2012) and Dear Darlin' (2013), which was a chart-topper in Austria. His key market stayed the U.K., though, where Murs so far has received 14 platinum records for albums only. His last album release was You Know I Know in November 2018. The album went up to the second spot in the U.K. and was Top 10 in Ireland, but not really a good seller in other markets.
Olly Murs – Marry Me – Track by Track
The eleven song album lasts 37 minutes.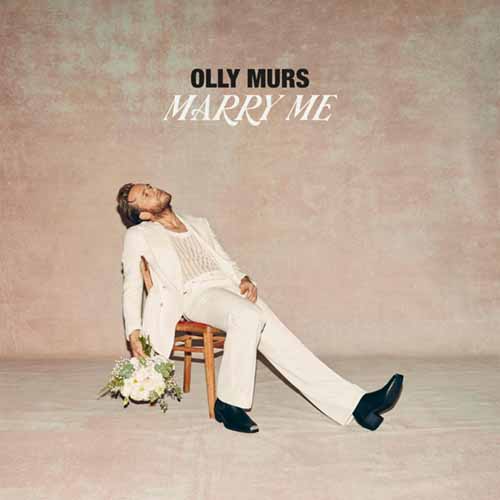 1. Die Of A Broken Heart
The key single of the 2022 Olly Murs album starts with marimba sounds, which later are a key part of the melody of the song. Nice song with a good vibe. Feels much more like summer and fun than a cold December day may suggest to you.
2. I Found Her
I said "Ooh" I found her
Everything about her
Makes me "Ooh" the power
Everybody sees the blinding lights around her
I can't live without
If the world was falling down around us
That's a typical pop track. Present rhythm, a dominance of the keys. The lyrics are not overwhelmingly deep, but Olly Murs presents a nice love song here.
3. Go Ghost
Is it suitable to move from a lady and love straight towards a song with ghosts? Okay, this one is another about love – the key words of the chorus are 'Cause baby I just wanna go ghost when I'm with you. The good old ghost mode in modern communication – and love. Maybe there is an Airplane Mode song on the next album – this one is a reasonable listen.
4. 25
The fourth song is a bit of slower. The song partially comes with a present rhythm, but overall, it is a very intense ballad listen. One of the most fragile – but also most beautiful – songs of the album.
5. Dancing On Cars
Dancing On Cars is one of three singles of the album. It's a nice pop track, the rhythmic brass fanfares and the nice work on the bass are likely the key elements of the listener. I just feel that "nice" is just not enough when you are Olly Murs.
6. Do Me Like That
The sixth song comes with a nice bass groove. However, the remaining is another of these "Not too bad" songs on the album
7. Marry Me
The title track of the album has a good vibe and memorability. The sassy and swinging vibe of the chorus stays in your mind and thus leads to one of the best listens of the album.
8. Best Night Of Your Life
The stomping rhythm and the powerful guitar turn Best Night Of Your Life into a remarkable listen. I personally would rate this one very high, especially compared to other songs of the album.
9. I Hate You When You're Drunk
Because you wanna buy champagne
And you wanna throw the shots back
And now you're taking photographs
Why am I the only one that don't laugh?
Oh, I hate you, hate you, I hate you, hate you when you're drunk
So quit acting like a fool
'Cause I hate you when you're drunk
This single release is definitely special. The storytelling is better than in other songs, the chorus has a nice hook and is also nicely made to sing-a-long with Olly Murs. If only Marry Me would include more of these versatile, also a bit of surprising tracks.
10. Don't Stop Dancing
The song is very pop-ish. I feel that Olly Murs fans will appreciate this one very much. Not too bad in my point of view.
11. Let Me Just Say
The eleventh and last track is a straight piano ballad. Olly Murs from a very emotional and personal side. Definitely a highlight and pleasing finale of this listen.
Olly Murs – Marry Me – Spotify
Here is Marry Me on Spotify:
Olly Murs – Marry Me – My View
Olly Murs presents some really nice songs. But he is also somehow illustrating why his international career feels to fade. You just cannot argue that his songs are bad – but nonetheless, they just don't come with the catch of his mid 2010's classics. Fans will be happy to have some new songs, but I doubt that this one will be chart topper outside Olly Murs Mainland.
2022 Pop Music Reviews
Here are all my Media Reviews as of 2022 related to pop music:
Flyctory.com about Ireland
Here are all my positings related to Ireland: