Originall, the German Neue Deutsche Welle legends Paso Doble were scheduled to release her new album Urknall on 15th January 2021, the same day Peter Schilling's published Vis Viva. However, the album has been delayed by three weeks, so that the release date moved to 5th February. I was really curious about the publication, which has been produced in collaboration with DJKC.
Paso Doble – About The Artists
The German band Paso Doble is one of the most important names of the Neue Deutsche Welle era in the early 1980's. Paso Doble is a duo, consisting of Frank and Rale Oberpichler, who are married. Frank, born as Frank Hieber, was born on 9th May 1957 in Paderborn, his wife Rale on 14th December 1952 in Pinneberg near Hamburg. They are of course named after the Latin American dance. Already their first single, Computerliebe (Die Module spielen verrückt) ("Computer Love – the modules went crazy") was a very successful in 1984. In the following year, Herz an Herz ("Heart at Heart") was another big hit of the duo. Ten years after the release, Herz an Herz again became a Top 10 hit in Germany, Austria and Switzerland, interpreted by the pop / dance artist Blümchen.
After their 1985 debut album Fantasie, which is now sold as Computerliebe, Paso Doble did not release an album for 21 years. Urknall is their first release since nine years.
DJKC – About The Artist
The civil name of DJKC is Kai Soffel. He is music producer and radio host, but majorly is famous as a DJ in Germany. He is living and working in the Frankfurt area. Together with Paso Doble, DJKC recently release a Christmas track, Season Song.
Paso Doble & DJKC – Urknall – Track by Track
Urknall features 18 tracks, some of them are remixes. The total playtime is 62 minutes.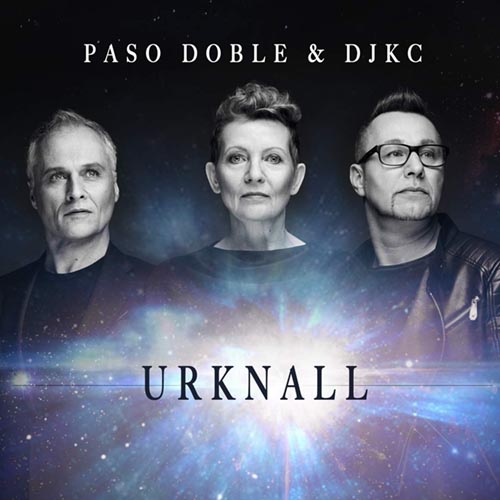 1. Computerliebe Prelude
The first track is a 67 second prelude leading to a new version of one of their big songs, Computerliebe.
2. Computerliebe (DJKC Remake)
Of course, I was curious, how the "new sound" of Paso Doble is like – especially as as I have to give in that I did not follow the duo the last decades too much. The sound of Computerliebe in 2021 is cool, no doubt. Electric guitars, a mystical atmosphere – but the chorus is finally close to the original 1980's recording.
3. Übers Ziel
Übers Ziel is the first new song of the album. The strong echo on the high vocals, the beats feel like 1980's German music. The song is very rhythmic, the melody is catching.
Schieß mit übers Ziel tausend mal hinaus
Und check mit mir jeden Traum aus
Knall mit mir auf die Erde
Nach freiem Fall
Verbrenn Dich an mir
Immer noch mal.
("Overshoot with me a thousand times
And try out every dream
Hit the Earth with me
After free falling
Burn yourself on me
Once again")
Even the lyrics feel like the 1980's and the NDW time. Don't expect them to be too deep.
4. Es ist (wie Du mich liebst)
Es ist (wie Du mich liebst) ("It is the way you love me") is using similar elements – but overall Übers Ziel is much better than this fourth song of the album.
5. Schicksalsgöttin
The fifth song, Schicksalsgöttin ("Goddess of Destiny") is a good listen again. The song is about the back and forth in feelings about love.
6. Lover
Computerlover, schenk mir Deine Liebe
Ich träum von Deiner Software
Wir zwei sind über-kompatibel
("Computerlover, give me your love
I dream of your software
We are more than compatible")
If you do not listen to this track too closely, it might even be a German Schlager track. This also means, it is an easy to listen, good to dance song – which is likely just what Paso Doble wants to do anyway.
7. Ich hoffe Dich (DJKC Remake)
Ich hoffe Dich is a remake of a 2008 single. The song feels very modern to me – and has a cool vibe. Very good listen.
8. Du weinst
Du weinst ("You cry") is one of the longest songs of the album. Regarding the tracks before, the song is an absolute surprise – as it is nothing but a rock music ballad. Rale does great in here. One of my favorite.
9. Gebet
The album continues with a slow and deep track: Geber is indeed made up similar to a prayer. Making a duet out of it, so that god is speaking to the vocalist Rale ist maybe a bit too much. But the atmosphere of this song is amazing.
10. Schwarzer Engel Eifersucht
Even the topic stays a bit of spiritual ("Black Angel Jealousy"), the song allows DJKC again to create a lovely sound bed and a groovy rhythm. The song is one of the best ones on the album to me.
11. Smalltalk
Even though I listened to Smalltalk a couple of times, I do not really get into the song, which is obviously dealing with small talk situations.
12. Solange noch
This song ("Whilst still") has been the second Urknall single release. The song is a socio-ciritical ballad about the important things in life and the real problems we are facing. This section of the album offers some really good and deep lyrics and tunes. Love to have this contrast of party songs and deeper tracks.
13. Virtuelle Zeit
Wo ist unsere Liebe? ("Where is our love?") is one of the core lyrics of this song, which is dealing with how times are changing, especially in the virtual world.
14. Kleine Killer 2020
Kleine Killer 2020, a re-recording of a 2006 track, was the first track Paso Doble & DJKC released to promote the album. This song is quite close to their "traditional" sound – good one!
15. Herz an Herz (Funky Version)
The track is exactly what you would expect of a funky version of Paso Doble's most famous one, Herz an Herz. The version feels to be a bit too long to me, but overall, it just creates so many feelings – so it simply has to be a good one.
16. Fantasie (DJKC Remake)
The last four songs feature three remakes / remix. The 1985 single receive a very atmospheric remake – almost feels like a trip to space. Very electric, very cool.
17. Tanz auf dem Seil
Ich tanz auf dem Seil
mit unsicherem Schritt
und hab keine Angst
daneben zu treten.
("I walk on the rope
With uncertain steps
And do not fear
Do do a wrong step.")
The backing vocals of this song have a touch of Enigma and Gregorian chants. The piano and the cocentration on Rale Oberpichler's voice gives the song a very dramatic feeling. This one is just catching me. I love to listen to it.
18. Herz an Herz (Future Orchestra)
This version of Herz an Herz indeed starts with orchestral sounds. However, the song is more and more turning into a slowed down duet version of the song. This is the song the 1980's teenagers were missing when they wanted to hug their first love on the dancefloor. Beautiful!
Paso Doble & DJKC – Urknall – Spotify
Here is the Urknall as a Spotify widget:
Paso Doble & DJKC – Urknall – My View
Good job, Paso Doble and DJKC. The 2021 Urknall might not be a big band in the virtual record stores, but it is a really solid album. Some songs remind me of my childhood times in the 1980's – some others are surprisingly deep and feature some good topics. I really enjoyed to listen to the album.
German Artist Music Reviews on Flyctory.com
Here are more Media Reviews of the German Artists:

Flyctory.com in Munich
Here are all other Flyctory.com postings related to Greater Munich: