As I really enjoyed to listen to Andy Clark's new album I Love Joyce Morris, I was really hoping to manage to see one of his concerts in Germany. Finally, I made it and visited his show in Dusseldorf in the Cafe Beethoven on 19th October 2019.
There is a designated 361 major size picture gallery to this concert in the concert gallery section.
Cafe Beethoven Dusseldorf – Venue & Tickets
Cafe Beethoven is a cozy cafe in Dusseldorf-Flingern, not too far from the city center. It is quite ideally located for public transports, as there are commuter rail (S-Bahn), tram and underground stations nearby. Also in preparation of this coverage, the staff was very friendly. The cafe looks very cozy, I will definitely have a bite or breakfast there one day. The venue was packed at its capacity, which may be around 80 people.
The Dusseldorf concert has been organized by stadtklang, a non-profit, which is organizing these kind of concerts for professional musicians in intimate atmosphere around Dusseldorf. Tickets for the concerts were for free. However, you were asked to register via Eventbrite and additionally reserve a seat in the cafe by phone directly. Towards the end of the show, the organizers collected a voluntary tip for the artist, though. The reception of Andy Clark was very good, some people gave 20 Euro per person for the evening.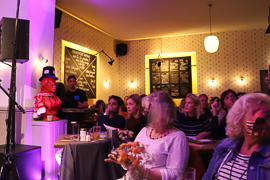 Andy Clark – About The Artist
I ran into Andy Clark when I received his promotion CD from his record label, Greywood Records. I really liked his current album, I Love Joyce Morris. The first track of the album, Welcome To The Party, was on my Spotify and Amazin Music playlists for quite a while as well.
Andy Clark – The Show
The concert began at 20:10 and was scheduled to be split into two sections, split by an intermission break. Before the break, for example, Clark played Welcome To The Party, Hunker Down and Socks and Shoes. Like during the whole album, there were also elder and new tracks, which did not appear on the album. There were also some covers like a one of the Tears for Fears version of Mad World. The first set took some 35 minutes. The audience was cheering, especially during the last two songs, when Clark animated them to clap during Daddy Please.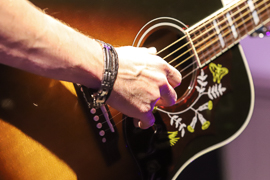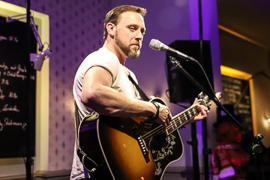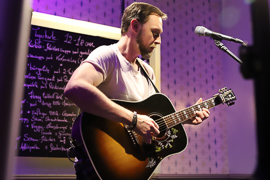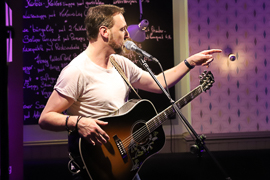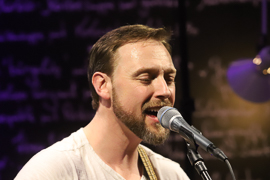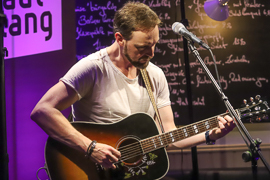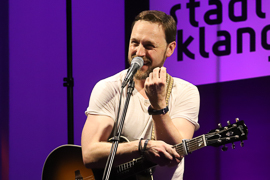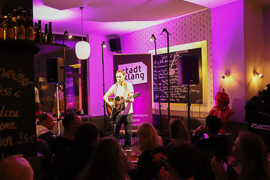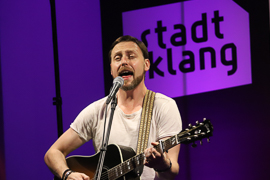 The second part of the set incepted after a some 25 minute break. After Clark played songs like Monsters and Cover Girl, he go the audience again, who swayed to the Paul Simon cover You can call me Al. With a cover of Leonard Cohen's Hallelujah, he really touched everybody in the cafe. Clark showed an incredible motivation to give his songs and covers. He played a nice version of Sultans of Swing as well as the Bee Gees classic To love somebody. Finally, the organizers had to slow down Clark even a bit, as he played too close towards the curfew. The second set after amazing 85 minutes, which lead to a total time of two hours net.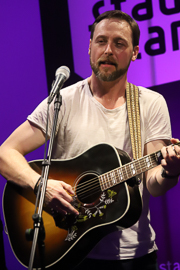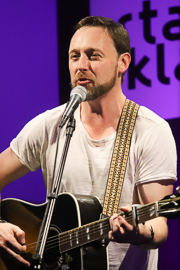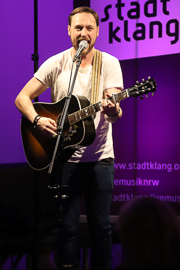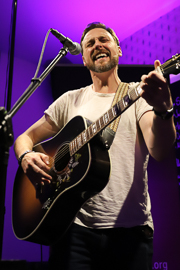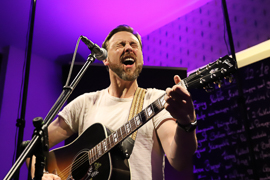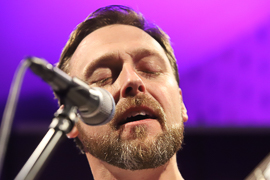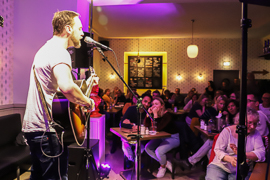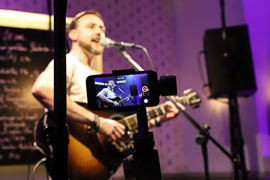 Andy Clark – The Gallery
The major size versions of 361 pictures of the concerts are located in the concert galleries:
Andy Clark – My View
If you are singing in a group of maybe seventy, eighty people and there are at the very least six, seven people who are crying to your song, you did something right. Andy Clark did so, when he sang Cohen's Hallelujah. Overall, it was an amazing even with a great musician, who did not only touched people with than concert, but hope also outside the arenas soon. His songwriting stays exceptional, his voice was powerful and you felt every song that he enjoyed performing the song and telling stories. An amazing travel to Andy Clark's songs in a cozy atmosphere. We should definitely stay in touch with Andy Clark –  he deserves to take the next steps soon! Top Pick!
Postings about Concerts
All postings about concerts I visited:
Postings of the Greater Cologne Region
Here are postings which are dealing with the Greater Cologne and Rhineland region: