Right after I returned from Pittsburgh, Sound of Nashville and the German country music scene came back on my schedule. On my final concert of the year, Noah Guthrie was visiting Cologne on 9th December 2019. The Jaki, a very intimate venue, thereby felt to me a great scenery for a nice intimate show.
This posting comes with 272 major size pictures as part of the concert gallery.
Jaki – About The Venue
The Jaki Klub, which used to be called Studio 672, is the minor venue in the Stadtgarten location. I recently reviewed the Stadtgarten Christmas Market, which was – of course – still ongoing at the time of the show. The club is quite well located by local rail and the Cologne Underground system. The club features a capacity of less than 200 people.
I liked the very intimate and cozy atmosphere of the club. However, it is very difficult to find. In contrast to the major Stadtgarten concert venue, which is more or less in a separate part in the rear of the restaurant, the entrance for the Jaki is outside and was thus more or less covered by the Christmas market activities. Through some sort of back door, it shares the sanitary facilities with the beer garden (or in winter time: Christmas market).
Noah Guthrie & Nik Wallner – About The Artists
If you run into a bio of Noah Guthrie, you will typically run into four references: first of all that he a 1994 born artist from South Carolina. His musical career started comparably late, at the age of 14, when he received his first guitar. His talent is underlined by the fact that just some four years later, he had a massive viral hit on the internet, covering Sexy and I Know It by LMFAO. This video had an incredible number of views on YouTube.
This song granted him several TV and media appearances and finally lead to his first single, Call Home, followed by his debut album Among The Wildest Things. In 2015, he played the role of Roderick in the sixth season of the TV music show Glee. Last, but not least, he reached the semifinal at America's Got Talent in 2018.
South of Munich-based Nik Wallner's career is just about to start. The German artist singing German lyrics just released is second single, So lässt es sich leben. He is 27 years old and plays guitar since the age of eight. His musical career was boosted by a Bavarian band contest in 2013 and – even more – by reaching the knockouts of The Voice of Germany one year later.
Noah Guthrie & Nik Wallner – The Show
The show was scheduled to start at 20:00 hrs and Nik Wallner's set incepted more or less right in time. His first song was the catching Ich bin Country ("I am country"). The next two songs were Zeit zurückdrehen ("Turn back time") and Du musst gehen ("You have to leave"). The moderation of the fifth song, Ich wär dabei ("I would join") was a bit unfortunate as it sounded a bit like he would rather join his friends at the firefighter's Christmas party than playing in Cologne. The best songs of the forty minute set to me were the last two ones, though. Hell Yeah has nothing to deal with the devil, as "hell" in German means bright as well. The wordplay Landweilig in the last song title – "Langweilig" means boring and "Land" also countryside was quite nice and the song a nice praise of living in a small village on the countryside.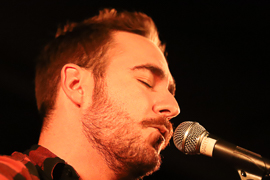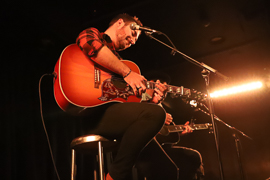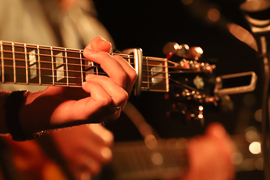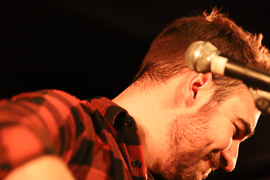 While Nik Wallner was joined by his guitar player Benny, Noah Guthrie, who started his set at 21:00 hrs, was along on stage. His voice was dominant, though his guitar play is also very enjoyable. His first song was When you go, Most of his songs were very intense, you just felt you have to listen to them. The third song, for example, Til it thunders, uses a phrase his grandmother used to say about biting turtles and turns it into a love song message. Most of his songs were originals, but there were also some covers like I would die 4 U, which has originally been performed by Prince. Towards the end of the show, he performed Sexy and I know it, which is of course very impressing. The last song of the ordinary set was the touching love song Only Light I Need, Fans asked him to perform Show me some mercy in the encore, which worked extremely well for a spontaneous song. The very final song was the country classic You are my sunshine. Guthrie's set lasted some 70 minutes, so that the show was over at about 22:10.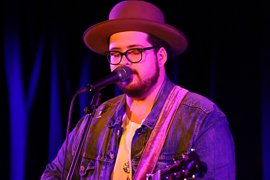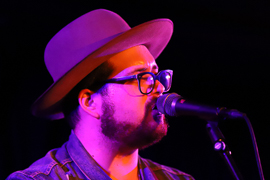 Noah Guthrie & Nik Wallner – The Gallery
Here are 272 major size pictures of the show. They are located in the concert gallery:
Noah Guthrie & Nik Wallner – My View
For me, this show was very difficult to judge on. First of all, I definitely liked the atmosphere of the club, which made it a very enjoyable evening. Nik Wallner used the chance to get some more attention in the country music scene. However, you feel that he still needs to develop a bit from a regional hero to a national or maybe even international artist. He acts quite nervous and some of his song tend to be a bit thin. However, some others like Landweilig show that this artist has a lot of potential. And, undoubtedly, you feel any second of his stage time that he enjoys to perform and tell his stories to the people. It will be cool to see him on the minor stages during the 2020 C2C in Berlin.
One fact which made it difficult for Wallner to get the full attention was of course the incredible Noah Guthrie. Guthrie is one of these artists you just have to listen to. While some people were chatting during the support act (which I feel is very impolite), the people were listening or at least quiet during Guthrie's performance. His voice is so breathtaking, you just have to focus on it. Maybe I was an unfair spectator, as I was still terribly jet-lagged by my US trip, but especially part of the middle part of the set list felt a bit monotonous to me. Nevertheless, I liked Guthrie's performance.
Sound of Nashville on Flyctory. com
Here are all other postings related to the Sound of Nashville concert series in Germany and the Netherlands:
Postings about Cologne
Here are all postings about my home town Cologne: