Somehow, a sad moment. The last show of Weird Al Yankovic on this trip. Day 5 would take me from Boston to New Bedford. Not a too long drive. As I already stated in my Day 3 posting, I should have done the same like Jeremy (and the band) and transfer from Albany to Southern Massachusetts directly – I finally ended up with significantly less time in Boston than I expected. Thus, I also altered my plans and headed right out of the city of Boston – need to have a closer look to that beauty on a designated trip.
This posting comes with 109 major size pictures in the concert galleries.
Good Morning Boston
I did not have a too good night – not a hotel mistake at all, though. With all the Friday music, the morning at the DoubleTree by Hilton Boston Bayside was rather stressful – but I tried to prepare as much as possible for the following days. Some issues (wrong parking fee) at check-out – but the breakfast was nice. I was wondering that if you tip in the hotel restaurant, this one will finally not pop up in your hotel invoice (which also means the invoice amount does not match the booking on the credit card). Better don't get too deeply into US taxation or whatever law here.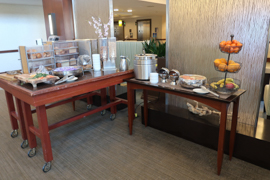 To 3A or not To 3A – What a Stupid Question!
I directly headed South out of Boston and thereby first went through the UMASS (University of Massachusetts) campus, following by driving along the The Rainbow Swash gas tank. Initially, I wanted to do the whole Southern part of the Massachusetts 3A route and take many pictures. Indeed that would have been a nice dedicated road trip posting, but there was just too much to see and it would have taken ages. Really beautiful scenery along the coastline.
I especially enjoyed driving through legendary Plymouth, which would by its own be worth a day trip already. I visited some of the historic sites some years ago. Need to come back one day.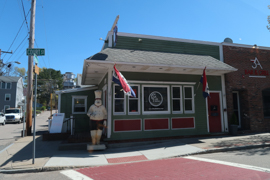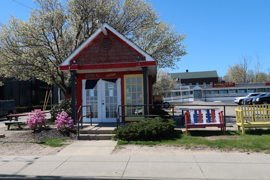 After passing Plymouth, I changed to the direct route to New Bedford. Really nice road, beautiful nature.
Strolling Through New Bedford
My first stop in New Bedford was an Amazon Locker called Supernatural – I needed some special power strip with universal sockets to have better US trips in the future. Then I headed into the city center and ended up parking next to the Zeiterion Performing Arts Center, the venue of the third and last Weird Al show of this trip.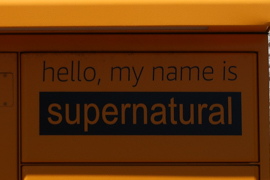 Wow, the historic district is a real beauty! I did the same what Kimo had done a few hours before (not inspired by him, I just also had it on my list…) and visited the excellent New Bedford Whaling Museum.
Here are some more snaps of the historic city center. New Bedford Whaling is even a National Historic Park. Lovely weather and a good time out there. No rain this time, things are getting better definitely.
A pile of Fish and Chips and a new Hampton
Some five hours before the show, I left New Bedford and drove to Fairhaven, which is just the next city East of New Bedford. The towns are divided by the Acushnet River. Another really beautiful spot. I stopped by a local seafood self-service restaurant and had an excellent pile of Fish and Chips. There is no need to go for the Large portion at Genes Famous Seafood, I tell you!
Just a short drive from there was my final overnight for this trip, the Hampton Inn New Bedford / Fairhaven. A bit of a strange check-in, but a nice room and a good distance to the venue. Already a lot of stuff to do to guarantee an early leave on the following morning.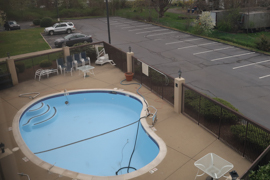 The Last Show for Five Month
Having nine shows of Weird Al's 2022 tour on my list sounds great, but due to several factors, it felt really tough during the New Bedford show for me. Somehow, it felt like the very last one. My next show after New Bedford is 165 days later, on 11th October 2022 in Melbourne, Florida. There are many rationales like the price the flights and all the one-time travel costs. At the time where I had to buy the tickets and look for flights, in December 2021, I also had to regionally and chronologically spread the dates of the shows. There was still the risk of Covid-19 travel bans and I wanted to prevent a complete loss of all the tickets.
The show was really great, there were even some references, which I highly appreciated. Great to have my favorite Skipper Dan in the show again, for example. The encore track was Not Fade Away by Buddy Holly – thanks! Even though I was "just" in the third row and hidden between other spectators, I had a nice angle, especially to Al and to Jim – and the Canon G7 is doing a great job, even from a significantly larger distance than in Albany on Day 3. A key factor apart from the great camera is the amazing PA work by Weird Al's team, by the way. Would love to bring my professional gear one day.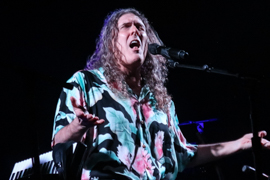 So long, I will miss these guys for the next months – including Emo Philps, who just feels to belong to that kind of concert format. This time, they explicitly requested not to take pictures during his show… So I did. Still you will find a 109 major picture gallery belonging to this post. I loved to hang out with some community friends after the show. I know there is hardly any chance for me to join before October – I wish it was different.
Weird Al Yankovic, Albany, NY, 27th April 2022 – The Gallery
There are 109 major size pictures of the show in the concert galleries:
Weird Al Yankovic 2022 Tour Kick-Off – Day by Day
Here are the episodes of my 2022 Weird Al Yankovic tour kick-off trip report
Day 5, 29.4.2022 – My Final Curtain… For Five Months
Weird Al Yankovic 2022 Tour – Flyctory.com Playlist
At the morning of Day 2 of the trip, I decided to create a playlist with all the originals (and very few covers). Just when you need a warm-up soundtrack:
Flyctory.com on Eating & Drinking
Flyctory.com is not a culinary blog. Nevertheless, here are all posts dealing with Eating and Drinking:
Stadiums & Arenas
Here are all reviews and reports about (sports) Stadiums & Arenas: