Fancy has truly been a Eurodance legend in the 1980's. Even though his last Top 20 chart entry, a mix of songs, is dated as of 1998, he is still having a significant fan base and is doing music. On 14th June 2021, he will be back with the album MASQUERADE (Les Marionettes), which is going to be released on 11th June 2021.
Fancy – About The Artist
Fancy's civil name is Manfred Alois Segeith. He was born on 7th July 1946 in Munich. Apart from using the name Fancy as a musician and singer, you may also know him as a producer. There, he is typically named Tess or Tess Teiges .He started to play the guitar as a teenager and worked in the music business since the 1970's. He first had some remarkable songs as a producer, before the single Slide Me Nice was his breakthrough as an artist. The song went up to the 11th spot in the German Single Charts. The song stayed in the charts for twenty weeks. In Austria, the song even climbed up to the second spot, it made it to the ninth spot in Switzerland as well.
Especially during the 1980's, he had several songs which made it to the Top 20 in one of the countries. The most prominent ones is likely his second single Chinese Eyes, which made it to the Top 10 in Germany and Switzerland. Other songs had very good placements as well, like Lady Of Ice (1987) or Flames of Love (1988). He also regularly released albums (the last one has been Forever Magic in 2008), but had significantly more success with individual tracks. The Mega-Mix '98 of his Best of Fancy compilation was the last time (in 1998), he made it to the German Top 20 charts.
Fancy – MASQUERADE (Les Marionettes) – Track by Track
The fifteen song album lasts 62 minutes. The last three tracks are extended remixes of songs on the album in the original edit. Without these three songs, the total playtime is 44 minutes.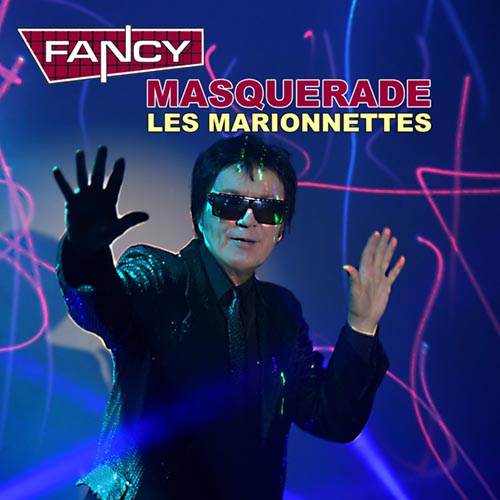 1. I Like Your Smile
Fancy's website states about Masquerade (The Marionnettes): The Beat of the 80s, brandnew smash hits […]. I Like Your Smile really makes me smile. Sometimes, the song feels a bit too naive, especially in the vocal performance, but the rhythm and style is definitely reminding me of Modern Talking and other 1980's dance acts. I am sorry, I just love it!
2. Rockabye Me
I just can't help to think about Modern Talking and Blue System while listening to these songs. The key difference is the very different sound of Fancy's voice. I just enjoy it – but I understand if people alternatively feel a bit scared.
3. I'm Still a Fool
I'm Still a Fool completes the trio of songs which has been released before the album. A very rhythmic and melodic song, almost with a touch of German Schlager.
4. Lovers
The echo in the sound and the synth elements of Lovers comes a bit like a mixture of Pet Shop Boys and Erasure to me. Again, a certain strong accent in the vocals pops up here and there. Some might call it characteristic – to me it is disturbing here and there.
5. Lost in Music
Fancy covers Sisters Sledge in this one. Thereby, he is close to the sound of Masquerade and transforms the 1979 classic into an Eurodance / synth pop song. The song is a nice fit to the album – if you enjoyed the songs before, you will keep on partying to Lost in Music. If you disliked the songs before, this will strengthen your feelings about the album as well.
6. Take Your Time
After the album felt to be a bit narrow in style, it more and more explores other styles of the golden 1980's. The main theme of Take Your Time feels a bit like Funkytown by Lipps Inc. . Just different enough to avoid being a cover.
7. Losing Control
Losing Control could be another Dieter Bohlen song, indeed. However, there are more electronic elements in Fancy's way of recording music of the Modern Talking era. Please come back to me, I am on my knees. Feels like a comeback again.
8. Tonight
A bit of kitschy electronic pop, Eurodance style – also in this eighth track, Fancy is delivering just what his fans likely will enjoy to listen to.
9. Can You Feel the Beat
Music from another era – when the synthesizer chords follow the dark Can You Feel The Beat? question by Fancy, it just feels (again) that this album is thirty years too late.
10. Summerwine
From time to time, this album surprises with a cover. Here is the 1967 classic by Lee Hazlewood, which she recorded with Nancy Sinatra. Forty years later, the song became a success as a cover by Ville Valo and Natalia Avelon. Fancy just waits fourteen more years for his version of the classic (there have been plenty of covers by other artists, of course). Compared to other versions on this album, the re-interpretation is rather lame.
11. Flames of Love (Bobby To Mix)
Flames of Love almost comes with a touch of ballad on this album. One of the most melodic and beautiful songs on this album.
12. My Way
We got Nancy two tracks ago, here is Frank: the Sinatras have quite a presence in Fancy's 2021 album. This re-interpreation of a classic is definitely adding a very own character. I feel it is a nice way to close the album (before three songs I would rather see as bonus). Fancy is doing My Way in his own way… And that means that you have to be able to dance to the tune.
13. I Like Your Smile (Extended)
Here is the overtime period of Masquerade (Les Marionettes). The first extended version is doubling the original duration of I Like Your Smile. I prefer to take this one at most as a nice bonus to the album. This version is just too lengthy to me.
14. Lovers (Extended)
In this version, Lovers becomes quite an epic song as well. The 3:27 minutes original is spread to just over six minutes in this track. It is overall my favorite out of all three extended versions. The other two ones just too much feel like "too lengthy" instead of "added value".
15. Flames of Love (Bobbdy To Mix Extended)
Apart from the extra time, the album closes with a version of Flames Of Love, which is surprisingly similar to the eleventh track on the album.
Fancy – MASQUERADE (Les Marionettes) – Spotify
Here is MASQUERADE (Les Marionettes) Spotify:
Fancy – MASQUERADE (Les Marionettes) – My View
I use that phrase from time to time – but this is definitely one of these "Love It Or Hate It" albums. Fancy is doing his style of music. He is that in technical perfection (maybe apart from the vocal performance and strong accent here and there). If you still want to listen to this kind of music thirty years after everybody loved it, is up to you. It is the music of my childhood, the sound of my youth. I just can't hate it.
Germany & Pop Music
Here are all postings related to Pop Music and Germany:
Songs Of My Life
Here are the postings of the personal Songs Of My Life category: