Upsahl is a pop–rock singer-songweiter from Phoenix, Arizona. Just before she is setting foot on German soil during her 2022 tour, I have been able to chat with her. Here are her thoughts about the tour and how it is like to be away from home, supporting Fletcher. Enjoy the interview.
Flyctory.com meets Upsahl
FLYC: Upsahl, thanks for joining me. You are just about to start your European tour. What are your feelings toward the following three weeks?
Upsahl: Thanks for having me! It'll be my first time visiting most of the cities I'm playing, so I'm over the moon about this tour. Getting to meet new fans in new counties that speak other languages is going to be so rad.
FLYC: Is there maybe a city or a venue you are looking forward to most?
Upsahl: I've heard the most amazing things about Berlin – the shows, the night life, the music scene, the art scene, etc. So I'm really excited for our show there, and to hopefully go out afterwards!
FLYC: Your 2022 tour leads you through Scandinavia, Germany, the Netherlands, Belgium, France, Ireland and the United Kingdom. Do the fan reactions to your songs differ between these countries? Do they differ between Europe and North America?
Upsahl: The only country I've played before this tour is the UK, and the show in London was one of the most fun shows I've ever played. I'm excited to see if we can top the energy on this tour in all of these new cities!
FLYC: Your fans already got some sort of preview to the tour, as you just released your first live album. The name is This Is My First Live Album. Is that what we can expect the European shows to be alike as well? Or do you expect differences?
Upsahl: The live album was recorded at my first headline show in Boston this past January. We're definitely bringing a similar vibe to Europe, but for these shows we're going even harder, and I'm playing a brand new song that hasn't been released yet.
FLYC: Last October, you released your debut album Lady Jesus. What is that album about?
Upsahl: When I started writing Lady Jesus, I thought I was in the process of writing a breakup album. I was on some serious sad girl shit when I started making it, but as I grew, the album grew with me. It turned into a very autobiographical story about me finding myself again and finding my inner "Lady Jesus". I love when people listen to the album from the top down because it really starts with me at my lowest and takes the listener through my journey to the highest (Lady Jesus) at the end of the album.
FLYC: If I just look at Spotify streams, Lunatic and Time of my Life are the most successful tracks, both between four and five million streams. What are they about?
Upsahl: I wrote Lunatic on one of the worst days EVER. I was so angry at the world, I was crying, and I honestly just wanted to scream up at the sky. I'm very happy that I went to the studio instead because I was able to channel the chaos and aggression into an unapologetic psychotic as fuck song. I remember listening to it the next day and couldn't believe what I had written myself. And that's when the lightbulb for me went off. I had to put the song out because it had the raw energy of how I felt at the moment, and I know other people have definitely felt that way as well – that's the whole point of music for me.
Time of my Life was one of the first songs I wrote off of the album. I realized that my twenties are going to consist of highest highs AND lowest lows. I always thought you had to either be happy or sad, but Time of my Life is about feeling both sides of the extreme on a daily basis, which is okay.
FLYC: How much did the streaming numbers and the origin of the stages of your upcoming tour? Do you for example have most tour stages in Germany and the United Kingdom as that's your strongest fan base?
Upsahl: I'm opening for Fletcher on this run, and I'm such a big fan of her, so I was down to go to whatever cities she was rolling through on this tour – haha! I'm excited to see which countries I have more fans in though… Maybe I'll have to come back for my own tour soon 😉
FLYC: Your biggest success so far is likely Drugs. Can you tell us a bit about that song?
Upsahl: I wrote Drugs during my first year of living in LA. I was having a really hard time making friends, even though I was trying to put myself out there and shit. I started to realize that as you grow up, you meet a lot of fake ass people, so I put that frustration and bitchiness into making Drugs.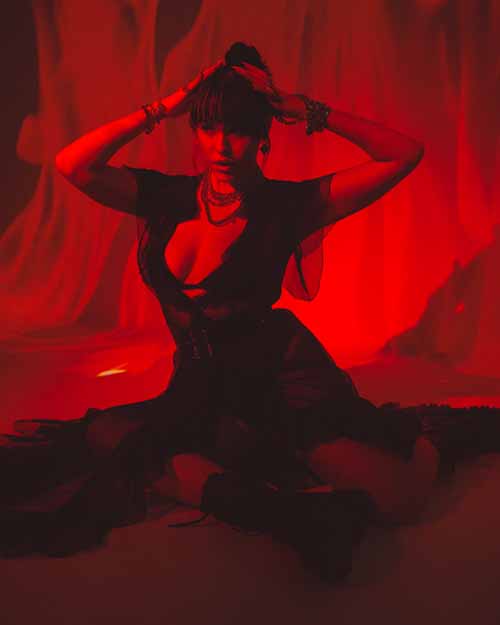 FLYC: On your European tour, you are supporting Fletcher. The tour has been postponed from 2021 due to Covid-19. How has it been like when you have been asked to join her?
Upsahl: I've been a fan of Fletcher for a minute now. Her songs are on all of my personal playlists that I listen to all the time, so getting to be a part of this tour is so dope. I also feel like Fletcher fans are super hype, so these shows should be fun.
FLYC: What are your plans for 2022 when you are back from Europe? Will there be more music? A US tour?
Upsahl: I may or may not be releasing a new song while I'm Europe 😉 I've been working on a lot of new music that I'll be releasing during the summer, and just announced my first headline US tour in the fall.
While being on tour the next three weeks, what is maybe the thing or person you will miss most?
Upsahl: I bring my sister, Ryan, on tour with me to sell merch, so it's really nice to always have a piece of my hometown (Phoenix, AZ) with me, but I'm really going to miss LA. And my bed lol
Last, but not least, what kind of fan reaction during the next three weeks would you appreciate most?
Upsahl: I hope everyone at these shows is just ready to fucking rage. Me and my band have the best time during every show and literally put all of our energy into our time on stage, so I hope that everyone in the audience can feel that too.
All pictures: Artist material
Follow Upsahl Online
Upsahl – European Tour 2022
As stated in the interview, Upsahl is touring with Fletcher:
| | | |
| --- | --- | --- |
| Mo 25.04.2022 | Hamburg (Germany) – Gruenspan | |
| Tu 26.04.2022 | Berlin – Kesselhaus | |
| Th 28.04.2022 | Zurich (Switzerland) – Kaufleuten | |
| Fr 29.04.2022 | Cologne (Germany) – Die Kantine | |
| Su 01.05.2022 | Amsterdam (Netherlands) – Melkweg | |
| Mo 02.05.2022 | Brussels (Belgium) – AB Ballrom | |
| Tu 03.05.2022 | Paris (France) – Alhambra | |
| Th 05.05.2022 | Manchester (United Kingdom) – O2 Ritz | |
| Fr 06.05.2022 | Glasgow – SWG3 | |
| Sa 07.05.2022 | Dublin (Ireland) – The Academy | |
| Mo 09.05.2022 | Bristol (United Kingdom) – O2 Academy | |
| Tu 10.05.2022 | London – O2 Shepherds Bush Empire | |
| We 11.05.2022 | Birmingham – O2 Institute | |
| Fr 13.05.2022 | Liverpool – O2 Academy | |
| Su 15.05.2022 | London – O2 Forum Kentish Town | |
Upsahl – North American Tour 2022
In addition, Upsahl will be headlining for the first time in the USA and Canada:
| | | |
| --- | --- | --- |
| Th 29.09.2022 | Santa Ana, CA – Constellation Room | |
| Fr 30.09.2022 | San Diego, CA – House of Blues | |
| Sa 01.10.2022 | Phoenix, AZ – Valley Bar | |
| Mo 03.10.2022 | Dallas, TX – The Studio at the Factory | |
| Tu 04.10.2022 | Houston, TX – White Oak Music Hall | |
| We 05.10.2022 | Austin, TX – Antoine's | |
| Fr 07.10.2022 | Atlanta, GA – Center Stage Theater | |
| Sa 08.10.2022 | Nashville, TN – The End | |
| Mo 10.10.2022 | Chicago, IL – Subterranean | |
| Tu 11.10.2022 | Minneapolis, MN – Fine Line Music Cafe | |
| Th 13.10.2022 | Denver, CO – Marquis Theater | |
| Fr 14.10.2022 | Salt Lake City, UT – Kilby Court | |
| Su 16.10.2022 | Seattle, WA – Madame Lous | |
| Mo 17.10.2022 | Vancouver, BC (Canada) – Fortune Sound Club | |
| Tu 18.10.2022 | Portland, OR (USA) – Hawthorne Theatre | |
| Fr 21.10.2022 | Sacramento, CA – Goldfield Trading Post | |
| Sa 22.10.2022 | Los Angeles, CA – The Roxy Theatre | |
Postings with Tour Dates
Here are all Flyctory.com postings, which include tour dates:
Spotlight – Flyctory.com Interviews
Here are all postings of my interview section Spotlight: