To be straight, I have been quite disappointed when I scanned the new album and EP releases as of 5th March 2021. The more, I felt glad to run into Baby Blues & Stilettos, which sounded interesting to me from the very beginning. It is the debut album by New York State artist Alyssa Trahan, who is doing country with pop elements.
Alyssa Trahan – About The Artist
Alyssa Trahan is a female country artist who was born on 4th April 1995 in East Rochester, New York. She is playing multiple instruments. Since 2016, she is living in Nashville. She signed a publishing deal in 2018 and released two singles, Leading the Pack and Because I Am a Girl, the same year. The following year, she gathered six songs in her debut EP, which has been self-titled. After three more singles in 2020 and the 2021 We Used To Be Happy, Baby Blues & Stilettos is her debut album. Trahan is also quite successful in social media. Her Instagram account, for example is followed by over 30,000 people.
Alyssa Trahan – Baby Blues & Stilettos – Track by Track
The thirteen track album lasts 40 minutes.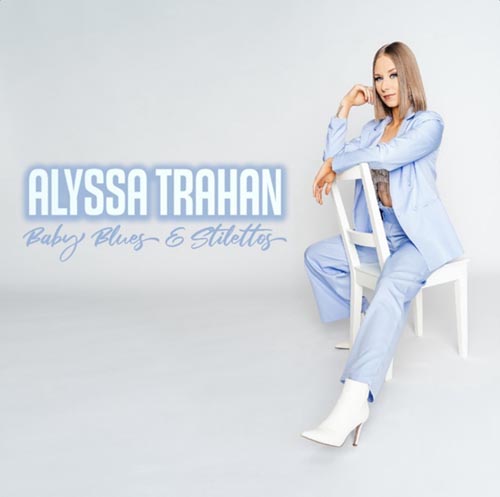 1. We Used to Be Happy
We used to be happy, we drove the world insane
We had a fire that could never be tamed
We used to be crazy but in the greatest way
Baby what happened cause it isn't the same
We used to be happy
The song starts with new country track with an easy, but good listen chorus. One of the tracks which made me listen to the album. Really like it.
2. My Favorite Song
My Favorite Song is a bit more country-ish and less pop music-alike than the opening track. I love the vocals during this song, especially in the chorus. Really catching one.
3. Ain't Ever Goin' Back
Ain't Ever Goin' Back is a bit darker and also a nice song for guitar lovers. The dark sound gives the song a very powerful touch. Might also be a cool one on stage.
We didn't come this far just to come this far
Didn't keep it all together just to let it fall apart
Didn't get here just to turn around
Didn't climb this mountain just to let 'em take us down
Didn't save nothin for the ride back
Cause we ain't ever goin' back
No we ain't ever goin' back
4. Tell My Heart
If I had I the power
To Change my mind
Go back in time
You know I would
As, honey, I would never
hurt you like that
I'd take it back
If I could.
And if could tell my heart what to do
I'd tell it To fall back in love with you
Ain't that a beauty? One of the rather slow songs of the album, which comes with a lot of atmosphere. Love it,
5. Psychology
You don't love me // it's just psychology. This song, which has been one of the pre-released singles, is one of my favorites. Really nice one. I recommend a listen.
6. Tilt-a-Whirl
Tilt-a-Whirl is very concentrated on Alyssa Trahan's vocals. One of the rather mid- to low-tempo songs, but coming with a dreamy sound. Really lovely to listen to it.
7. Pickle Jar
After the dreamy, slow style of Tilt-a-Whirl, Pickle Jar almost feels like a powerful wake up call. The swinging, happy sound of this song is just viral. Hard to concentrate to write a review while listening to this – it is simply made to move to the rhythm! The song has been released in October 2017 for the first time.
8. The Narcissist
The Narcissist is a pop track. I would unfortunately say that this is the song I can relate to least. There are sufficient good ones on the album,so it is not that sad.
9. Happy Place
The Happy Place is another of these easy, cheeky, teeny-alike songs on the album. It might rather entertain pop music people than country lovers. Nonetheless, I feel it is a nice production.
10. Suffocating
The backing instruments of Suffocating almost remind me of Irish pub music. The song overall has a lot of power, makes you feel to dance. Nice song, which I would rather call folk-pop than country music. Just a label. Another label: good one!
11. Memories Not Dreams
The lovely Memories Not Dreams is a rather mid-tempo song. Really a beauty – and a music video which makes you smile as well.
12. My Biggest Fan
The cheeky singing at the end of the chorus of My Biggest Fan almost gives this one the touch of a children's song – but the energetic aura of this song, especially towards the end is just too mature. Nice composition.
13. My Turn
My Turn closes the album with a rather limited instrumental set. A beautiful way to finish he stories of Baby Blues & Stilettos. 
Alyssa Trahan – Baby Blues & Stilettos – Spotify
Here is Baby Blues & Stilettos on Spotify:
Alyssa Trahan – Baby Blues & Stilettos – My View
Alyssa Trahan produced a really nice album with country elements, a lot of pop and some rock and other elements. I like her sound at Baby Blues & Stilettos, which is finally a quite signature sound. In some songs, I would love to have a more of her vocal strength she especially shows in the slower sounds – the pop-alike songs are sometimes a touch of thin. Overall, the album is entertaining, makes you smile – an enjoyable time with this artist.
Country Music Interviews on Flyctory.com
Here are all country music related postings in my Spotlight interview section:
Flyctory.com in Venice
Here are all my postings related to Venice: