Chasing Sunsets is already the third EP by Ryan Montgomery. The country-rock artist released the five songs on 7th January 2022. I happened to run into the EP while scanning new releases. Here are my thoughts.
Ryan Montgomery – About The Artist
Ryan Montgomery is a Florida-origin country artist from West Palm Beach. He started to release music in 2018, when he very first single, Drop a Tailgate, already had quite some success. The song has also been the leading track of his self-titled debut EP released the same year. In January 2021, after a few non-EP/album singles, he released his second EP We Brought The Party, which has been teased by three leading single releases.
Ryan Montgomery – Chasing Sunsets – Track by Track
The five song EP lasts 18 minutes.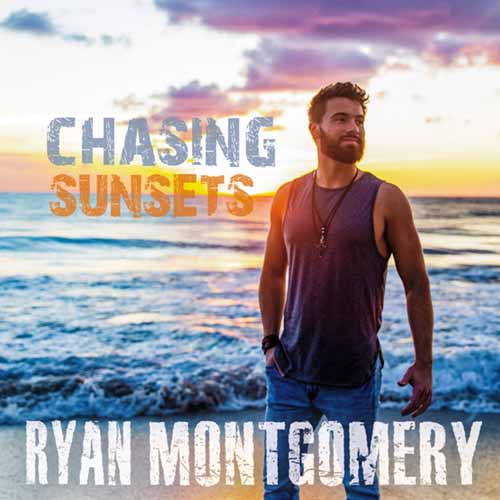 1. These Are the Days
A modern country song with summer and party feeling – the opener of Chasing Sunsets already gives you a good feeling about the some 18 minutes which lay ahead of the listener. Nice track, which has already been released some half a year before the EP.
2. Sundown Saturday Night
The second song is having a very similar branding: A track made to enjoy, to party. Powerful guitars. Even the number of Spotify streams at the time of review are quite similar to the before – and the song duration differs by two seconds. Nashville country-party-rock mainstream – but the enjoyable way.
3. Nashville & Hawaii
The third song (and third single release), Nashville & Hawaii, leaves much more signature elements. Very nicely written story – and the song lasts over 4 1/2 minutes. Nice, flowing vocal performance as well. Nice.
4. Waiting on a Friday Night
While Ryan Montgomery fans know the first three tracks already, the two final ones are new. Waiting on a Friday Night is a really nice one, which again allows some time for powerful guitar riffs. Nice, relaxed vibe.
5. Chasing Sunsets
The title track Chasing Sunsets is the musical finish of this EP. The song is maybe the strongest on the whole EP creating a cool groove. Lovely, emotional storytelling. Thus, this finale definitely leaves me with a smile.
Ryan Montgomery – Chasing Sunsets – Spotify
Here is Chasing Sunsets on Spotify
Ryan Montgomery – Chasing Sunsets – My View
The songs could have more signature elements, more character – but overall, Ryan Montgomery is doing a really good job in this five song EP. Nice atmosphere and very good storytelling – I definitely enjoyed these tracks.
Country Music Interviews on Flyctory.com
Here are all country music related postings in my Spotlight interview section:
Tampa Bay Postings
Here are all pictures of Tampa Bay and surroundings: