I love the specific kind of country romance in press kits and country music artist promotion texts. About Andrew Jannakos, his website states, Flowery Branch, Georgia native Andrew Jannakos grew up in a small-town neighborhood where barbecue parties and backyard soccer games were everyday events. Life is soooo peachy. The promo text did not really attract me – but I loved his music when I recently happened to listen to a new song of his. On 4th June 2021, he released Gone Too Soon, his second EP after a self-titled one in 2020. Is it as peachy as his bio? Here are my thoughts.
Andrew Jannakos – About The Artist
Andre Jannakos was born on 25th September 1993. Flowery Branch is located right at Lake Lanier – sports fans among you may know it as a site of the Atlanta 1996 Olympic Games. Jannakos became known in public when he competed in the 16th season of the US version of The Voice in 2019. His version of Beautiful Crazy by Florida Georgia Line attracted Kelly Clarkson and Adam Levine in the Blind Audition, Jannakos decided to team up with the latter one. He has been eliminated in the Live Cross Battles, but released his debut single Gone Too Soon later in that year, in September 2020. After that song topped the US Country Digital Sales, he was contracted by Sony Music Nashville.
Andrew Jannakos – Gone Too Soon – Track by Track
The six track EP lasts 18 minutes.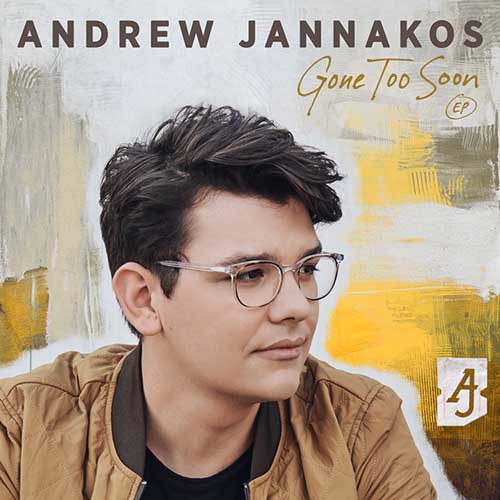 1. Gone Too Soon
I already stated that this song topped the US Digital Sales. About 27 million streams for this modern country pop song at the time of review – Spotify only. Do I need to say anything else about the title track? He simply delivered what the people loved to listen to.
2. When The Whiskey Runs Out
Why Do You Always Come Around When The Whiskey Runs Out? I personally prefer the second song over the title song. It just sounds very mature – and still, it comes with a story, which gives you a smile. Great song.
3. Like Yesterday
Slightly slower in tempo and nice howling steel guitar sound in the background – Like Yesterday is likely not a ballad yet, but a nice calm listen. The story? Of course, it is about love. All the things which feel like yesterday.
4. Somebody Loves You
Somebody Loves You is the second single on this EP. The easy sound and the snipping-alike sound gives it a happy, a summer-alike sound. I really enjoy to listen to this positive vibes, which are again about his happy long-distance relationship.
Somebody wants you, needs you, been looking for ya their whole life
Someone to hold you, keep you, treat you just the way you like
Someone that won't let you go, somebody close, wants you to know
That somebody loves you, somebody loves you
5. We've Always Loved
Okay, that's emotional, indeed. We've Always Loved does not need more than a piano, Jannakos' voice… and a lot of love. At least at the beginning. Then, the song uses more and more instrumentation, power, amplification. I feel it is a bit of sad. The songs starts so magical. Bad luck that they did not dare to give us that magic for 3:31 minutes.
6. Wine Country
Every good country song needs an alcohol with W? No, this one is not about the Bourbon, but about the grapes… At least in title. Of course, Andrew Jannakos finally is praising his girl for the sixth time on this album.
And let that wine country
Play us on out to the back porch
And slow dance, you taking my time, honey
Settle on into them three chords
I could be your George Jones
Little six string picking gonna hold on
Til the crickets stop singing pedal steel moan
You and I just swaying in the moonlight
Wanna lay you on down to some wine country
This guy needs to be full of love… And you in nothing but my button down shirt // You turn me on is one additional of these lyric proofs. To me, the song is a bit too thin on the melodic side and a bit too much on the lyric side. But finally, Andrew Jannakos is just too damn good on the vocal side that he is spoiling this track.
Andrew Jannakos – Gone Too Soon – Spotify
Here is his debut EP on Spotify:
Andrew Jannakos – Gone Too Soon – My View
The muses of love… This guy got a truckload of these magical heart arrows from Amor, indeed. The second time he has been hit massively in faith in his life – the first time was when he was gifted with an awesome voice. These are the two key ingredients of Gone Too Soon. The EP is a good one – but it does have weaknesses. And it has stereotypes. But there are two truckloads which just do not really make you feel them. And thus, you have to give it a good rating.
Country EPs Reviews 2021
Here are all Media Reviews of EPs with country music I did in 2021:
Ships & Water Travel
Here are more Flyctory.com postings about Ships & Water Travel: