A big name and music legend of German rock is back: Marius Müller-Westernhagen releases Das eine Leben, his first studio album since the 2014 chart-topper Alphatier. I loved his music, which especially drove the 1980's and 1990's German music scene ever since – thus, I was really excited that I could have a listen already a few days before release on 20th May 2022. Here are my thoughts.
Marius Müller-Westernhagen – About The Artist
Marius Müller-Westernhagen was born in Dusseldorf on 6th December 1948. The German rock legend partially released music under his full name, some releases are also just published as "Westernhagen". His father has been an actor and dies when Westernhagen was just 14 years old. Marius Müller-Westernhagens first steps into entertainment have indeed been as an actor. He released his first album Das erste Mal ("The first time") in 1975. His breakthrough album was the 1978 Mit Pfefferminz bin ich Dein Prinz, which contains hits like Dicke ("Big ones"), Mit 18 ("With 18") or the title track, which have all been radio tracks for a long time, even after their release. Even though he released huge German rock hits like Freiheit or Krieg, he finally just received one golden record for a single, Wieder hier in 1998.
On the album side, Westernhagen has been a huge seller. Between the 1989 Hallelujah and the 2005 Nahaufnahme, all his albums topped the German charts. Overall, his long-players received seven platinum and 22 golden records in Germany only.
Marius Müller-Westernhagen – Das eine Leben – Track by Track
The eleven track album lasts 47 minutes.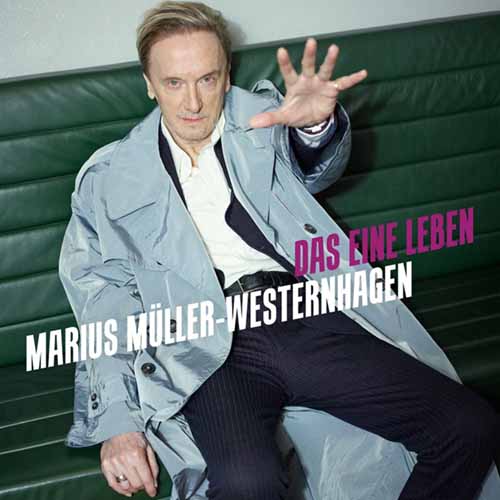 1. Ich will raus hier
If you loved Marius Müller-Westernhagen in the 1980's and 1990's, you are amazed that Westernhagen 2022 still sounds like during his biggest era. The opening track is a very current topic, though. Ich will raus hier ("I want to get out of here") is a very honest description of feelings during the Covid-19 restrictions. A very emotional, a bit of angry, top class guitar rocker. I am already in love with this new album.
2. Schnee von gestern
Schnee von gestern comes with a classic rock'n'roll groove with a nice Americana touch. Schnee von gestern roughly translates to "old messages". A nice way to stop thinking what has happened in the past.
3. Achterbahngedanken
Already the title, which literally translates to "roller coaster thoughts" illustrates the magnificent (but also very straight) way Westernhagen works with language. Partially spoken word lyrics in a dramatic atmosphere – this song is one of the most intense listens of the album.
4. Zeitgeist
Zeitgeist is the only song, which has been released before the album. The chorus is a typical Westernhagen melody line – thus, it is hard to believe that fans will not like this beautiful rocker.
5. Spieglein, Spieglein an der Wand
Spieglein, Spieglein an der Wand,
Wer ist der mächtigste in diesem Land?
("Mirror, mirror on the wall
Who is the most most powerful in this country?")
Westernhagen's 2022 album is very social-critic – and thus, this track comes with very straight, energetic lyrics. Great work on the electric guitars as well – the instruments are howling in the background and lead to the right atmosphere.
6. Die Wahrheit
The six minute track Die Wahrheit ("The truth") is the longest song of the album. One of the most fascinating tracks, in which Westernhagen again very honestly describes his feelings. Amazing atmosphere.
7. Ich werde dich lieben bis in den Tod
The seventh track states "I will love you until death". This piano ballad is such an amazing musical swear – and a catching listen. In the later parts of the song, you again feel that the album has in fact been recorded and produced in the USA.
8. Dunkle Phantasien
After the slow seventh track, the fast, shuffling, a bit of bluesy track Dunkle Phantasien comes with a very different signature. A song about hidden feelings, shames, mental pressure. Great songwriting.
In deinen dunklen Phantasien
Saugst Du an Deiner Mutter Bruste,
In deinen dunkelen Phantasien
Treiben Dich tief verborgene Lüste
("In your dark fantasies
You suckle on your mother's breast
In your dark fantasies
You are driven by deeply hidden desires")
9. Es geht immer nur so weit wie es geht
It might be rather easy not to give full attention to this one – but if you don't do so, you miss Westernhagen's rock songwriting masterclass on this album. A track about going separate ways, which is working with such a great set of musical elements. Again, it is the combination of the lyrics and the aura of the song, which illustrates the outstanding quality of Marius Müller-Westernhagen songs.
10. Abschiedslied
According to the title, this is the "Last Song" (or: "Farewell Song"). A looking back without accusations, but with a very present keyboard melody. Lovely listen.
11. Wenn wir wieder über den Berg sind
Bluegrass sounds, piano melodies and a bluesy rhythm in the final song. This Westernhagen track is having one of the strongest US-American signatures of the album. Rather short, rather easy, also less deep than other songs of the album.
Marius Müller-Westernhagen – Das eine Leben – Spotify
Here is Das eine Leben on Spotify:
Marius Müller-Westernhagen – Das eine Leben – My View
Would you really expect an average or poor album when Marius Müller-Westernhagen comes back after such a long time? This guy is a great German artist – and Das eine Leben is another proof for that. There are some masterful songs and some good ones. Fans will love it – but I also recommend a listen to people who are "just" in German rock music. Top Pick!, without a doubt.
Music & Media Postings of the Cologne Region
Here are all my Music & Media postings related to the region around Cologne.
Flyctory.com Pictured Stories
The key contents of Flyctory.com Pictured Stories are the picture, not the text: