Eleven years after her last album release, Mandy Moore decided to release another album: SIlver Landings is the seventh and latest production of the successful actress, who had a quite successful time as a musician in the early 2000s. It has been released on 6th March 2020.
Mandy Moore – About the Artist
Amanda Leigh Moore was born in New Hampshire on 10th April 1984. Already in her early years, she was interested in singing and acting. Her grandmother was a professional ballerina and inspired her significantly. At the young age of twelve years, she was already invited to the Stagedoor Manor Performing Arts camp. At that time, already living with her family in Orlando, she also signed a record deal with Epic records and started to work on her debut album, So Real, which was released in 1999 and almost sold one million copies. The album also contained her most successful single so far, Candy. Though the sales were slightly lower in numbers, her second album, I Wanna Be with You, was likely her biggest success, as it also reached good chart placements in New Zealand, Australia, Japan and the UK. In the following years, Moore regularly published albums. Her sixth album, Amanda Leigh, has been published in 2009 and went up to the 25th spot in the US charts.
Mandy Moore is also very successful as a speaker and actress. You may know her voice from the Kingdom Hearts video games or Princess Rapunzel in multiple Disney productions. She also took part in a couple of cinema productions and TV series, e.g. This is US or Tangled: The Series.
Mandy Moore – Silver Landings – Track by Track
The album contains ten tracks and lasts 41 minutes: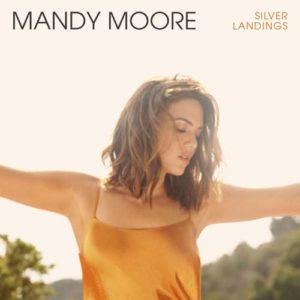 1. I'd Rather Lose
The album begins with a nice pop track. I'd Rather Lose is defintiely a good one, love to listen to this track, very melodic, good voice.
2. Save A Little For Yourself
Save A Little For Yourself is a bit slower than the first track, a bit more intense. The verses are quite rhythmic, which I quite much like.
3. Fifteen
No regrets, with a few exceptions
Every wrong turn was the right direction
Still a part of me
Still a part of me
Wow! I just love this song, which Mandy Moore already published as a single. Really good pop track.
4. Tryin' My Best, Los Angeles
Tryin' My Best; Los Angeles is one of my favorite tracks. It is quite simple and straight, but the melody just catches me, love to listen to it.
5. Easy Target
Easy Target even comes with a touch of country music.Not maybe the most complex storytelling plot ever, but a nice evening sound country pop track:
I'm out on my own
The easy target
Somewhere beyond the winning and losing
Heart on my sleeve
Right where the truth is
What else could I be
The easy target
6. When I Wasn't Watching
Mandy Moore just makes me feel warmth and happiness when I listen to her songs. Her voice and this song remind me a bit of the pop tracks of Emma Bunton.
7. Forgiveness
Pregnant voice, simple and classic instrumentation, a nice melody – Foregiveness is a nice characteristic song for this album. Easy listening.
8. Stories Reminding Myself Of Me
If you are looking for a faster track on the album, you might go for Stories Reminding Myself of Me. There is a certain rhythm and speed in it – but overall, it will definitely not give you your best performance on a party or on the dancefloor.
9. If That's What It Takes
Glad to have some strong country elements in this track again. Another "nice" track. Nice does not mean too much, though – neither on the negative nor on the positive side.
10. Silver Landings
Last, but not least, there is the title track. The longer the album lasts, the harder it becomes not to become repetitive – which is really unfair to Mandy Moore, as her songs are not too bad.  Silver Landings, though, is just a bit too lame to me.
Mandy Moore – Silver Landings – Spotify
Here is the Silver Landings Spoitfy widget:
Mandy Moore – Silver Landings – My View
Album of the Year? No, Mandy Moore is not going for that category. But Silver Landings is definitely a nice album, a good and easy listen. No really weak songs – but no smash hit either. Over the whole playtime, the album can turn from a good friend to a a bit too boring individual. But it is a good record if you are in the right mood for it – I would just love to hear more different songs by Mandy Moore – maybe even a powerful track?
Pop Music Reviews on Flyctory.com
Here are all Media Reviews of the Pop Music:

Flyctory.com about Country 2 Country
Here are all postings related to the Country 2 Country festivals in the UK, Netherlands, Ireland and Germany: