I am always happy to introduce you to German country and Americana acts. On 13th January 2022, the Munich band Gampe will release their album Tiny House Blues after they already sold physical copies of the album before Christmas 2021. Here is my review.
Gampe – About The Artists
Gampe is a Bavarian Americana band. The band lead is Reinhard Gampe, who is the lead vocalist and guitarist of the band. The other band members are Hans Pramberger (guitar), Achim Brehme (bass) and the Dutch drummer Evert van der Wal, who is also the producer of the band. Gampe is based in Munich. Evert and van der Wal know each other since some 30 years – but the project is in fact existing since 2016. In 2017, they released their first album Huba Luba.
Gampe – Tiny House Blues – Track by Track
The twelve track album lasts 43 minutes.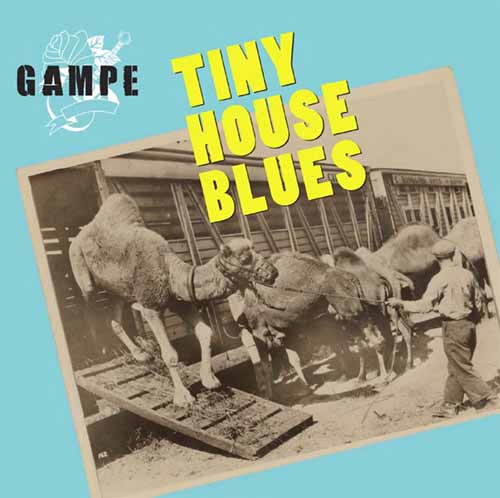 1. Tiny House Blues
Brass sounds, slow rhythm – this opening (and title track) is really spreading a very traditional blues melancholy. Despite the title suggests, the song is performed in German (or, more precise, in Bavarian, like the whole album…). The first five minutes of the album definitely lead to promising feelings.
2. Ned synchron nach Wien
The song roughly translates "There is something going wrong on the way to Vienna" (the literal translation is definitely rather confusing). A very classic rock'n'roll track, which is having a nice vibe and even comes with a touch of surfers' music sound. The chorus is a bit too simple, maybe. Nonetheless, the verses tell a lovely story of a somehow failed road trip to Austria.
3. Bin I jetz scho prekär?
A cool track, in which brass and bass sounds are taking over quite a strong part of the melodic part. Are you already outdated if you don't use certain tools or don't own Bitcoins? That's what this track is about, with a touch of irony.
4. So oder so
So oder so is a rather slow track, which is having a nice Americana-blues touch. Very nice melody and good story (again). Enjoy to listen to it.
5. 19er Tram
Tram line 19 in Munich is connecting Pasing and Berg am Laim and is thus quite well-known among tourists as a secret option for a city sightseeing tour. That's not the background of this cool blues rocker. Good listen.
6. Mala Figura
In the three minute Mala Figure song, the brass makes me want to dance. Great vibe and a LaBrassBanda (Bavarian brass party band) feeling included. A song written to have fun with.
7. Alte Männer, Neue Zeit
The melody of Alte Männer, Neue Zeit ("Old Men, New Times") feels a bit like a country rocker. In the verses, the almost spoken lyrics feel very aggressive and thus give a great contrast to the melodic, almost too soft feeling chorus. One of the coolest tracks of the album.
8. Roter Mond
The "Red Moon" is the topic of this song – and the album is heading back to a very classic and straight blues style. This time, there is no brass, so that there is a touch of a pure, handmade blues track. Nice atmosphere.
9. Ohne di
If Bavarian say "Without you", it is Ohne Di. The high-tempo track comes with a very modern touch, even though the brass and drums drive the song. Cool.
10. Dampfschiff
Dampfschiff means "Steam Boat" – and in fact this song start with a ship horn, before Gampe arrange a powerful blues rocker around this song. Another very different style of song – Reinhard Gampe and his band recorded a really versatile 2021/22 album.
11. Sisiphos und der Graue Hirsch
This song is a bit of mysterious. As much as it does not really make sense to translate the title (which would mean "Sisiphos and the Grey Deer"), it feels difficult to me to describe the unique, thoughtful sound. I definitely enjoy the listen, though.
12. Wasserfal (remix)
Wasserfal, which is introducing the accordion as the leading instrument to the album, feels like a real farewell song. What a nice way to close the album with this short song.
Gampe – Tiny House Blues – Spotify
Here is Tiny House Blues on Spotify:
Gampe – Tiny House Blues – My View
Congrats! The Bavarian language might limit the potential audience of the Tiny House Blues album, but Gampe recorded a really good and very versatile album here. If you dare to dive into the Southern German dialect, you will get back a really good listen.
German Blues Scene
Here are all postings related to blues and Germany:
Munich Travel Postings
Here are all Flyctory.com Travel postings related to Munich: