A quarter of a century of Southern rock and blues rock, four Grammy nominations – the North Mississippi Allstars are truly an established force in the US music scene. On 28th January 2022, they released their eleventh studio album, Set Sail. Here is my review.
North Mississippi Allstars – About The Artists
The North Mississippi Allstars have been founded in 1996 in Hernando, Mississippi, USA. The founding members were the brothers Luther (guitar, vocals) and Cody Dickinson (drums, percussion) as well as Chris Chew (bass, vocals). Chew let the band in 2015, so that the Dickenson brother are now acting as a duo. Their debut album as the 2000 Shake Hands With Shorty, which also lead to their very first Grammy Award nomination (Best Contemporary Blues Album). They received the same nomination for their most recent studio release, Up and Rolling, which they published on 4th October 2019.
North Mississippi Allstars – Set Sail – Track by Track
The ten track album lasts 44 minutes.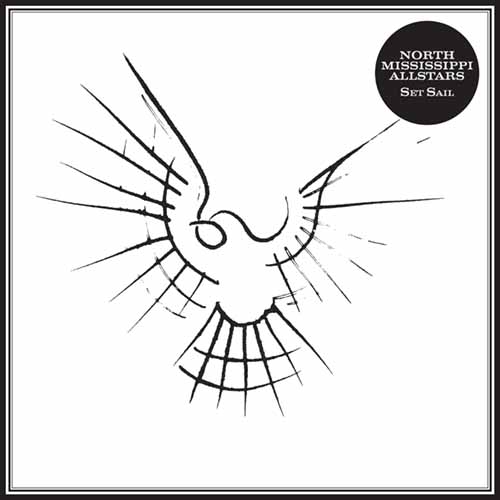 1. Set Sail part I (feat. Lamar Williams Jr.)
Nice work on the guitar under the strong influence of the lovely vibe of blues music – the first part of Set Sail is a great introduction to the album. Very cool, catching, laid back. Very much blues rock at its best.
2. Bumpin'
Love me now or never
Life is but a dream
When we're all bumpin' together
And shakin' tambourines
The second song is even less rocking – but therefor, it is even more blues-alike. Great work on the guitar and the bass.
3. See the Moon (feat. Lamar Williams Jr. & Sharisse Norman)
In addition to Lamar Williams Jr., who is supporting the brothers on several songs of the album, Sharisse Norman is adding a lovely touch to the song.See The Moon has a lot of drive and even feels a bit like a soul track, here and there, the song even reminds me a bit of funk. I just feel like dancing.
4. Outside (feat. Lamar Williams Jr.)
The fourth track is mainly shaped by the vocal collaboration of the Dickinson brothers and Lamar Williams Jr. This leads to a nice multi-layered structure in the structure. Really nice five minute modern blues track.
5. Didn't We Have a Time
The fifth song feels a bit of dream-ish. The vocals feel very pure, very simple, which leads to a very direct listening experience. The North Mississippi Allstars work with a very limited, almost minimum arrangement on the melodic side.
6. Never Want To Be Kissed (feat. William Bell)
Legendary 82-year old William Bell is part of the Set Sail album in this song – such a treat to listen to him. The song has a lovely "old school" feeling. The background singers add a lot of atmosphere, as well as the brass sounds. To me, this is the best track on the album.
7. Set Sail part II (feat. Lamar Williams Jr.)
The seventh song connects to the first part of the title track. Set Sail part II works with a nice range of instruments, which create a very entertaining, variable sound.
8. Juicy Juice
She's a classy city stoner chick
She's a stone cold fox
No country boy we don't drink that
Don't drink wine out the box
The bass is providing a magical vibe in Juicy Juice, which even has some jazz touch to me – the guys are just doing their thing. This would not lead to my full "thumbs up" – but these brothers are simply too cool.
9. Rabbit Foot (feat. Lamar Williams Jr.)
The second last song features one of Lamar Williams Jr.'s most energetic performances on the album. In general, I like the instrumental part of this song a lot.
10. Authentic (feat. Lamar Williams Jr.)
The closing track is somewhere between folk and country with the groove of blues. We got to try hard, Dick, to be authentic. Likely the most catching melody of the album.
North Mississippi Allstars – Set Sail – Spotify
Here is Set Sail on Spotify:
North Mississippi Allstars – Set Sail – My View
The North Mississippi Allstars illustrate their talent and skills for another time. Where they cannot do what it is needed on their own, the brothers work with lovely guest musicians. The album is a very good listen – there are a few spots which feel a bit of too self-centric to me. Nonetheless, this album is a really nice listen to me.
Media Reviews – Blues Rock
Here are my Media Reviews, which relate to blues and rock:
Marriott Hotels
Here are all my reviews of hotels licensed by the Marriott Group: