This review is about music from Iceland. I am always happy to run into music from one of my most favorite places worldwide. However, the artist, Mani Orrason, is nowadays living in Berlin. Does not change anything about the fact that The World Is Big And You Will Never Find Me is his third album, which is ready for streaming and purchase from 19th August 2022 onward.
Mani Orrason – About The Artist
Mani Orrsason is a 1997-born Icelandic artist originally from Reykjavik. He originally did post-punk music, but is nowadays doing pop-rock songs with a slight folk touch. His first album Repeating Patterns is already dated back to 2015. The opener, Fed All My Days, was the most important song with some half a million streams on Spotify only. A second album followed in 2018 (I Woke Up Waiting), followed by the six track EP Baby Angel the year thereafter. This EP also contained the five million Spotify stream song I Swear It's True.
Mani Orrason – The World Is Big and You Will Never Find Me – Track by Track
The twelve song album lasts 37 minutes.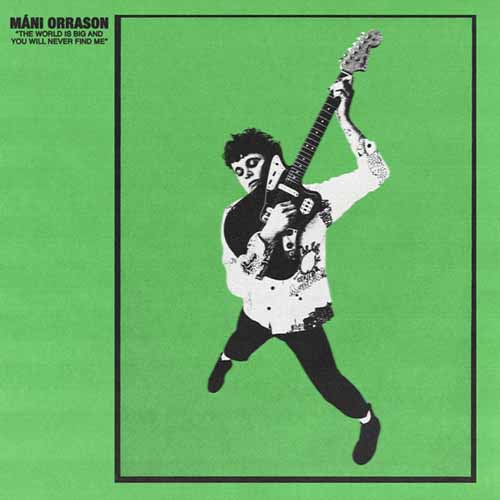 1. Just can't have it all
The album opens with a lovely pop-rocker. Orrason's voice feels so familiar. After a slower start, Just can't have it all reminds me a bit of earlier works by The Killers, especially in the chorus. Promising first step into his music.
2. Coffin
The second song makes increased use of electronic sounds and thus feels a bit more pop-alike than the opener. Overall, Coffin is a very modern and straight recording – I feel it deserved more attention as one of the single releases of the album published already.
3. Seven
Seven is a rather slow song, which almost has a melancholic touch to me. A very different kind of song – but finally, I cannot relate to it that well.
4. D&G
The excursion to the world of fashion just lasts 2:15 minutes. Very rhythmic track with a pop touch and keyboard lines.
5. A Place Like Home
A Place Like Home directs the album more into the pop-rock direction again. A very melodic song, which is having a nice, flowing melody. A really good listen.
6. Coming Down
You initially feel that Orrason has hired a young, maybe female singer for this one, but in fact, they just pitched his voice massively for a childish touch. However, Elliot Smith adds a nice touch to the song as well.
7. Death by Head
Death by Head is a rather slow track, which has a bit of melancholy, but also schlager-alike kitsch. Not really my favorite listen on this album.
8. I Don't wanna be a star (feat. Drangsal)
The eighth song is big surprise on the album. Not only that the rhythmic pop as such is one of the most enjoyable listens of The World Is Big and You Will Never Find Me – there is even a German lyrics section in this song. And they are practically accent free. The reason for this: the vocal part is taken over by German singer Drangsal, who sounds close enough to Orrason to do a great acoustic illusion.
9. Seven (Interlude)
Mani Orrason varies the Seven theme for this piano interlude, which is in fact longer than the "full" song D&G.
10. Dreama
The tenth song has been one of the most pushed single releases of the album so far. Good choice: the song has a good pop-rock sound and thus nicely connects to the firt songs of the album. Good listen.
11. Change The World
Change The World has a more heavy and more groovy sound as the songs before. The melodies are nice listens, though. Good vibes!
12. White Slugs
The closer White Slugs is a nice listen for fans of rather slow folk music songs. A good compilation of songs is finishing with an additional flavor. Like it!
Mani Orrason – The World Is Big and You Will Never Find Me – Spotify
Here is the album on Spotify:
Mani Orrason – The World Is Big and You Will Never Find Me – My View
Mani Orrason already got me with his July 2020 single release, which made it to that edition of my Song of the Week. I definitely feel he did a nice album here, even though there are some minor downs (contrasting to a bunch of ups) in here.The World Is Big and You Will Never Find Me is a very versatile album with surprising moments. Worth listening, indeed.
Music & Media (Iceland)
Here are all my Music & Media postings related to Iceland:
Postings with Tour Dates
Here are all Flyctory.com postings, which include tour dates: