After I had the opportunity to see Kelvin Jones at the Heart To Heart show in Dusseldorf and the preparing press event, I was really looking forward to see him on his 2023 solo tour. Unfortunately, I could not make it to the Cologne stop of the This Too Shall Last Tour, due to a business trip – but I made it the day before to the Gibson in Frankfurt, where he played on Sunday, 8th October 2023.
This posting comes with 156 major size pictures as part of the concert gallery.
Gibson – About The Venue
The Gibson is a club and concert venue in very central Frankfurt. It is located at the Zeil, the heart of the Frankfurt shopping area. for concerts, the venue is having a capacity of roughly 900 people. You can reach it very easily by public transport. The station Hauptwache is just a few steps away from the venue and services S-Bahn commuter trains are well as underground services. Alternatively, you may also use the connections to and from Konstablerwache.
Kelvin Jones – About The Artist
Even though Kelvin Jones nowadays lives and works in Germany, he is originally from Zimbabwe, where he was born as Tinashe Kelvin Mupani on 10th February 1995. Jones is also holding a British passport. After living nine years in his country of birth, he grew up in London and studied engineering in England. In 2014, a friend of his uploaded the song Call You Home on Reddit and the song was listened to over one million times – within a day! Thus, Kelvin Jones decided to become a professional artist. He already recorded his debut album Stop The Moment (2015) in Berlin. Seven years later, he released his second album This Too Shall Last. Additionally, his popularity grew as a guest musician in several collaborations and by taking part in the Sing meinen Song TV show.
The support act of the day was the London singer-songwriter Georgie Keller. I did not find too much bio information about him, apart from that his biggest success so far has been Feel It 2. The collaboration with twocolors released in 2021 has over eleven million streams on Spotify only. Another 2021 collaboration, From Dusk Till Dawn with MOGUAI, has about three million streams as well.
Kelvin Jones – The Show
At around 20:05, some minutes behind schedule, Georgie Keller stepped on stage. He performed a nice mixture of rather pop-alike songs and ballads. some of his songs like his 2022 track Always On My Mind even had a synth and wave-alike feeling.The songs were rather short, so that the audience had a very versatile and entertaining time. Especially during the last songs of his set, the Frankfurt people appreciated his sound. During the final song Jo Jo Jo, they clapped to the rhythm – something, which might be part of the final mastering of the track, which is soon to be released.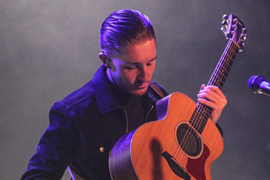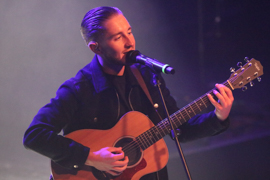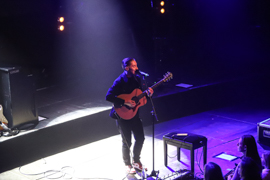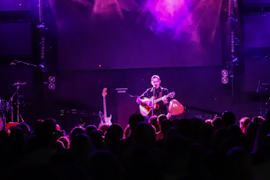 Kelvin Jones Magic On Stage
Similar to the support act, Kelvin Jones was a few minutes too late on stage, at about 21:05. He started on the piano. For his third song, Call You Home, he decided to switch all stage light off – a very magical moment for the audience. Unfortunately, that also meant that I surprisingly just had two songs to take pictures of the show (you are typically allowed just to have three songs…).  The special thing about his set is that Kelvin Jones is playing without a setlist. Apart from the first song, he is going for the music he is feeling right in that moment, as he later explained.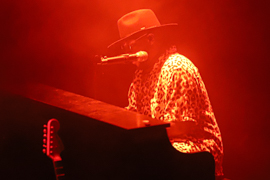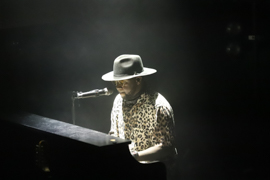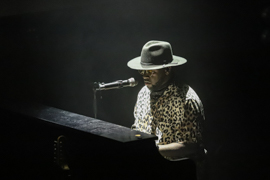 At the fourth song, Only Thing We Know, Jones started to party with the fans in the audience – and stayed there for his next song. Despite the band, some vocal and instrumental parts were added to the sound – but this did not have any impact to the excellent atmosphere. Kelvin Jones, his positive attitude, his strong voice and massive stage presence more and more pushed the crowd, who sang, danced and jumped with him.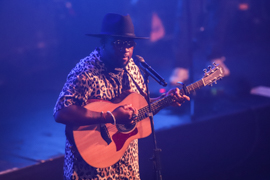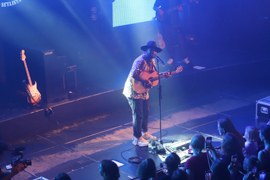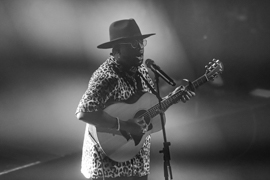 However, Jones was still not pleased and after Pillow, he stated I come from Zimbabwe and if we dance in Zimbabwe we just close your eyes and dance. Frankfurt took this push and the lovely Gibson club turned into a party temple with a mixture of rather European pop sounds, but also African rhythms. Major balloons flew through the audience as well. The piano, which opened the concert, felt forgotten, but Jones came back to it and performed Leonard Cohen's Hallelujah just after he performed Seventeen. Before the encore, his most faithful fans in the first row were able to choose a song and went for Dollar. After a short break, Jones was back, giving also his band the opportunity to present themselves. The first song even started with his bassist on the microphone. The show ended after some 85 minutes with happy, but exhausted Frankfurt fans.
Kelvin Jones – The Gallery
Here are 156major size pictures of the show. They are located in the concert gallery:
Kelvin Jones – My View
Kelvin Jones gave an amazing show in Frankfurt. There was hardly any of the audience who did not party with the British-Zimbabwean artist, who spreads so much energy to the people. In very different setting compared to the Heart To Heart event I saw him before, he illustrated how great he is in connecting to the people – regardless if they already have been Kelvin Jones fans before the show or became one during it.
Postings about Concerts
All postings about concerts I visited:
Flyctory.com in Frankfurt
Here are all postings related to Frankfurt: