Half a billion streams with a single song on YouTube only – songs like Heaven illustrate that Kane Brown is indeed a country music superstar. He is thereby mixing county music styles with modern pop, R&B and rap styles. The balance between these different influences was what made me especially curious about Different Man, Brown's third studio album. I had a listen to this 9th September 2022 release.
Kane Brown – About The Artist
Kane Allen Brown was born on 21st October 1993 in Chattanooga, Tennessee. The US-American artist, who also has some Cherokee background, started his career in the mid-2010's. His first steps were cover videos on YouTube, of which some grew huge attention. Another factor was his self-released EP Closer, which he financed via crowdfunding and which made it to the US Country Charts Top 10. His self-titled debut album released in December 2016 as well as the 2018 album Experiment topped the US country charts and received platinum records. Brown recorded several chart-topping and airplay chart topping songs. Single releases featuring Kane Brown have gained 39 platinum records in the USA only so far.
Kane Brown – Different Man – Track by Track
The 17 song album lasts 59 minutes.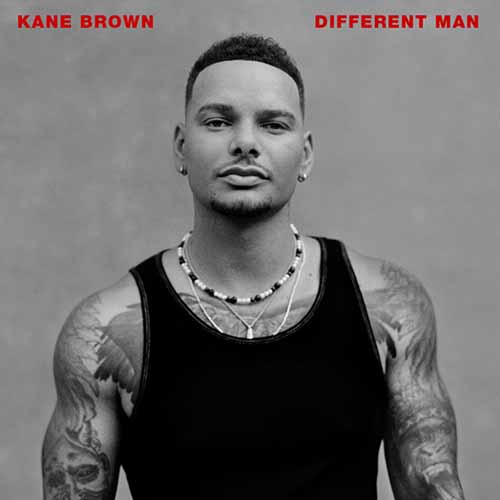 1. Bury Me in Georgia
Spooky topic, spooky beginning of the song: Bury Me in Georgia welcomes you with church bells and feels to create the perfect cemetery atmosphere. Despite the dark rock atmosphere, the song is a beautiful way to praise home… And the lyrics give you some insights about the place Kane Brown calls home:
10 miles outta Chattanooga
South of that state line
There's a no-name road off Highway 2
Just past the welcome sign
It's where I was born, it's where I was raised
Ain't sayin' I'm ready yet
But that's the place I wanna be after my last breath
2. Different Man (feat. Blake Shelton)
The album continues with a dark and rocking style: the second song recorded alongside Blake Shelton is an amazing and very present listen. Cool track!
3. Like I Love Country Music
The third song is the first song on the album, which has already been featured as a single. Baby, I love you like I love country music – I don't know how my wife felt about these words when I said them to her… But if they are sung by Kane Brown, they are actually a really country music treat.
4. Go Around
The album illustrates a wide range of Kane Brown sounds. The fourth song, which is nicely opening with a fiddle opening, is definitely rather a track for Kane Brown R&B and pop music lovers. Nice groove and still a track with a country heartbeat.
5. Grand
The album continues with another single release, which is rather a listen for the Kane Brown-pop lovers. Grand is also the first song which has a certain share of spoken word episodes. Strong groove – even though I am more on the country music lover spectrum, I just have to move to the music.
6. See You Like I Do
Wish you could see you like I do
Hair down, all wrapped up in my arms
If you saw you from my point of view
You'd know how beautiful you are
Sometimes I swear you must be blind
Don't know how you ain't got a clue
Wish you could see it through my eyes
'Cause then you could see you like I do
Okay, I just can't deny: Kane Brown songs have a great touch… Even this new release touches me from the very beginning. I more and more look forward to this part of his early 2023 Germany shows now.
7. Thank God (feat. Katelyn Brown)
Kane Brown released this duet with his wife right with the album. Such a beautiful love song – Thank God for giving me you. By the way, Katelyn Brown is an amazing singer – she even used to have a maangement deal in the past.
8. Leave You Alone
Leave You Alone is a typical slower Kane Brown country song. The track is a bit of plushy and kitschy, but it comes with a lovely sound… And Brown's voice is simply spreading an amazing spirit over this listen.
9. Riot
The ninth track has a nice outlaw country style. Some darkness, but especially a lot of energy are defining the signature of this 3;26 minute track,
10. One Mississippi
One Mississippi has been one of the very first single releases of the Different Man album.It used to be a really good song about a year ago, when it has been originally published – and this powerful modern country song did not loose a tiny bit of that quality one year later.
11. Drunk or Dreamin'
Drunk or Dreamin' is special. The song has a strong Latin touch and is maybe the most groovy track on the album. Okay, and the Flyctory.com kitsch-o-meter is burning as well. But hey, it's Kane Brown… Much easier to stand than a bunch of other artists.
12. Losing You
I'm not afraid of monsters under my bed
I'm not afraid of skeletons in my closet
Or the voices in my head
Not afraid to speak my mind
I'm not afraid to say I'm wrong sometimes, yeah
I'm not afraid of a lot of things
But there's one thing I can't hide
The twelfth song is a really nice country music ballad. The lyrics above are taken from the first verse – later, Kane Brown is stating I'm just scared of losing you. Beautiful statement, great song.
13. Whiskey Sour
Whiskey Sour is the song already featured as a single beforehand. Kane Brown is so versatile. In one song, he is rocking your soul, then he is doing a beautiful, gentle ballad like this track. Beautiful listen.
14. Pop's Last Name
The fourteenth song is praising Kane Brown's father. I am in goosebumps mode while listening to this. Such a great, emotional atmosphere in Pop's Last Name. Nice new track.
15. Devil Don't Even Bother
Kane Brown is going for a dark song again. The groove of Devil Don't Even Bother is thumping throughout the whole song. The chorus feels surprising pop-ish. Very interesting listen.
16. Nothin' I'd Change
The second last track of the album is a nice country-pop song with some nice electric guitar elements. Maybe not as strong as some of his predecessors, but still a very good listen.
17. Dear Georgia
The album opens with Georgia – and closes with it. This time, it is rather a love song to the whole state, when Brown is stating But no matter where I go, you'll always be my dear Georgia. An absolutely worthy finale of this collection of 17 songs.
Kane Brown – Different Man – Spotify
Here is Different Man on Spotify:
Kane Brown – Different Man – My View
That's a great one! Thank you Kane Brown for this wide range of pop, rock, country, R&B songs, Thank you for great ballads and party songs. What could be a better way to say "Buy concert tickets of this guy" than Different Man. Great album.
Kane Brown – European Tour Dates 2023
Kane Brown also recently announced some new gigs in North America – but European fans look forward to his early 2023 tour:
Flyctory.com in Chattanooga TN
Here are all postings dealing with the Southeastern Tennesse city:
Hotel Reviews in 2022
Here are all my hotel reviews published in 2022: