After I struggled with her third album Treat Myself, which has been released at the beginning of the year, I was really curious how pop superstar Meghan Trainor would do in a very different environment: on 30th October 2020, she released her seasonal album, straightly called A Very Trainor Christmas. Here are my thoughts about (musical) holidays with Meghan.
Meghan Trainor – About The Artist
I wrote quite some information about Massachusetts-origin Meghan Trainor, who is 27 years old at the time of album release,  in my recent review  of Treat Myself. A Very Trainor Christmas will be the fourth studio album of the artist, who majorly became famous on the pop sector.
A Very Trainor Christmas – Track by Track
The album is 18 tracks, 55 minutes.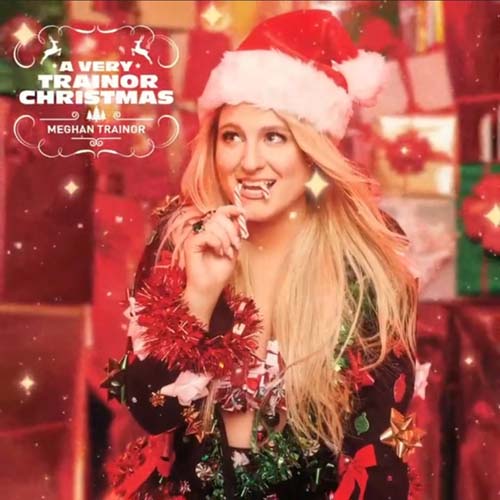 1. My Kind Of Present
You're my kind of present
You're my kind of present
You're my, my angel from Heaven
So go and tell Santa
Don't bring me nothin'
Meghan Trainor's Christmas tunes start with a Christmas pop track. Nice, melodic and festive – but not the kind of song which will become a Christmas pop classic. Still a good one.
2. It's Beginning To Look A Lot Like Christmas
It's Beginning To Look A Lot Like Christmas is definitely a pop culture festive classic already. The 1951 song was originally written by Meredith Wilson – my generation will likely rather know the Michael Buble version. Now we got Meghan Trainor. I feel the track is a nice fit to her voice, feels a bit like a Christmas angel. Nice one.
3. I Believe In Santa
Of course, in a Meghan Trainor track, you also expect pop-ish, dance-alike tracks. Whether they fit to the birth of Jesus Christ or not – that's up to. I am atheist, but still struggle with hip hop tunes under the Christmas tree.
4. Last Christmas
Even when Trainor is turning the Wham classic into a an upbeat dancefloor production – this is simply one of these songs in the history of music which you cannot destroy, it is too strong. You may smudge it, though – but I feel I can live with that interpretation much better than with the holiday hip hop one before.
5. Holidays (feat. Earth, Wind & Fire)
Interesting collaboration – but the funky R&B track is not a bad song at all. Again, many of you might not enjoy too many beats while unpacking the presents – if you do not care, though, you will have a lot of fun with that one.
6. Christmas Party
The (again, very pop and dance-alike) Christmas Party is quite a nice one for the Christmas Eve dancefloor (if there will be one this year), right before you are leaving the club. Good listen.
7. Winter Wonderland
While I feel the very pop-alike songs are just a strong matter of taste, classics like the Winter Wonderland nearly interpreted in a Hawaiian style is a really beauty. Good one!
8. White Christmas (feat Seth McFarlane)
For the following classic, Meghan Trainor paired with Seth McFarlane. A gentle song, slight rhythm with a touch of swing. McFarlane's voice give a very traditional atmosphere – doesn't that fit perfectly to the holidays?
9. Holly Jolly Christmas
This set of three very reflective and calm holiday songs closes with the intimate version of Holly Jolly Christmas – nice one 🙂
10. Christmas Got Me Blue
Back to more rhythmic Christmas. The snapping finger rhythm at Christmas Got Me Blue is definitely not comparable to some of dance-alike tracks at the beginning of the album. Thus, I feel it is a quite bearable, nice compromise between cozy and rhythmic holidays.
11. Sleigh Ride
The easy and lively version of Sleigh Ride is definitely in this are of "slightly pop-ish holiday songs" as well. Sleigh Ride is one of the songs of the album I enjoy to listen to most. It just feels like I imagine a A Very Trainor Christmas.
12. My Only Wish
Regarding re-interpretations of Christmas pop songs, Britney Spears' My Only Wish feels like a perfect fit for Meghan Trainor. I definitely enjoy that rather slow, but still Trainor-style way to perform this song.
13. The Christmas Song
And so I'm offering this simple phrase
To kids from one to ninety-two
Although it's been said many times, many ways
Merry Christmas to you
In this track, Meghan Trainor creates a beautiful and fragile version of The Christmas Song, originally by Nat King Cole.
14. Rudolph The Red-Nosed Reindeer
Rudolph! How could there be a Christmas album without the most popular reindeer (okay, to be straight, there were quite a bunch of them I reviewed in the past). This interpretation is very close to what I would name a the classic Rudolph sound. A festive classic in a good interpretation.
15. Naughty List
Why you put me on the Naughty List?
Maybe I was too good for ya
This song is definitely again on the Trainor-pop side. It also has a touch of reggae, of summer to me. So it might be a good festive party one for the Southern hemisphere 🙂
16. Have Yourself A Merry Little Christmas
That's a nice one when grandma and grandpa are around and you need some background tunes for the turkey. Meghan Trainor shows her beautiful voice in here. Impressive, intimate… A lovely piano song.
17. I'll Be Home
I'll be home with my love this Christmas
I promise, I promise
I'll be home with my love this Christmas
I promise, I promise
This beautiful song again touches the sound of Hawaiian music. Beautiful festive ballad, love it!
18. Silent Night
Is there any more classic and traditional way to finish a Christmas album than by singing Silent Night. Great voice, beautiful version. Perfection – if you followed my suggestion and went for Have Yourself a Merry Little Christmas for the turkey, that's the one of dessert, maybe.
A Very Trainor Christmas – Spotify
Here is A Very Trainor Christmas on Spotify:
A Very Trainor Christmas – My View
People are picky with Christmas songs. Thus, I can understand when you feel songs on that album are too rhythmic – or too soupy. On the other hand, that's one of the key strengths of A Very Trainor Christmas: you find songs for the traditional Christmas followers – as well as for the people who just feel Santa is a great opportunity for a party (and maybe some presents). On top of that, Meghan Trainor does it in the Meghan Trainor way – it is still an album, which feels like her music. Thus, I absolutely love what she is doing in this festive collection. No doubt that this one is heading towards Top Pick! heaven.
Christmas Media Reviews
Here are all media reviews dealing with Christmas:
Flyctory.com Featured Artists
I grant special focus and support to the Flyctory.com Featured Artists. Here are all postings related to at least one of them: