The title Quieter Pt. 2 already suggests that there has been a first part of Emma Longard's series of songs. Indeed, when I reviewed Quieter Pt. 1 by the Hamburg artist in May 2021, I was absolutely delighted about the release. Can this second EP keep up with the first one? The release date of Quieter Pt. 2 is 3rd December 2021.
Emma Longard – About The Artist
Emma Longard is a Hamburg singer-songwriter. She is mixing pop, soul and jazz in her music. Quieter Pt. 1 has been a first release after a significant hiatus from releases.
Emma Longard – Quieter Pt. 2 – Track by Track
The six track EP lasts 21 minutes.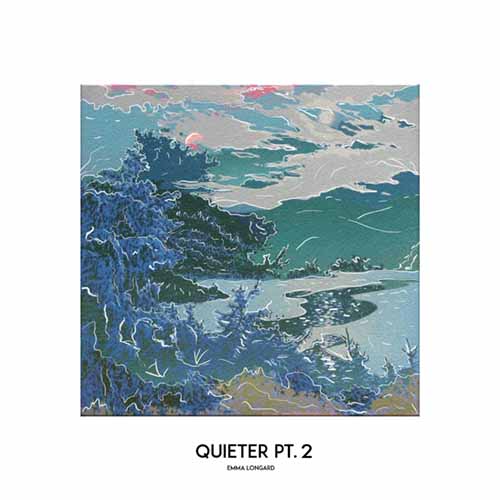 1. Hold On To Me
The EP starts with the beautifully fragile sound of Hold On To Me. Just a bit of piano and some drums introduce you into Quieter Pt. 2 on the instrumental side. Emma Longard feels a bit like Emma Bunton in this song. Beautiful beginning.
2. Ebb & Flow
The second song has a very different sound. A bit of lounge sound, electronic pop, but also soul influence. One characteristic does not change: the focus on Emma Longards lovely high and clear voice. Nice listen.
3. This Is Home
The second single release on the EP is This Is Home. The song has a surprisingly strong pop touch, almost a bit of mainstream-alike with a nice rhythm and r'n'b vibes. Even thought hat does not really sound like the type of sound I typically prefer, one of my favorites.
4. Your Scars, My Love
Emma Longard just feels to whisper the lyrics of Your Scars, My Love to the microphone. That turns a good ballad into a really good one.
5. Exhale
Exhale is a very dream-ish song which is creating a lot of atmosphere. Towards the end, the song is having a very energetic touch. Not my favorite track of the EP, but rather a matter
6. Full Circle
Full Circle closes the EP with a special song. Emma Longard is creating a really wide sound by being supported by a background choir. Finally, this reminds a bit of the Gregorian song recordings, but stays closer to pop music. Nice variation to the other songs.
Emma Longard – Quieter Pt. 2 – Spotify
Here is Quieter Pt. 2 on Spotify:
Emma Longard – Quieter Pt. 2 – My View
Even though it features some different songs, Quieter Pt. 2 connects nicely to the first part in one way: it is a lovely collection of six good songs. The two EPs give a nice range of songs by the German artist. My thoughts are similar than the one for part 1: Top Pick!
Flyctory.com in Hamburg
Here are postings related to the German city of Hamburg:
Expo Postings
Here are all postings about Expo World Expositions, currently only the 2020 one held in Dubai: