Rap and pop music – Mo-Torres is one of the more modern style musicians of the Cologne music scene. On 11th August 2023, he is releasing his fifth album Heute war alles besser, the title translates to "Today has been everything better". I have been very curious about his very latest songs and felt to share my review with you.
Mo-Torres – About The Artist
Mo-Torres, whose civil name is Moritz Heif, was born on 13th July 1989 in Cologne. He also went to school in my home town. However, his father is Spanish descent, which is also the rationale behind his artist name. He self-produced two albums in 2010 and 2011, 27 Revue and Moralapostel. His 2018 album 4 Wände, which is – depending whether you include the first two ones – the third of fifth one of his career – has been the first one to hit the German album charts. Two years before, he had his only single chart entry so far. In 2016, he recorded the single Liebe Deine Stadt ("Love Your Town" – a slogan which you find in central Cologne), together with local band Cat Ballou and Cologne's soccer idol Lukas Podolski.
Mo-Torres – Heute war alles besser – Track by Track
The 15 song album lasts 38 minutes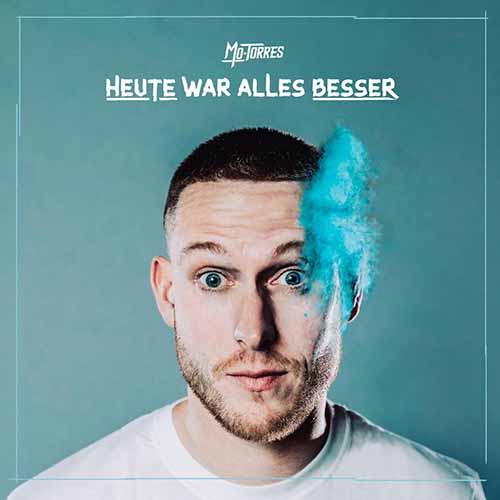 1. Intro
Despite this Intro almost lasts two minutes, it definitely rather feels like an intro than a full song. Nice that Mo-Torres is referencing his rap background – a genre which is not that much represented in his 2023 album. Thematically, this very first part of Heutew ar alles besser is a looking back to his earlier life – which is then leading into the title track.
2. Heute war alles besser
Sie ham' gesagt ich schaff es nie
Gestern hab ich's noch geglaubt
Doch das bringt mich sicher nich' nach vorn
("They sad that I will never make it
Yesterday I still believed in it
But this definitely does not brings me a step forward")
The title track praises enjoying the current moment and being happy about what is happening right now. Ich träum nicht mehr von gestern, denn heut' war alles besser – "I don't dream of yesterday any more, because today everything has been better". The chorus is very melodic and catching, which turns this in-fact opener into a really enjoyable pop track.
3. Übertrieben schön
The very positive and uplifting vibe of the album continues with the second single release of it. The song states that the scars, mistakes, detours are finally turning you into an übertrieben schön – extremely beautiful – being. A stomping rhythm and a sing-a-long-demanding chorus lead to additional energy.
4. Ich sehe was, was du nicht siehst (ISWWDNS)
The rather short (2:16 minute) songs is a rap-pop song. The chorus is melodic again. The song is easy prolongs the positive messages of its predecessors. Very nice vibe.
5. Geigenhimmel (feat. Nessi)
There are some interesting collaborations on Mo-Torres' 2023 album. The first one is with Hamburg-origin German pop artist Nessi. The song title translates to "Violin Heaven" (one of these combined words which you can create so easily in my mother tongue). I would love to have more real duo parts, where both artists sing in parallel.
6. Keine Ballade
Ey, nicht schon wieder ne Ballade
Ich kann die Scheisse nicht ertragen
Ich wechsel' das Schloss von unserer Tür
Höre ich nochmal ein Klavier.
("Hey, not a ballad again,
I cannot stand the sh*t anymore
I change the lock of our door
If I hear another piano sound")
The sixth song is about the struggle of writing emotional songs. The plot and development of the mainstream radio-duration track is even leading to an interesting, ironic finale.
7. Ich kann nicht pennen (feat. ela)
The second collaboration is with Berlin-based pop artist ela. I featured the Ukrainian descent lady a couple of times in my Songs of the Week already. I feel that in this rhythmically driven song, the female artist is much more present than Nelli in Geigenhimmel. This leads to a nice additional flavor.
8. Pfeile im Kopf
The strumming guitar even lead to a touch of pop-rock in here. The stanzas work with groovy, but rather slow lyrics, while the chorus is very energetic. Nice one.
9. 60 Minuten
The chorus si the heart of 60 Minuten ("60 Minutes"). 60 Minuten – nur eine Stunde allein für mich ("60 Minutes, just an hour just for myself") is the key demand requested in this song. Not a bad one, but a weaker spot in the context of the album.
10. Blindes Herz (feat. Nico Gomez)
Like Mo-Torres, Nico Gomez is a German artist born in Cologne. The only collaboration with a male artist on this album has a lovely drive and overall feels very compact and consistent. The song also adds some rock music vibes to the album.
11. Movie Star
In this song Mo-Torres dreams of being a Movie Star for a day. However, the chorus states Zum Gkück bin ich kein Movie Star – "Luckily, I am not a movie star". The song is a nice pop track with rap elements and a touch of irony – like a 2020's version of the legendary Neue Deutsche Welle. Nice one.
12. Wie lang
The dramatic chorus of Wie lang ("How long") is actually not too bad. However, the reaining song does not leave a that strong mark- despite Mo-Torres and his team chose it as a single release.
13. Scheissegal
Scheissegal (Something like "Don't give a fuck") is a beautiful praise of love. Mo-Torres is thankful that his love is focusing on his character, not on his career or social status. Nice one.
14. Green Flags (Vielleicht nennt man sowas Liebe)
"Maybe you call that love" is the sub-title to the second last song. Überall nur green flags wenn ich an sie denke ("Green flags everywhere when I think of her"). A 2:34 minute song praising being in love.
15. Das kleinste Problem
After so much pop, rap, energy and happiness, the closing song shows a very different side of Mo-Torres. There is nothing but the Cologne artist and his piano – and this collaboration ends up in an amazing love song. No bass drum, no groove, just nothing but emotions. Mo-Torres does that in an amazing way.
Mo-Torres – Heute war alles besser – Spotify
Here is the album on Spotify:
Mo-Torres – Heute war alles besser – My View
There are a lot of energy, a lot of beautiful messages in Heute war alles besser. Mo-Torres recorded a really nice album. It is not ready to be on the very top of the ratings, but it is definitely good enough to give you an enjoyable time. Thank you!
Favorite Song: Das kleinste Problem
Postings about Cologne
Here are all postings about my home town Cologne:
Top Pick! Museums Germany
Here are all my Museum / Exhibition reviews related to Germany closing with a Top Pick! rating: