Ryan Upchurch is called Upchurch or also Upchurch The Redneck. He is has touched quite a couple of genres through his career. Despite he is active just since 2014, his 2020 Everlasting Country is already his 13th album (plus three EPs he delivered as well).Interesting facts, which feels to make it worth to dare a look into the eleven tracks he released on 24th April 2020.
Upchurch – About The Artists
Ryan Upchurch had Nashville air in his lungs from the very beginning of his life – born on 24th May 1991, he grew up in Cheatham County, just Northwest of Music City. He started his career as a music YouTuber, where he released songs as Upchurch The Redneck together with his friend Shade Glover. Nowadays, his channel there has close to two million subscribers.
His 2015 debut EP Cheatham County is named after his home town and already made it quite well in the charts. The facts that its peak positions were #29 in US Country, #18 in US Rap, #7 in US Heat and #23 in US Indie  illustrates the versatility of genres used by Upchurch. His 2016 debut album Heart of America placed in these four charts as well with a top spot on the fifth one on the board of the US Heat. Some of his recordings are a genre mix, but there are also focussed publications like the 2017 EP Summer Love (just country music) or the 2018 Supernatural, which is very focused on rap. He regularly made good chart positions in any of the genres, even though the highest peaks were in the country charts during the last year.
Upchurch – Everlasting Country – Track by Track
The eleven songs last 33 minutes. Everylasting Country is Upchurch's very first country-only album.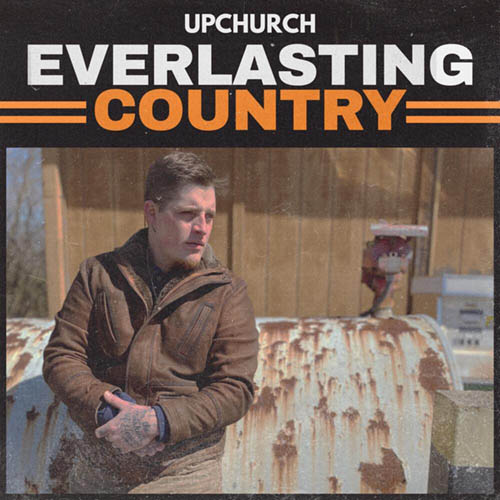 1. Rolling Stoned II
Rolling Stoned II is already a great starter to this collection of country songs. Very modern country sound, absolute radio track, good song
2. Tennessee
I can't help it God put me in a place so great
Even the tractors got the same damn color paint
Same ol' rivers and same ol' streams
Cut that exhaust off, son let it scream
God bless the south I'll never shut my mouth
And I'm proud to be from Tennessee, Tennessee, Tennessee
I'm proud to be from Tennessee
This guy is not only doing good country sounds in addition to rap and all the other styles – he is also having a touch for typical country music topics. Praising home is just one of these topics you seem to have to do in the US country scene – and Upchurch does it in a really good manner.
3. Sonic Drive-In
I pulled up to the Sonic drive-in
No AC in my truck
Diggin' in that seat for loose change
For an Ocean Water or some
But when I ordered the blue drink
I got pretty blue eyes and a summertime smile, yeah
I told her I've been diggin' for a while
Upchurch is simply great in storytelling, I absolutely enjoy it. Nice hommage to this fast-food chain. A truck, burgers, girls, cold drink (even though non-alcoholic) – this song has it all and it just a good one (again)
4. Everlasting Country
The fourth track is the title track of the album. Nice groove, nice modern country sound. Hard to say anything against this track, though I have to say that I somehow had more fun with the songs before.
5. Whippoorwill
If your truck breaks down
these county lines will get you home
But if you post some shit on me
you'll land yourself in God's big green earth
Because my daddy said don't start no trouble young man
but don't take no from no damn one
So I just sing my music, pay my bills, got a shotgun and a hearse
I turned the past into a southern charm and my red ain't covered by dirt
There is not too much more in lyrics than that, so I don't need to talk too much of the contents of the song. the song is well produced, but I rather listen to stories than these short lyrics. Average to me, at most.
6. Stole The Show
Another love song, which is touching me much more than the song. Good production, but somehow, the song feels quite close to other tunes I listened to on this album before.
7. Slow Down
The slow Slow Down is a nice alternative to the modern country mainstream. A song with a good flow, maybe too few moments, which finally catch you during listening.
8. Country Girls
Our boots stayed muddy, their jeans stayed ripped
We became bigger men with every Copenhagen pinch
Hard-headed as they came, as dirty as we was
I don't see why them pretty girls rolled in our trucks
We were restless, reckless, and all the above
Tryna draw us attention to paint a picture of love
One thing I know that I thank God for
And that's country girls
Nice storytelling again in a modern arrangement. However, the first songs just gave me a more persuading impression of Upchurch – and I definitely like the storytelling more than the in fact production and arrangement. Something feels missing.
9. Step On It (feat. Carly Rogers)
This speedy duet with Carly Rogers is a nice alternative tune on the album. Unfortunately, the song is only about 2:09 minutes long. I liked to listen to it.
10. Sunshine Girl
Another song about another girl – or the same? Even though the album is just 33 minutes and does not feel to be too bad, it does not touch me any more too much. Well produced, but somehow arbitrary and thus non-essential.
11. Roots Run Deep
Sometimes, just a bit of altering in the voice helps to make a more catching sound. After I really struggled with the some of the previous tracks, I enjoy listening to Roots Run Deep, definitely. It is not the best song on the album, but it does something to me – it makes me listen to it.
Upchurch – Everlasting Country – Spotify
This is the Spotify widget to the Everlasting Country album:
Upchurch – Everlasting Country – My View
Tough review of this Nashville local. Finally, his fans won't care what I am writing anyway. You see a lot of musical talent also in Everlasting Country (but of course, also in his whole vita). There are some good, well-produced songs. But maybe, doing thirteen albums in such a short time is a bit too much. Some music feels to similar, like having been produced on the studio's production line.I feel that Upchurch is an amazing musician and pay full respect to him, but Everlasting Country is just on top of the average zone to me.
Flyctory.com Country Music Reviews
Here are reviews of all country music albums and EPs I reviewed earlier on the website:
Postings about Road Trips
Here are all road trips on Flyctory.com