My first Spotlight interview of the year 2023 is with US country artist Zye Ca$h. He is having a rap background and is just about to release his new single Love Someone, which is a really beautiful listen. Before you are able to have a listen to this song on 13th January 2023, I had a chat with Zye.
Flyctory.com meets Zye Ca$h
FLYC: Zye, your new single Love Someone is released this Friday. Can you tell us a bit about it?
Zye: Yea definitely! Love Someone is a song I wrote about the struggles of being a single dad and wanting to find love. Many times I've wanted to throw in the towel because it can be frustrating and heart breaking. To me, nothing is greater then being love and unconditionally loving someone. That is why in the song I say, no I ain't done enough until I love someone.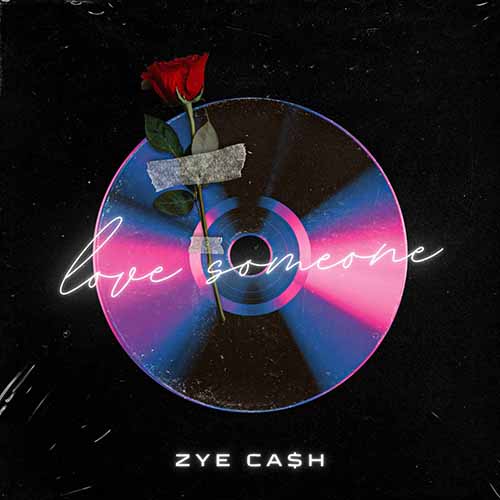 FLYC: Compared to the recent releases, it is definitely your most "traditional" song. Typically, you have a much stronger R&B and rap touch in your releases. How did it come to that?
Zye: Honestly, it's because I haven't had access to more traditional production. I'm now working with an artist Jake Angel who is able to create production that fits the music I really want to make. I enjoy rap and R&B but traditional/pop country is what I enjoy the most.
FLYC: Just naming the two genres, R&B and rap. Typically, your music is a blend of these genres (and country music). Which have been your idols in your childhood years? And how did your music develop towards the music you are doing now?
Zye: Growing up mixed, half black and white, I've always had a hard time fitting in with what I'm "allowed" to like and listen to. I got made fun of by one side if I listened to country and vice versa with rap. Music to me has no color or box you can put it in. As I've grown older, I've gotten back to my roots of who I really am and what kind of music I really want to make, which is country. I still enjoy other genres and like to mix them in since that's just who I am, but I feel much more comfortable embracing country music.
FLYC: Has there been a special artist or song which made you do country music as well?
Zye: I would have to say Jason Aldean. I've seen him in concert 5 times and really enjoy how unapologetic he is in and out of his music. I feel like I can really relate to him as a person through his music. The song that influenced me to make country music is Josh Turner Your Man. I have a deeper voice so this has always been my go to karaoke song!
FLYC: Your social media also shows that you are a proud father. What is your daughter saying about her daddy's music?
Zye: My daughter loves my music! I made a song for her called Daddy's Girl and every time we get in the car she always says "play my song." She also will tell me when she likes a song or doesn't think a song is good, so she's one of my favorite little critics.
FLYC: Your most successful song on Spotify so far is Slide. You released the track in 2021 and it has been streamed some 50k times so far. Can you tell us a bit more about it?
Zye: That song came from me and some of my friends hanging out and coming up with the idea to create a line dancing song. Me and a local artist JD Roberts teamed up with 2 local DJ's to make it.
FLYC: How was it like to release it? Have you been nervous about the critics and fan reactions?
Zye: I'm not nervous about people's reactions or critique because when I decide to put my music out there it's because I like it. I'll listen to criticism and challenge myself to improve, but don't allow negative reactions bring me down.
FLYC: Compared to the number of streams, you are a massive TikTok star. About half a million people are following you. What do you think made you grow there so much?
Zye: I always tell my followers if I wasn't doing music I would love to do comedy! A lot of my following has come from funny videos, remixes of popular songs, and trending ideas I've come up with like Thickalonians. I'm all about finding and creating trends. You have to stay relevant and consistent on there, but it's also a lot easier to get a following on TikTok versus a lot of other social media platforms.
FLYC: How is it like to also share parts of your private life on a platform like TikTok?
Zye: I really enjoy it. I'm not much of a social media person in general, so I just put my life on camera. I've had so many people tell me I've saved their life or really impacted them because of my transparency. That's one thing I never want to change.
FLYC: One thing you also shared in social media is that your brother Paul took his life some five years ago. How important has he been for your career?
Zye: It plays a major role in who I am today. He gave me the confidence to chase a music career. I honestly wouldn't be doing music today if it wasn't for my brother.
FLYC: MusicRow listed your song in the country music releases of the week and there are some 10k pre-saves for Love Someone already. What are your feelings about the single release?
Zye: I'm so excited! This is my first official release with a full roll-out. I never expected to get so much support, so it's honestly mind blowing how much love my song is getting.
FLYC: What are your plans for 2023? Any additional music already in the pipeline? Any kind of gigs or tours?
Zye: I have local shows booked for February in Virginia and working on getting some mini tours booked as well currently. As far as music, I'm planning on releasing more singles and videos as well as an EP this year.
FLYC: Especially as an artist who is that much into a wide range of genres: if you could chose one artist to have a duet with, who would that be?
Zye: Surprising to a lot of people, I would choose NF. He is a rapper, but he talks a lot about mental health and he literally saved my life in some of my darkest times. I feel like we could make a very impactful collaboration.
FLYC: Last, but not least: as a professional artist, you travel a lot. What is the place where you feel most happy and relaxed?
Zye: Nashville! I love it out there and have build up many friendships as well. It's my second home.
Follow Zye Ca$h Online
Spotlight – Flyctory.com Interviews
Here are all postings of my interview section Spotlight:
Marriott Hotels
Here are all my reviews of hotels licensed by the Marriott Group: