Some metal on Flyctory.com (again): on 8th October 2021, the French metal band Naraka release their debut album, In Tenebris. I could already have a listen before the in-fact release. Here is my review.
Naraka – About The Artists
Naraka is a four-man metal band from France. They have members from Paris as well as from Marseille. The four band members are Theodore Rondeau, Jean-Philippe Porteaux, Pierre-Andre Krauzer and drummer Franky Constanza. They mix difference metal styles in their songs, mainly death, thrash and symphonic black metal.
Naraka – In Tenebris – Track by Track
The eleven song album lasts 47 minutes.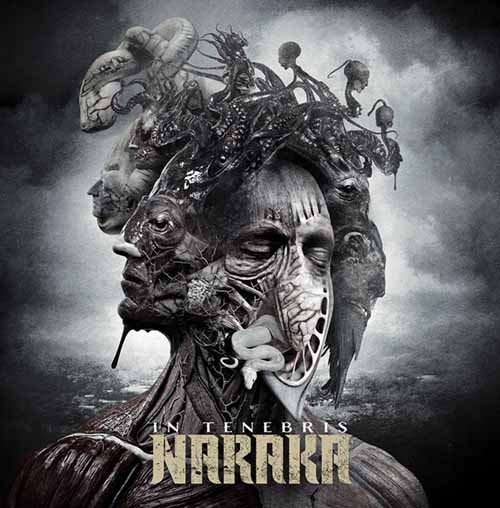 1. In Tenebris
The album starts with the title… No, it is rather a 1:46 minute atmospheric intro. Majestic entry into the band's debut album.
2. Cursed
Is it is a sewing machine? No, it is Franky Constanza on the drums! If you dare to believe that these rhythms cannot be created without a drum computer, I recommend the YouTube video proof. Amazing work from the very rear of the band, against which "machine gun" would still be a lousy description. Metal firepower with some good riffs, atmospheric work from the keys and good vocals – promising first full track.
3. The Black
Screaming sirens, multi-layered, distorted vocals – The Black is just a bit of scary, especially towards the end of this four and a half minute song. Very atmospheric sound, a cool listen (maybe you should ask your kids to play with some alternative building bricks in another room before listening).
4. Of Blood And Tears
For this song, Naraka is working with Vera Bordacchinni. She is, of course, adding a great, melodic flavor. A touch of Nightwish – just the darker metal parts are much darker than in the Finnish way of doing symphonic metal songs. A dramatic highlight of the album, for sure.
5. Dream And Wait
After a nicely composed, dramatic intro, the song is steadily marching forward, driven by the well-known sewing machine guy. Very nicely added atmospheric chords from the keyboards and hammering riffs from the guys at the strings. Loud and good.
6. Antra Daemonium
Antra Daemonium is a less than two minutes interlude. Feels like a very class orchestral sound. Cool one.
7. Darkbringer
I feel that the Darkbringer is especially impressive in its instrumental parts. The vocal ones feel are nicely contrasting, but are just not that atmospheric. Again, the French understand how to arrange their tracks and alternate between different sounds.
8. Mother Of Shadows
The second collaboration on this album is another female voice which is adding a strong symphonic touch: having Lindsay Schoolcraft from Cradle of Filth on this recording is quite a big name for a debut album. Well done that they stretch this song to the most extent – Mother of Shadows is almost 6:30 minutes long. A great track with very nicely changing atmosphere. Cool one.
9. Sleeping In Silence
If you exclude the intro and interlude track, the three shortest songs of the album are at the end of In Tenebris (in decreasing order of duration, by the way). Sleeping In Silence comes with a very new sound and almost has a touch of alternative rock to me. Hard to describe in words, but definitely a nice additional touch.
10. The Great Darkness
Back to Naraka normal: a collection of sounds, different moods, mad drum sets. Entertaining song, even though there is not that much special about the travel into The Great Darkness.
11. Compendium Maleficarum
The Compendium Maleficarum is an instrumental track, coming with keyboard / piano sounds as a slow finale.
Naraka – In Tenebris – Spotify
Here is the album on Spotify:
Naraka – In Tenebris – My View
Naraka did many wise choices. They showcase their instrumental and vocal skills, they work well with atmospheric breaks – and in worst case, you can be hard, fast and loud and the masses will love you. The two collaborations give a great different flavor. On top of that, the three intro/interlude/outro tracks and surprising sounds like Sleeping In Silence lead to a very entertaining listen. The album is simply fun.
Hard Rock & Metal Top Pick! Reviews
Here are all my Media Reviews related to Hard Rock & Metal, which lead to a Top Pick! rating:
France
Here are all my postings related to France: