Typically, after I finished the album reviews I planned to do on a Friday, I scan the new releases if I feel there is some music I would like to share with you. On 25th October 2019, after I published my view on Sylvia Aimee's Superhero and the third album by Old Dominion, I ran into the EP of Jon Langston, who had released Now You Know at the same day. I liked it – so here is my review.
Jon Langston – About The Artist
Jon Langston was born has Jonathan Thomas Langston in Loganville, Metropolitan Atlanta, in 1991. He was a promising football player, before an injury lead him more towards the career as a musician. His first show was an support act one for Chace Rice in 2013. While his self-released EP Runnin on Sunshine had limited commercial impact, he made it much better two years later under the Treehouse label: the EP Showtime went up to the 26th spot on the US Country Billboard. He released another self-titled EP in 2015 independently with even slightly better success in the charts, as this one topped the US Heat ones. Some of his songs have quite commerical success, like Right Girl Wrong Time, which made it to 27 million YouTube views. In 2018, he signed with Universal Music Group and 32 Bridge Entertainment, a company owned by Luke Bryan. In that year, he also brought When It Comes to Loving You into the Top 30 of the US Country Singles charts. During the 2019 Luke Bryan concerts, he opened at multiple shows.
Jon Langston – Now You Know  – Track by Track
The six song extended play lasts 20 minutes.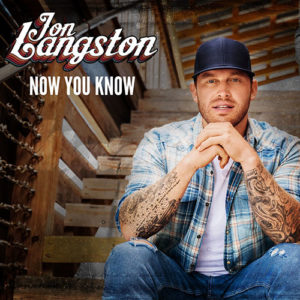 1. Now You Know
The EP starts with a perfect example for a streamlined, state-of-the-art modern country production, radio-fit and catchy.
I'm a cold beer drinkin' every Friday night
Singin' them songs 'bout the girl I love
I'm a small town, running that sundown
Till I get downtown tearin' it up
I just go with the flow with the whiskey and Coke
If you ever wondered how I roll
Well now you know
Oh yeah and it features the good old Friday night, girls, alcohol… So it must be great one!
2. Dance Tonight
Another really well done song. A bit more focus on the instruments, intense vocals – just a great song!
3. When It Comes To Loving You
As said above, this track was already published 18 months before the EP. Slower, a swaying song – a nice country music ballad with a touch of rock.
4. Dial One Up
Dial one up if you trying to let down that whiskey wild hair
Wanna get lost in the Dixie night air
If you wanna sing along to an Alabama song about love
Dial one up, I got you covered if you need a little crazy
With some Tennessee Number 7 luck
You and me can have a good time, baby
If you're down, we can dial one up
This EP got a certain sound – and Dial One Up hits it quite perfectly. It is hard to find the bad things in these songs.
5. Sunday Morning Heart
Sunday Morning Heart has a bit more of classic country sound – not just due to the steel guitars. Also other parts of the song have a quite unique character, which makes it maybe not the best track of these six, but definitely the most outstanding one.
6. Cigarettes & Me
The sixth and last track is more on the ballad side – and with close to four minutes also the longest one of this EP.
I could see that blue collar smile dragging on that Marlboro Red
And I remember every prayer and every cuss word that he said
All the junkyard parts that didn't fit
My daddy never quit
Cigarettes, Chevy trucks, and me
Nice storytelling as well.
Jon Langston – Now You Know – Spotify
The Spotify widget allows you to have a listen to the EP:
Jon Langston – Now You Know – My View
The selection of songs is not that variable, but the production (as expected, when Luke Bryan is somehow linked to it) is definitely great. I definitely like the Now You Know EP, is is great male rocking party country music – and I guess that these tracks are even better live on stage than in the recorded version. A great appetizer which wants you to listen to more by Jon Langston in the future. His songs just stay in your heart, so they are a Top Pick! to me.
Flyctory.com about Country Music
Here are all Country Music-related postings on Flyctory.com: