The German Country Music Scene is having their highest holidays – The C2C in Berlin started on 6th March 2020. In the Splitter category. I tell you stories around the C2C, stuff which happened away from the stages – funny, sad and other stories worth telling.
C2C 2020 – Day 1 (06.03.2020) – The Splitter
The first splitter of the C2C in Berlin is about the press event, bad weather and bad behavior.
Press Conference
While the first acts were already playing at side stages, Semmel invited the press to the press conference in the Rooftop Bar of the adjacent Indigo hotel. The event featured Matt Lang, Kyle Daniel, Willie Jones, Tim Hicks, The Cadillac Three, Jimmy Allen, Lindsay Ell and Kenny Foster. I am not too much a fan of press conferences, but the overall feedback by the colleagues was very good – the country music stars are just handy and friendly guys.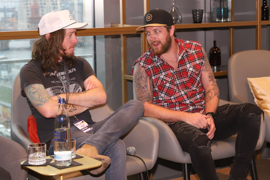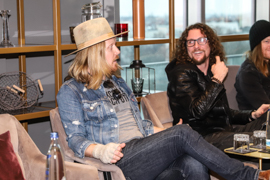 A key topic was of course the recent tornado catastrophe in Nashville – but there have also some interesting and funny topics. The Cadillac Three, for example, told about their first gig in Germany, when they supported Eric Church and played in front of 400 to 500 people, Eric will a dark Ray-Ban and likely not seeing anything in the dark and small club. Matt Lang explained that he is in fact French mother tongue (he is from Quebec), but that French is just a bad language for country music. Kenny Foster appreciated that the German fans are that good in English and that the stars highly appreciate the support and growing country music scene in the country.
I added a picture gallery of the press conference. You will find it in the C2C Berlin Gallery Group in the concert galleries:
The Weather
The only key topic where you just cannot blame the organizers – the Berlin weather at Day 1 just does not feel to be country-friendly. Especially the acts at the open air Townsquare Stage (in a Mercedes Bank truck) have a tough time: It is quite cold in there and also rainy. Nik Wallner had the worst weather as closing artist there. Hope to have a better one on Saturday.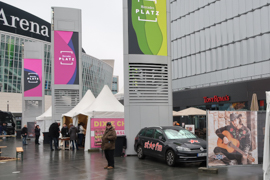 Corona Health and Hysteria
Covid-19 – or the Corona virus – is of course a topic in Berlin as well. Saddest part of that story: Old Dominion withdrew from their lineup – not only in Berlin (where you just had a very few number of cases), Amsterdam and the UK / Irish stages the next weekend. The reactions, especially from European, UK and Irish people, were very bad. The London festival has additionally been hit by three withdrawals from the traditional Thursday opening songwriters round.
In additon "A Thousand Horses" pulled out of the Berlin C2C, but they stated own health issues. Furthermore, the organizers cancelled the meet & greet truck at Town Square and turned it into a lounge for the country fans. Overall, the (remaining) artists are very close to the fans.
Flyctory.com about Country 2 Country
Here are more postings related to the Country 2 Country festivals in the UK, Netherlands, Ireland and Germany:
Country Music Picks
In the Country Music Picks, I share new songs with you. Here are all postings: