That day in Tilburg, Netherlands, was some sort of highlight of my Flyctory.com history so far. Almost five years after I founded the website, I was able to cover a show of one of my very big idols, Weird Al Yankovic. The Unfortunate Return of the Ridiculously Self-Indulgent, Ill-Advised Vanity Tour hit European soil in February and and March 2023. Nine days after the tour had started in Dublin, Ireland, I was able to showcase the comedy artist with full photographic gear. Support act for all European shows was, like at the North American stages in 2022, Emo Philips.
This posting comes with 363 major size pictures as part of the concert gallery.
013 Poppodium – About The Venue
The 013 or 013 Poppodium is a rather large concert venue in Tilburg in the Netherlands. The main hall holds a capacity of up to 3,000 people. However, the show of Weird Al Yankovic and Emo Philips has obviously been a seated show, so that the capacity has been lower than that. Nonetheless, the show in Tilburg has been one of the quickest selling out ones of the whole 2023 European Tour – apart from some VIP tickets, which generally feel to sell significantly worse here than in North America. The venue is located East of Tilburg City Center. Due to a carnival parade, several streets were blocked.
Weird Al Yankovic & Emo Philips – About The Artists
I guess that if this is not your very first time visiting Flyctory.com, I don't need to tell you too much about Alfred Matthew Yankovic or "Weird Al" Yankovic. He was born in Downey, California, on 23rd October 1959 and grew up in Lynwood. He majorly became popular by songs like Amish Paradise (see my Songs of my Life entry about it) or White and Nerdy. The The Unfortunate Return of the Ridiculously Self-Indulgent, Ill-Advised Vanity Tour, however, is more concentrating on his originals, like my all-time favorites Skipper Dan or Albuquerque, which can definitely been named as a fan favorite. Part of the tour concept is that they have a rotating set list. No concert is the same. During the 131 concerts in North America in 2022, the band played  selection of an overall of 39 their originals (and the theme song of a fan podcast about them). Yankovic, who just released a satiric biopic about himself, is five time Grammy Award winner
Like during the 2017 tour (and the North American legs of the tour in 2022), Weird Al is supported by Emo Philips. The stand-up comedian and actor was born in Chicago on 7th February 1956. He became popular among the Weird Al Yankovic fans playing the role of Joe Early in Yankovic's debut movie, UHF. In the 2022 movie Weird: The Al Yankovic Movie, he parodied Salvador Dali. He has been a frequent guests in multiple TV shows in North America and played thousands of live performances.
Weird Al Yankovic & Emo Philips – The Show
It has already been the sixth show of the tour I have visited – and these guys have the precision of a Swiss watch. You don't have to have a look, it was 20:00 crisp when Emo Philips was entering the stage for a 27 minute set. I am in parallel preparing a post about all other shows I visited (which will be released after the Berlin stage). But I feel if you saw him on stage and now look in the gallery, this just underlines his amazing technical skills how to entertain and surprise people. It was also interesting how he adopted the program slightly to Continental European people. He won the hearts of Tilburg quickly and the people enjoyed to laugh with him.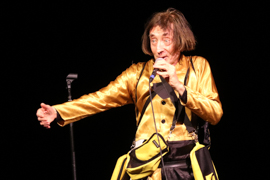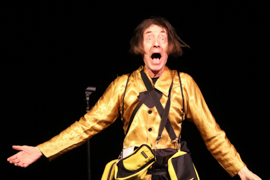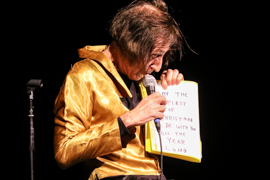 More than 100 Minutes of Weird Al
20:45 was time for Weird Al Yankovic and the band. I recently saw Weird Al a couple of times categorized as an "alternative rock" artist – and on that day, he proofed he is a rocker at heart. There were more quiet moments like One More Minute or the lounge version of Dare To Be Stupid, but Jim "Kimo" West and Stephen Jay had to work quite a lot on the strings of their guitars / basses. The scenery was awesome – as Tilburg was packed with a carnival parade that day, the young man in the wheelchair in the first row rocked to the opener Lame Claim to Fame as the 1980's style costumed visitor a few rows behind.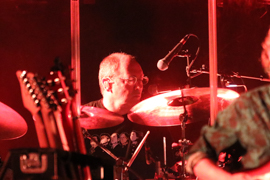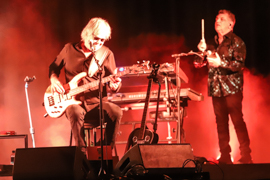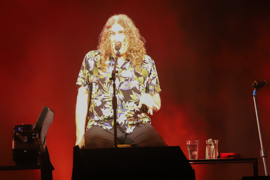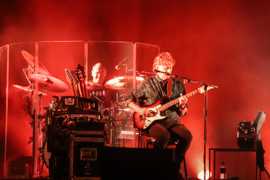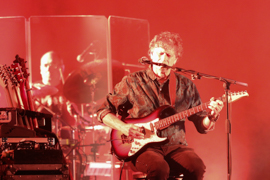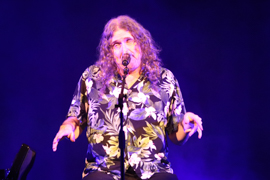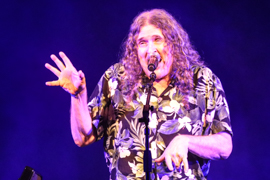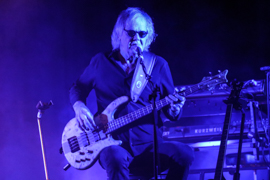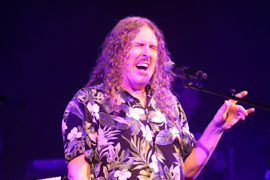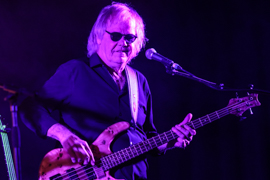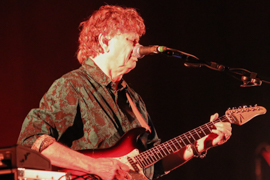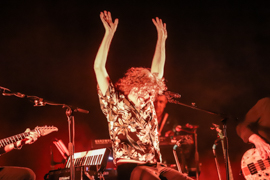 Overall, the song also had some surprises. It was the first show of the tour I attended with did not open with Fun Zone and close with Albuquerque. Especially having The Biggest Ball of Twine in Minnesota in the list of songs was a real treat. You felt that the band had a lot of fun, the fans did not only get the Drum Solo, but also a Harpsichord Solo, a bass solo and the Drum Solo Reprise. The encore cover of the night was Born to be Wild, the good, old Steppenwolf classic. It suited to an evening with Weird Al to his band: honest, straight, just five guys sitting in their positions, rocking and having fun with the European crowd in Tilburg's 013 Poppodium .The evening closed with the Unplugged Medley, containing very different versions of classics like Amish Paradise or White and Nerdy.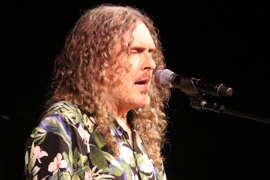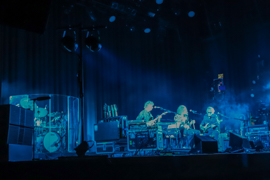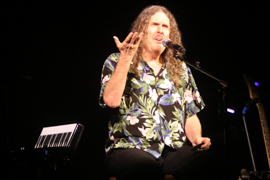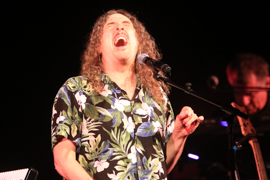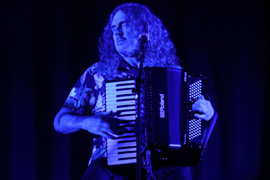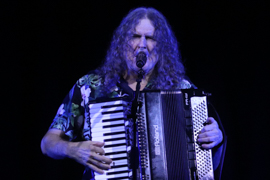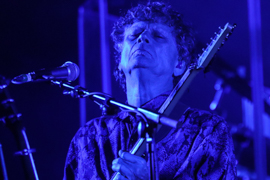 Weird Al Yankovic in Tilburg – The Setlist
Due to the rotating set list, here are the songs Weird Al played in chronological order:
Setlist:
Lame Claim to Fame
Airline Amy
Bob
Generic Blues
The Night Santa Went Crazy
Midnight Star
Dare to be Stupid (lounge version)
Young, Dumb and Ugly
Harpsichord Solo
Melanie
Drum Solo
Dog Eat Dog
Bass Solo
First World Problems
One More Minute
Your Horoscope for Today
My Own Eyes
Drum Solo Reprise
When I Was Your Age
U.H.F.
The Biggest Ball of Twine in Minnesota
Born to be Wild (orig. by Steppenwolf)
Unplugged Medley
Weird Al Yankovic & Emo Philips – The Gallery
Here are 363 major size pictures of the show. They are located in the concert gallery:
Weird Al Yankovic & Emo Philips – My View
I can't deny that I was damn nervous before this one. The very first time being able to take pictures of this amazing band – I hope you enjoy the result. The evening was just a perfect one, I would say it was even the best evening of the tour so far. The scenery with costumed people partying to Emo Philips and Weird Al Yankovic was just the way a show of these guys should be. And: Tilburg was one of the first venues to sell out – by that, it also showed that there is a strong European community for the US-American artist.
Postings about Concerts
All postings about concerts I visited:
Flyctory.com about Weird Al Yankovic
Here are all postings related to Weird Al Yankovic: