Another interesting artist on Flyctory.com: Israel Nash is doing rock with an Americana touch. He grew his fanbase over the last two decades and already toured Europe. On 12th March 2021, he will release his new album, Topaz. Here are my thoughts about it.
Israel Nash – About The Artist
Israel Nash Gripka is a rock and Americana artist born in 1981. He is originally from Missouri and started to perform in New York City clubs from the mid-2000's onwards. In 2009, his popularity grew sufficiently so that he released his debut album New York Town independently. He moved to Dripping Springs, Texas, just West of Austin, and stayed in that state until now. H is regularly releasing music – his latest three publications were the album Lifted (2018), the EP Topaz in 2019 and a live album, Across The Water, Live in Europe in 2020.
Israel Nash – Topaz – Track by Track
The ten song album lasts 45 minutes.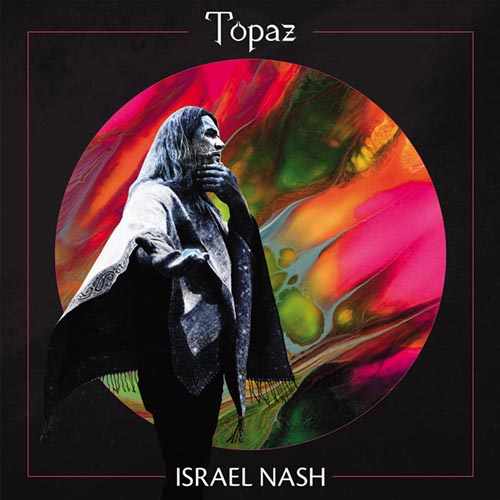 1. Dividing Lines
Rather slow with a very present voice – Diving Lines is definitely a moderate beginning of the Topaz album. The chorus has quite some power – and the song is present all the time. A good listen with a classic rock and blues touch.
Dividing lines
They just come between us baby
Love runs and hides
Every time it's around
2. Closer
Closer is the first out of four song, which have been released before the album. The atmosphere of song is very similar to the opener at the beginning, when there is majorly the acoustic guitar, the intense voice by Israel Nash and some drums. Over the whole time of the 5:34 minute song, you have more instrumental elements like the harmonica. Overall, the song thus feels more powerful than the first one.
3. Down In The Country
The third song, Down In The Country, is very different to the two openers. There are brass sounds, electric guitars. The song is not too pushy, it still creates a gentle style, but it uses a nice variety of sounds, which gives it a bluesy, sometimes almost symphonic touch. Great listen.
4. Southern Coasts
The lyrics sheet for the 3:37 minute song comes solely comes with ten lines of verses. Southern Coasts is thus a very special one again, getting its power and its presence a lot from the backing instruments. But still, Nash's vocals add their flavor. Really nice composition.
5. Stay
Baby won't you take me
From this place that I fell in
You know the place I'm in
Lately it's been crazy
Oh I'm here to there
Am I getting anywhere
Stay almost feels like early 1980's pop-rock to me. It has a groove like you find on some Bee Gees tracks (but there are no falsetto voices in here. Nice groove.
6. Canyonheart
My heart is a canyon
The flashing flood won't drown you out
You can heart it when you shout
All my love is coming down
It's only just coming around
Again, this song feels so simple, so limited. The drums are so slow that the drummer is likely be bored, isn't he? No, he can't – because Israel Nash is doing just right. Another song which almost feels majestic to me. Slow rock with an Americana touch – would love to listen to Canhonheart in a small Texas town bar – the perfect atmopshere for this sound.
7. Indiana
While the harmonica introduced the listener to Canyonheart, Indiana comes with brass sounds again. Very cool sound – the trumpets give a really powerful rock music feeling. Catchy melody as well.
8. Howling Wind
The wind was howling through the night
Breaking bones and stealing light
It came whipping through my trees
Kicking dust and striggin leaves
It was hot upon my back
I lost my head and lost my hat
Howling Wind – which really comes with wind sounds in the background – is coming with such a strong presence, you just have to listen. Sometimes, the sound of the song is almost frightening to me.
9. Sutherland Springs
In Sutherland Springs, Israel Nash reminds of the Sutherland Springs Church Shooting.
Sunday morning won't be the same
For Wilson country a stone's throw away
They prayed for rain but the steel came on down
How many will they keep putting in the ground
Sutherland Texas you're on my mind
You're heart is aching and so is mine
Empty answers are all you'll find
Sutherland Texas you're on my mind
To me, this is the most breathtaking and impressive song.
10. Pressure
Pressure includes the F-word, so that the song will come with the Explicit label. Nash recorded the song during quarantine as a social critics. The song comes with a touch of soul and blues and is thus an impressive closing of the album.
Israel Nash – Topaz – Spotify
Here is the album on Spotify:
Israel Nash – Topaz – My View
Israel Nash comes with a really cool and wide rock and Americana sound. I just enjoyed to listen to his songs during the review – the last two ones give a very powerful and present finish. Nonetheless, there are also songs like Southern Coasts or Canyonheart, which are impressive in a very different way. If you like slow Americana rock with good lyrics, Topaz is definitely a good option for you.
Flyctory.com about US Aviation
Here are all Airports & Airlines postings related to the USA:
Rock Music on Flyctory.com
Here are all my postings dealing with Rock Music: