I already felt that I had closed my Flyctory.com media review work and all the playlist stuff on 12th February 2021, when I ran into a debut EP I just had to share with you. Callista Clark is something like the most promising young act of Big Machine Records currently. With Real To Me, she released her first five song set. Here is my review.
Callista Clark – About The Artist
17 years old, 60k followers on Instagram, 55k subscribers on YouTube, where her cover of Have You Ever Seen the Rain? (orig by Creedence Clearwater Revival) made it to over one million views three years ago – on top of a decent number of 27 million ones on Facebook. The stats about Callista Clark read impressive. She is originally from Zebulon in Georgia, a small town about an hour South of Atlanta. She became more and more viral, before she signed a record deal and is pursuing a music career. Have named all the impressive facts, you also have to state that recent videos like Just a Girl, orig. by No Doubt, just has a few thousand views.
Callista Clark – Real To Me – Track by Track
The five song EP has a 16 minute playtime.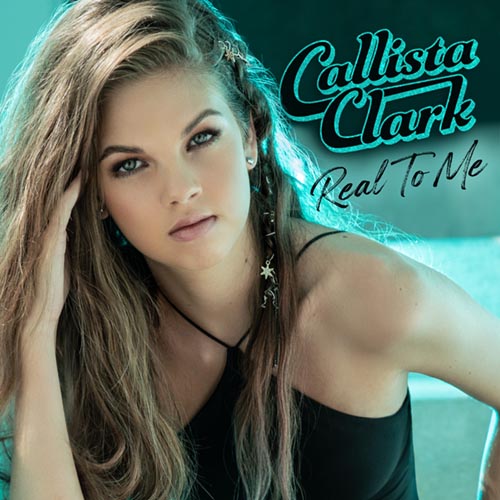 1. It's Cause I Am
I can't help that I'm one of a kind
I'm more than meets the eye
If I ain't what you like
Well that's already
You want a one-dimensional women
It's okay, I understand
If I seem too complicated for ya
Mmh, it's cause I am
The opener of the EP is a country love track with a lot of power. Great arrangement, great voice. I however struggle if these are the stories of a teenager. Young Callista singing songs of a more mature lady.
2. Heartbreak Song
The Heartbreak Song is melodically not too far away from the starter, It's Cause I Am. The song is surprisingly long, though (over four minutes playtime). I really don't like these 2:30 minute Nashville mainstream tracks, but this heartbreak might have even better if decreased by one loop.
3. Change My Mind
You ain't gonna change my heart, boy, // You just gotta change my mind – the song reminds me of Carrie Underwood or maybe also Miranda Lambert. It feels to be very mature in his melody in his lyrics. On the other hand, Callista Clark has a great voice for a 17 year old girl – but she undoubtedly does not have the voice of a really mature artist. I struggle with that contrast.
4. Don't Need It Anymore
This heart's useless, worthless cause it
just doesn't work like it did before
You stole the meaning, it's not beating
You can keep it, I don't need it anymore
I like the lyrics of that one. Not my favorite track on the EP regarding the melody, but so far it is the straightest one on the EP. A track I feel which fully suits to Callista Clark.
5. Real To Me
Real To Me just comes with very limited instrumental backing, so that there is a nice concentration on Clark's voice. It leads to this Have You Ever Seen The Rain feeling that has been loved by millions of viewers worldwide. And I feel that this is where Callista Clark is really strong.
Callista Clark – Real To Me – Spotify
Here is Callista's EP on Spotify:
Callista Clark – Real To Me – My View
Oh, I already hate that I spontaneously decided to review Real To Me. Doing a precise and fair opinion on the five songs is really tough. I definitely like what I am listening to, I feel it is well produced country music with nice sprinkles of pop and rock music. I do struggle in believing that some of these songs are the songs of a teenager. Some feel too much like the songs of adult record companies.
During the review, I have been thinking a lot about the review of German artist LINA and her recent EP Meins – a children music star inevitably growing up and becoming more adult, but still being linked to teenage pop. Callista Clark is the exact opposite. She was amazing when she played Creedence Clearwater Revival. She is amazing when she is playing Real To Me. And she is definitely fascinating on the other songs as well. Just hoping that a music jewel takes the right first steps in here. If she fails, the companies won't fail. There are plenty of these jewels in Nashville, even if they sparkle just a little bit less than Callista Clark. Proof me wrong, young lady!
Debut EPs
The first ever EP – here are my debut EP reviews:
Flyctory.com in Atlanta
Here are all postings related to Atlanta GA: