When I reviewed Chris Stapleton's studio album Starting Over in 2020, I already mentioned that I was really surprised that it is just his fourth one overall. Higher is the next long-play… and I still wonder that there are just that few releases by the country rock superstar. Here are my thought about the release.
Chris Stapleton – About The Artist
Chistopher Alvin Stapleton is a 15th April 1978-botn artist from Lexingon, Kentucky. Nowadays, he lives in Nashville. Stapleton is an active professional musician since over twenty years. However, it took since 2015 until he released Traveller, his debut album. Before that, he has been part of several bands. This album, which lead to two out of his eight Grammy Awards so far, boosted his career. All Chris Stapleton albums released so far topped the US Country Album Charts. None of them peaked worse than third in the overall charts. Stapleton is also successful outisde of North America. Traveller and Higher, for example, had a presence in the German album charts as well.
Chris Stapleton – Higher – Track by Track
The 14 song album lasts 54 minutes.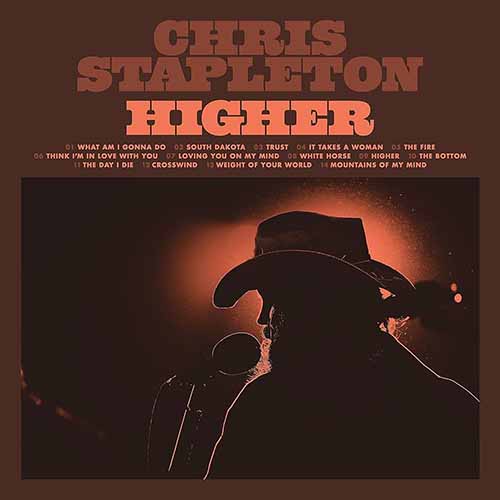 1. What Am I Gonna Do
What am I gonna do
When I get over you?
What am I gonna be
When you're just a memory?
Maybe you would expect Chris Stapleton to start his 2023 album with a bang, with a lot of power. But in fact the opener What Am I Gonna Do is rather gentle, ballad-alike song. Nice listen.
2. South Dakota
After the gentle and emotional opening, the musical trip to South Dakota is quite a change. The song is darker, introduces rock and blues vibes. The song is driven by its atmosphere, the instrumentation and a decent sense of melancholy. Already the first words state Lord, this morning, when I woke up I wanted that whiskey in my coffee cup. 
3. Trust
The next two songs are about love. Trust thereby is a bit of a mousy track, even though the strumming guitar and the continuous drumming leads to a rather personal and intimate atmosphere. Trust in me like I trust in you is the key message of this song, which again feels a bit of repetitive.
4. It Takes a Woman
It Takes a Woman is a love letter to Stapleton's wife Morgan. You can listen to her voice as a background singer throughout the whole album, by the way. The style of the song is again very stripped down, so that there is majorly a focus on the vocals. Intense.
5. The Fire
The Fire is a track in between two single release. The song feels like a fusion of country music and soul elements to me. It does not leave too much impact to me while listening, though.
6. Think I'm in Love with You
The blending of country music and soul elements continues with Think I'm in Love with You. However, there is more power and energy in this song. I also love the instrumental work in the song.
7. Loving You on My Mind
I needed to listen twice or thrice before I really started loving this track. It initially felt to be another track in the "sandwich position" between two great recordings to me. However, especially the bridge and later parts of the song spread a lot of Stapleton spirit, the more often you listen to it.
8. White Horse
If you see Spotify streams as a sensible measure of success, White Horse has been the most successful feature single of the album. The song has the country and rock attitude many people think of when they think of Chris Stapleton. The eighth track might not be too characteristic for the Higher album so far, but it is a treat for fans of the artist.
9. Higher
I could board an aeroplane
And look down across the land
But it could never reach that place
That I know your sweet loving can
'Cause you take me higher
So much higher
The title track is calming down the spirit of the album again. The song is combining a lot of the typical lifestyle of the 21st century with love and emotions. This turns Higher into a rather remarkable listen.
10. The Bottom
The Bottom is another song which is spreading a lot of energy. Chris Stapleton could have written this one for a Tom Petty album as well. A nice, straight Americana rock / country rock with a really nice hook.
11. The Day I Die
When my heart stops breaking
When my eyes won't cry
When there's a day I can live without you, baby
It'll be the day I die
Maybe The Day I Die is a bit too much on the pathetic side. However, the track is also one of the most emotional moments of the album. The howling guitars give the right sound and atmosphere to this write.
12. Crosswind
Crosswind is one of my favorites on Higher. I really like the Western-style sound. Furthermore it has a straight, typical Stapleton vibe. A song which is perfect to listen to and simply enjoy.
13. Weight of Your World
The second last song takes over a rather straight ballad role. Like many songs of this part of the album, there is a straight country music spirit in it.
14. Mountains of My Mind
The album closes very quietly. There is just the acoustic guitar left, which is literally reverently strumming gently in the background. The right way to close a very personal album by Chris Stapleton.
Chris Stapleton – Higher – Spotify
Here is Higher on Spotify:
Chris Stapleton – Higher – My View
Chris Stapleton always combined his country and rock heart with very gentle and fine melodies and writes. In that way, Higher feels just like a consequent and straight development of his discography. However, the very soulful sound is very remarkable. Nonetheless, I much more liked the musical quality and wide range of songs, which Stapleton presented in Starting Over.
Favorite Song: The Bottom
24 Best Museums in 2023
Here are the twenty best posts about Museums & Exhibitions published in 2023:
Best Rated Media Reviews in 2023
Here are the 40 best rated Media Reviews on Flyctory.com in 2023: