Dr. John has been a famous face of the New Orleans blues and jazz scene. The artist overall released thirty-one albums during his lifetime. In 2019, he died at the age of 77. Based on already existing recordings, the artist is honored by the album Things Happen That Way, which is more strongly influenced by country and Americana music. Releasing an album of that genre has been the wish of the artist in the past. The album has become available on 23rd September 2022. A vinyl edition will be available on 14th October 2022.
Dr. John – About The Artist
Malcolm John Rebennack Jr. was born on 20th November 1941 in New Orleans, where he also died on 6th June 2019. His artist name is related to the Louisiana Voodoo, an African diasporic religion. He started to release music as a leading artist in 1968 and also has played in a couple of movies, typically playing the role of himself. He is a six time Grammy Award Winner (the last time in 2013 for Locked Down as the Best Blues Album) and an inductee in the Rock and Roll Hall of Fame.
Dr. John – Things Happen That Way – Track by Track
The ten song album lasts 39 minutes.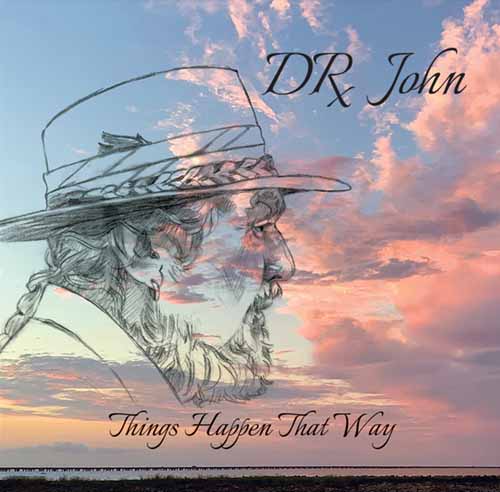 1. Funny How Time Slips Away
The opening song is a version of the 1960's Willie Nesösen write, which became famous by Billy Walker. The song has a nice blues signature with Dr. John doing the vocal and the piano part (like in most songs of this album)
2. Ramblin' Man
Will Lee on the bass adds a nice groove to this Hank Williams Sr. song. A slow, very intense listen. Nice song, indeed.
3. Gimme That Old Time Religion (feat. Willie Nelson)
Willie Nelson joins Dr. John for this classic. Together with the two female background singers, Gimme That Old Time Religion creates a gospel-alike atmosphere. Very nice listen
4. I Walk On Guilded Splinters (feat. Lukas Nelson & Promise of The Real)
The Nelson family is very present on this album – and thus, Lukas Nelson and his band is joining this song, which has been a Dr. John original in 1968. A nice blues touch with new influences like Logan Metz on the steel guitar. With almost five minutes, this track is the most epic of the album.
5. I'm So Lonesome I Could Cry
The arrangement of this Hank Williams Sr. does not need too much on top of the original recordings by Dr. John and his piano. There are some additional keyboards and Shanie Theriot adds a few country-alike sprinkles here and there. Especially the lap steel and the box drum give a nice flavor. A bit of dark and slow, but a lovely recording.
6. End Of The Line (feat. Aaron Neville)
The Travelling Wilburys turned this song into a global classic – and the Dr. John version 2022 is an absolute treat. Trumpet, horn and sax add big band touch. For this song, there are also five additional vocalists so that the arrangement feels really massive. A nice way to give End Of The Line a touch of a soulful blues finish.
7. Holy Water
Holy Water is another write by the artist himself. Katie Pruitt is taking part of this song as an additional singer, which adds a nice duet touch. Good work by Shane Theriot on multiple instruments as well.
8. Sleeping Dogs Best Left Alone
Another original recording with a wide arrangement and a funk touch. Nice work on the organ in here as well. Like it.
9. Give Myself A Good Talkin' To
This song closes the set of three originals. There is a nice jazz vibe in the ninthe track, I also like the present melody played on the Wurlitzer piano. Good listen.
10. Guess Things Happen That Way
The closing song is somehow the title track of the album. The track Johnny Cash turned into a big one is a perfect finale of this album. The 2022 posthumous Dr. John version creates a calm country ballad touch. Perfect finish.
Dr. John – Things Happen That Way – Spotify
Here is the album on Spotify:
Dr. John – Things Happen That Way – My View
Things Happen That Way is indeed a beautiful way to praise Dr. John. Sometimes, the songs could be a bit more county-alike, but overall, the album nicely manages to move the recordings towards that genre without giving up the blues and jazz heart of the artist. I go for the high ratings here.
Jazz on Flyctory.com
Here are all postings on Flyctory.com related to Jazz:
Travel (Nashville)