It is very hard to put the music by Israeli artist Dekel into a single genre. There is a touch of folk, jazz, pop and indie styles in it. On 8th September, she released her new album Desert Moon. I unfortunately did not have the capacity to cover the album in my review. The more, I feel happy to be able to introduce the artist to you in my Spotlight interview. Enjoy the interview.
Flyctory.com meets Dekel
FLYC: Dekel, thanks for joining the interview. The first statement about you in the press kit is My music? It's like a very big hot soup, Everything that I have, I put in a great big pot and I cook it. What do you feel is the key ingredients to good music?
Dekel: Key ingredients to good music in my opinion would be exploration, taking risks, openness and to be in a position of non judgmental attitude. I think it is very important.
FLYC: You recently released your new album Desert Moon. Are there new elements, new ingredients you tried out during the twelve songs?
Dekel: On Desert Moon I tried to accurate more of the musical signature I'm working on by having it with less instruments, tried a bit of roughness especially with the brass that participate on the album and it was very important to me that we will build it in a way it will be easy for me to translate / transform it on stage in an acoustic version.
FLYC: How do you write music? What inspires you to the topics which finally turn into songs you share with us?
Dekel: The topics that inspire me would be very philosophical with a practical element. What interests me is how I can get more knowledge and how I can open more of my heart. In my opinion that's what we came to do here in the world and that is what makes us better versions of ourselves. I find it boring and meaningless to deal with stuff that doesn't feel fully enough. I try to get the best results with everything that comes on my path and that means that I work and put effort and thought in everything. What I understand I understand and what I don't understand I put aside with respect, that hopefully 'tomorrow' I will.
FLYC: Your music is typically using a rather wide range of instruments. How do you transform a song idea into that whole composition. How do you for example decide to use the bajan, which we hear on the recent album?
Dekel: Actually accordion and bayan are in my 1st and 2nd album and will be also on my next project as well. It is an instrument that is close to my heart and also bayan on stage can fill in a bass guitar if needed (bass is always good to have). I admit that on my 1st project we were crazy and recorded 25 instruments and then I learned that I want to go quite the opposite. An acoustic guitar is a must thing to have, that's the skeleton of the music and then on top of it a bayan. Less is more.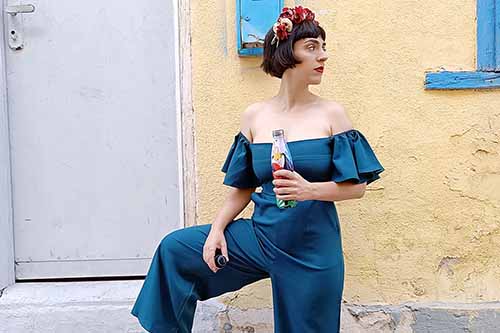 FLYC: I read about you that your parents are not musical, but that there was typically the radio running with classical music. What have your first steps towards your musical career been?
Dekel: I was a very artistic child and my mother recognized it and sent me to a few classes that one of them was a musical one. other classes were artistic as well. I've learned to play the piano and a flute and I was in a choir and that gave me a stable base to grow from, confidence and inner discipline.
For me to keep on practicing and learning is for life. It keeps me stable.
FLYC: You attended the Beit Zvi Performing Arts School. How much does that help you nowadays when you present your music on stage to the audience?
Dekel: Oh that helps me a lot. especially how to tell a story. Cos' in the end a song  is a story of tones and notes. Also how to connect to the essence of the story. There are many angles to tell a story from.
It keep it fresh. Also the more you do it the more you practice the better you are, it's a custom you know already but you meet it every time you wear it differently. And you're definitely much much better when there is listening. You can fly safely.
FLYC: Your first major release was the 2015 album with Eldad Zitrin, Last of Songs. Can you tell us a bit about that album?
Dekel: Last of Songs was my first project and it is very dear to me. As I was answering above we were crazy recording 25 instruments and to make one track that was 08:30 minutes. Why? Cos we wanted! 🙂 it was not easy to transform it on to stage and we also used an electronic keyboard that did all the effects we wanted. Since then I've been interested only in live music and live instruments. We achieved great achievements on this one and I'm very proud of this project. Working with Eldad Zitrin was magical.
We spoke the same musical language and I'm very thankful for our time working together.
FLYC: Three years later, you released your solo debut Hello. Is there a song you are particularly proud of nowadays?
Dekel: I'm very proud of the Hello project. That was a huge change for me musically. I can't choose one track. All of them are my beautiful babies and I love them all. What I actually did two years after is recording an acoustic EP (called Hello Acoustic) of  the tunes that are on the Hello album, and I had an amazing opportunity to play it differently than the Hello album.
I'm very grateful for that.
FLYC: One thing I recognized is also that during these years, you also changed your artist name. Now, you act as Dekel, but some of your previous songs and albums were also released under Irit Dekel or Irit. What is the rationale behind the changes?
Dekel: Well I assume that it is part of the exploration I was talking about in my first answer.
Listen if my name was Lisa Blum for example, Just made it up 😉 Most likely I would have left it like this but cos my name is familiar only in Israel I wanted to make it a bit easier to people. I saw people who struggled to say my first name in the beginning so it's part of the process I guess.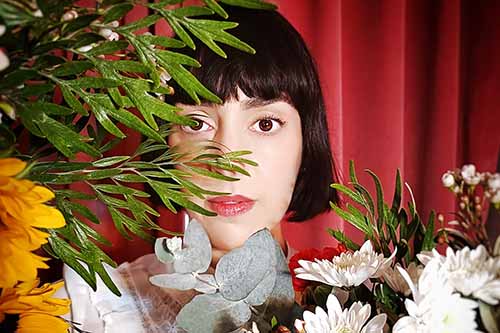 FLYC: Your music is multi-layered, with a wider instrumentation. You also released some songs of Hello in an acoustic version. What are your shows typically like? More intimate and stripped down like an acoustic show or with a major band?
Dekel: I love both ways. I love to combine between things. I guess every format has a different approach and creates different sound and magic. So it is special in both ways. What is important for me to keep and continue is the live instruments on stage
FLYC: What has been the favorite show you played so far?
Dekel: Hard for me to answer on this one actually. But I tell you this I love when there's a tight dynamic in my trio and band. And when there's listening. That is the perfect ground to rise up the frequency and to fly high and what can be better than this?
FLYC: One very exciting thing I found is that you supported Lisa Stansfield on her 2018 UK Tour. How has that been for you? How did the people react to your music?
Dekel: Supporting Lisa Stansfield was amazing! I enjoyed this tour very much and am very grateful for that. I was supporting all kinds of lovely artists in the UK and every bit of it was wonderful. The crowd was amazing to me, they welcomed me beautifully and I was amazed by it.
It felt that I'm on the right track and that is a great feeling.
FLYC: A quote of you states I don't want to be a pop star, but I have a high work ethic, a high level of discipline, and I still want to reach as many people as I can. Nonetheless, how nervous have you been when Desert Moon has recently been released and the first critics came in?
Dekel: Releasing something out is always exciting and nerve racking. I guess when you stand behind your work and feel you did as accurately as possible you get less nervous.
FLYC: Is there something you especially focus on at release day, like streaming stats? Have you been pleased with the reactions on the album so far?
Dekel: Firstly, I don't look at it as per day but per week. You need to let the release breath abit. Comments are very good and supportive and that is very heartwarming.
FLYC: Is there a song on the new album which describes you best? Or a song which you especially like?
Dekel: I assume that all the songs are pieces of myself, thoughts, experiences, feelings, awareness etc. There isn't one in particular I love better than others.
It depends on the mood and the connection at the same moment if I feel more into one song than the other.
FLYC: Israel is a country between Europe, Africa and Asia with traditionally strong links to North America as well. Mow that you have established in your domestic market, is there a region where you want to especially grow with your music?
Dekel: I'd love my music to arrive in places where it is most needed. I'd like to be surprised with where it can go. I'd like to get to as many people as possible. Let's keep it more poetic than pragmatic at the moment please. But of course that I have specific regions I'd like to get with my music. I'd like it to fly high with stable ground and roots beneath it.
FLYC: What are your next steps after the album release? Will there be a tour, for example?
Dekel: Yes, tour will be announced shortly and I'm starting working on a new musical project very soon.
FLYC: We started the chat with soup, so maybe finish with food as well. What is your favorite dish, maybe when you come back home after some touring absence?
Dekel: I love vegan/vegetarian hot dishes such as soups and stews. That's the reason I've given an example to my music as soup because the way I write the music is very similar to how I cook.
Literally everything I have in the fridge I put in a pot and cook it. With reason of course. 🙂
All artist pictures by Shahar Hilla
Follow Dekel Online
Spotlight – Flyctory.com Interviews
Here are all postings of my interview section Spotlight:
Israel Postings
Here are all my postings related to Israel: