Ruthie Collins' musical career is one which is so similar at many Nashville artists: she decided to go to Nashville to make it big there in 2006. Eight years later, she released her first EP. Now, she is quite established in the business as well as in the live music scene of the city. Her quite traditional sounds make it to her second album, Cold Comfort, which has been released on 3rd April 2020.
Ruthie Collins – About The Artist
Ruthie Collins is a US country artist, who is originally from Fredonia, New York, next to Lake Erie. In 2006, one semester before graduating at Berklee College, Boston, she decided to go for a music and songwriter's career and moved to Nashville. Her first steps there were alongside Victoria Gibson, who she formed to Duo Wild Honey with. In 2014, she signed a record deal and revived her performing career. Her first release was a self-titled EP in 2014. At that point she had already quite some reputation in the business, what is also illustrated by the fact that her song Ramblin' Man was part of a compilation called The Hottest Stars on the Planet featuring Carrie Underwood, Johnny Cash or Brad Paisley. Her debut album was the 2017 Get Drunk and Cry. Cold Comfort is the second album by Ruthie Collins.
Ruthie Collins – Cold Comfort – Track by Track
The eleven track album lasts 46 minutes: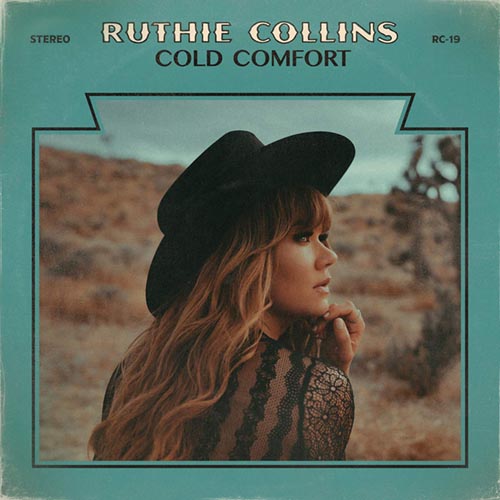 1. Joshua Tree
It is a bit hard to get into Ruthie Collins' music after you reviewed the latest albums by Sam Hunt and Ashley McBryde. A gentle, high voice, feels a bit fragile – but also a bit like an angel. Joshua Tree reminds me of a couple of songs by Sarah Darling. Overall, a lovely opener of the album – not that surprising that Collins chose it as a single.
2. Cheater
Cheater has some very rhythmic passages, but on the other hand also has very quiet moments. Collins' voice sounds a bit too weepy here and there to me, but overall, I enjoy listening to her.
3. Dang Dallas
Dang Dallas is a lovely country music ballad. The song feels almost like split into two parts with a long, instrumental finish. A lot of atmosphere.
4. Hey Little Girl
Hey Little Girl got me from the very first second. I thought, "Wow, that could be a great radio song". Love that song!
5. Untold
Untold is a very slow track, which has a bit more power at the end. I have to say that I like tracks like Hey Little Girl much more, but Collins does definitely not do a bad job with this one.
6. Bad Woman
Bad Woman is again a song, which at least starts very slow and gentle. There is some power towards the end of the track. I like it more than other tracks, but it is just not my taste. On the musical side, though, it is well done.
7. Change
Change is the shortest track on the album – which means its duration is 3:33 minutes. Another quiet track with some more intense moments. Rather one of the tracks I like, but there are too many of these ones with that plot to me.
8. Cold Comfort
The title track of the album has a lot more radtio qualities and gets me much more than some of the tracks before. Lovely chorus as well. Good track!
9. Wish You Were Here
Wish You Were Here is a nice track for me at Nashville Broadway, having a beer, not feeling like dancing too much, but just enjoying live. Very classic country melody and arrangement, Ruthie Collins' great voice – overall a good one.
10. You Can't Remember
Just when you feel the album is coming to an end, the second last one, You Can't Remember, is a hidden gem to me. Very lovely production, great to listen to – and a song which nicely promotes Ruthie Collins' voice.
11. Beg Steal Borrow
The album concludes with a very slow and gentle song. Again, the song even makes a short break in the middle and then has significantly more power – and atmosphere.
Ruthie Collins – Cold Comfort – Spotify
Here is the Spotify widget to Cold Comfort:
Ruthie Collins – Cold Comfort – My View
Reviews like Ruthie Collins' Cold Comfort are about the most difficult ones for me. I don't like the style of her music in about half of the songs, but the musical quality is definitely good. Some of the songs, however, really catch me. Thus, this second album by Ruthie Collins is above the average for me for sure, but does not make to the top players of the genre. Some of you will definitely love every track of her music, I at least enjoy a good bunch of them.
Flyctory.com Country Music Reviews
Here are reviews of all country music albums and EPs I reviewed earlier on the website:
(Greater) Orlando – Postings
Orlando is much more than Disney – here are all postings about the Entertainment Wonderland: