No doubt – not only after their massive success 10,000 Hours alongside Justin Bieber or their big hit Tequila, Dan + Shay are on the top of the country / country pop world. On 13th August 2021, they released their new album. It is called Good Things – let's see how many good things are inside.
Dan + Shay – About The Artists
The duo consists of Dan Smyers and Shay Mooney. Daniel Smyers was born on 16th August 1987 and grew up in Wexford, Philadelphia, while James Shay Mooney, born 27th December 1991, has an Arkansas background. They met in Nashville in late 2012 and started writing thereafter. Already their first writings grew quite some attention, so that it took them less than a year to release their first single, 19 You + Me. The song already got US Country Top 10 hit. Their 2014 debut album Where It All Began topped the US Country Album Charts. Between 2015 and 2016, three singles in a row (Nothin' Like You, From the Group Up and How Not To) were leads in the Airplay charts. With their 2018 releases Tequila and Speechless, they finally boosted their success even more.  Good Things is their fourth album. Obsessed (2016) was a golden record in the US, while their previous self-titled release went platinum in the US and in Canada.
Dan + Shay – Good Things – Track by Track
The twelve song album lasts 33 minutes.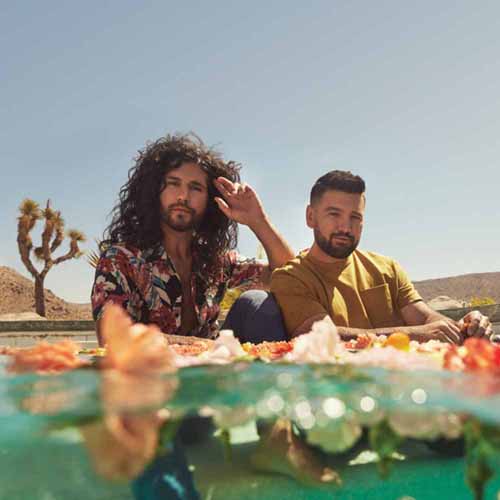 1. Good Things
The album starts with the title track. Dan + Shay as the fans love it: country pop with a soppy touch. Finally, you just cannot deny that they create melodies and songs, which stay in your mind. Good Things is one of them.
2. Steal My Love
Summer vibes and almost a reggae groove – Steal My Love spreads a lot of warmth and sunshine. Nobody gonna steal my love – but there is still a chance for a dance, maybe?
3. You
The album continues with with an emotional, rather mid-tempo to slow country pop track. The backing vocals just make the song a bit too plushy for me.
I got you,
For the rest of my days
In the sun of Sunday morning
Or the pouring rain
I got you, ooh, ooh
For the rest of my life
And if all else goes wrong, baby
I'll be alright
'Cause I got you
4. Body Language
Hmm… I just feel I definitely need a surprising track, something different. I am fully in the plushy, peachy world of Dan+Shay now. They do great in there, Body Language is another good production. But the song just feels so similar compared to other tracks before.
5. Give In To You
The piano sounds undoubtedly lead to a change in the sound. But, somehow, these two guys just don't make me happy. The song feels repetitive, a bit of thin to me.
6. Irresponsible
It's irresponsible
To be this close after midnight
Irresponsible
To remind myself what your lips taste like
'Cause I'm still gettin' over the last time, we said it's the last time
But I still, I still
Pick up when you call
Even though it's irresponsible
Dan + Shay are perfect for this moment. I just don't get that why it is Irresponsible. A European author would likely say "Enjoy it!". But finally, as practically the whole album is about love (lucky or unlucky), this small difference in moral thinking does not lead to too much of a change.
7. Lying
Lying is one of the tracks which are most outstanding between the second and ninth track to me. Thereby, I don't necessarily mean it is great (it is a good one, though) one – but it is just a bit more different. A bit more special. A highly appreciated one.
8. One Direction
I have to give in that I more and more start counting down the number of songs remaining in this review. I enjoy the bridge of One Direction, but overall I had enough of this boy group-style softened music with a country touch. In this one, the country touch is even rather limited.
9. Let Me Get Over Her
Okay, I give in… If you like country pop and need thirty minutes with your beloved one… Either for some snuggling or for what is Irresponsible in the world of Dan+Shay, than this album might be a good one. The strings in the background are just giving the romantic overkill in here. Guys, I would try to be finished by this track. Total playtime before Let Me Get Over Her is starting is 21:39 minute. Should be doable 😉
10. Glad You Exist
The album finishes with a little Hall of Fame of the latest Dan + Shay recordings – at least I feel that this is somehow the most suitable description of the last three songs. All of them had massive commercial success – Glad You Exist has been the "lousiest" of all three… with a "poor" stat of 73m streams on Spotify only (at the time of writing). I can write a lot about these figures as you know the songs anyway. If not: it's really good, catchy modern country pop. Enjoy.
11. 10,000 Hours (feat. Justin Bieber)
675,533,658.. I know that you very likely won't see the same figure as I saw during my review of Good Things – but this is the number of streams for 10,000 Hours only. What a global success for the country pop duo and Justin Bieber (even for him, it is quite a good stat, though songs like Love Yourself easily exceed one billion streams).
12. I Should Probably Go To Bed
Dan + Shay can do the very emotional and intimate side of music as well – they don't need this final track to proof it. However, they are also very successful with this touch of music. Thus, I Should Probably Go To Bed is a lovely finale of their 2021 album.
Dan + Shay – Good Things – Spotify
Here is Good Things on Spotify:
Dan + Shay – Good Things – My View
Sorry, Dan + Shay fans. I know that there are plenty of you and you will love this album. Because the songs of Good Things is exactly what you love about the band. I try to be neutral whenever I start a review. Sometimes, I fail, e.g. when I listen to Lauren Jenkins music. It just just about 30 minutes, it is well produced music. Short tracks, compact sounds. But to me, it is too much of the same song again and again. This is even boosted by having the best (and most special) tracks in the beginning and ending of the album. The middle part is too much of a challenge to me.
German Schlager
Easy, German language pop – here are all postings about German Schlager on Flyctory.com:
Postings about Tennis
Here are all postings which are related to tennis on Flyctory.com