Typically, I plan the albums and EPs I am going to review some one to two weeks ahead and also prepare the review already before I in fact can listen to the music on Amazon or Spotify. I ran into Emma White's new EP The Actress by chance clicking through the excellent overview of weekly country music releases by the Facebook site of the German portal Country Crush Germany. I listened to it, I liked it, I wanted to share it with you.
Emma White – About The Artist
Emma White is an independent artist. She is doing country music – however, her songs also come with a touch of R&B and pop elements. Thus, she is quite a synonym for the transition of modern country music. She already has a quite remarkable number of some 3 million streams. In May and June 2019, she also played four shows in the UK. Thereafter, she had some CMA Fest 2019 appearances, but I missed her in Nashville. I spotted two previous releases, a 2017 self-titled EP and the 2014 Gypsy.
Emma White – The Actress – Track by Track
The Actress is a six track EP. The total duration is 21 minutes.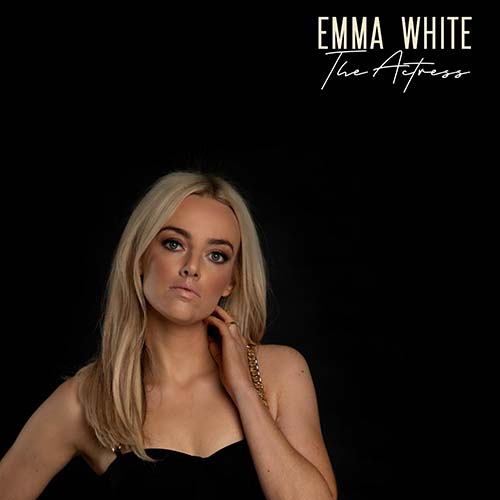 1. Ten Year Town
Sometimes it is quite amazing that a couple of "shit" mentioning and other words already lead to an Explicit marking of the first song of the EP, Ten Year Town. I absoutely like it. Nice voice, nice melody, good lyrics.
2. That's Why I Drink
To me, That's Why I Drink is the best track of the The Actress EP. The production is really good and focuses on Emma White's catching voice.
That's why I drink
To get lost
To not think
To get gone
Get out of my head
Take off the edge for a little while
3. Seriously Casual
Seriously Casual is a bit more pop-alike than the first two tracks. A nice variety, like to listen to the track
4. Married Man
The fourth track, Married Man is a lovely four minute ballad. Naturally, it especially promotes White's lovely-to-listen-to voice. Good track.
5. The Actress
The title track of the EP is another slow ballad. Again, White's crystal clear voice is nicely supported by some background sound. Nice song!
6. If You're In It
Country music may groove – if it is done by Emma White. Did I write about R&B influences above? Here you got 'em! The song has a very different character, but that's what makes it worth listening to. Good stuff!
Emma White – The Actress – Spotify
Here you can listen to Emma White's album via Spotify
Emma White – The Actress – My View
In general I struggle to assign the Top Pick! rating to an EP – it just feels so much easier to smash four to seven songs compared to a full album. Having said that, Emma White and The Actress is damned close to that rating. There are at least five very different characters in this family of six songs, which makes it a remarkable selection of songs. Hope to hear more from that artist soon!
Flyctory.com Country Music Reviews
Here are reviews of all country music albums and EPs I reviewed earlier on the website: