When a Rock'n'Rock Hall of Famer (which he was inducted to in 2014 as original KISS member) is releasing a new album, you always expect a notable result. Ace Frehley, the legendary guitar player, returns to the record stores on 18th September 2020. His album Origins Vol.2 showcases songs originally performed by other artists. Here is my review.
Ace Frehley – About The Artist
Daniel Paul "Ace" Frehley was born in on 27th April 1951 in The Bronx, New York City, USA. There is a lot of musical talent in his family. In 1964, he got an electric guitar for Christmas. His nickname "Ace", by the way, grew in high school years, when he was a real ace to date girls. He played in multiple bands, some of them even had limited commercial success. In 1972, he was casted together with Paul Stanley, Gene Simmons and Peter Criss for the band, which named itself KISS in 1973. Frehley left the band in 1982 (and returned for a six year period in 1996), aiming for a solo career. At that point in time, he already had released his debut album, Ace Frehley, in 1978. His first solo album after splitting up with KISS was Frehley's Comet in 1987. At the end of the 1980's, Frehley stopped recording albums, but came back with that in 2009, when he released Anomaly. Origins, Vol.1 has been released in 2016 and featured three tracks from KISS as well as bands like Steppenwolf or The Troggs. Origins Vol.2 is his ninth album.
Ace Frehley – Origins Vol. 2 – Track by Track
The twelve song album lasts 47 minutes.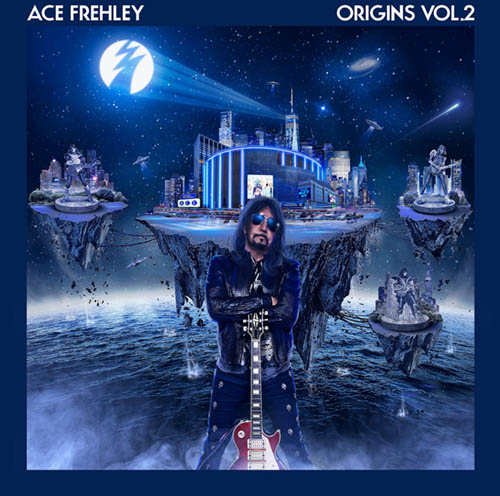 1. Good Times Bad Times (Led Zeppelin)
Ace Frehley starts the album with a Led Zeppelin classic: Good Times Bad Times has been released in 1969 originally. The sound is wider, more powerful than the original – a strong statement at the beginning of these Origins. 
2. Never In My Life (Mountain)
The second track is following a similar concept: a hard rock classic brought back to the 2020 Frehley world – a lot of power, more presence – and of course, excellent guitar play. Nice one!
3. Space Truckin' (Deep Purple)
The pre-released single Space Truckin', originally by Deep Purple (1972) is a great example to explain the spirit of the album: whether you like the original more or whether you prefer this Ace Frehley rock jamming, may be a matter of taste. The polish of the original tunes definitely gives a new and cool touch – but the interpretation is still close to Deep Purple. Nice!
4. I'm Down (The Beatles)
I'm Down might not be the biggest Beatles classic, but Ace Frehley definitely understands to keep the surfing song character one the one hand, but on the other hand let the guitars play. One of my favorite re-interpretations.
5. Jumpin' Jack Flash (The Rolling Stones)
It is so amazing how Frehley just adds nuances to the original songs – Jumpin' Jack Flash feels to be like a powerful Stones (maybe on-stage) version here.
6. Politician (Cream)
I am not too much a fan of the orignal Politician by Cream. The way the album is set up, you can more or less tell before listening that it likely implies that I do not like this new version too much as well. Unfortunately, this is the case – the powerful guitar interlude gives some increased sympathy, though.
7. Lola (The Kinks)
Not just as it is the original to Weird Al Yankovic's Yoda, I was looking forward to Lola. The 2020 version feels significantly darker, the guitars also turn the quite melodic original into a headbang track and hard rocker. Go to Yoda and he'll show the Force? There is a lot of metal force in Mr Frehley alternatively.
8. 30 Days In The Hole (Humble Pie)
30 Days In the Hole, originally performed by the Humble Pie in 1972, is to me one of the tracks which profited most from the re-arrangement and rock upgrade. Great new interpretation.
9. Manic Depression (The Jimi Hendrix Experience)
Similar to Politician, Manic Depressionis not my favorite as an original – and it is also too chaotic to me in the new version. Still, you have to admit that Frehley created a successful transformation of this song.
10. Kicks (Paul Revere & the Raiders)
Fun fact about this song: while the original song is just some 2:30 minutes long, the Ace is giving us additional  some 30 seconds. A lovely, very melodic rock track. Really fun to listen.
11. We Gotta Get Out Of This Place (The Animals)
With that cover of an The Animals original, the album finishes its original runtime. Very melodic and powerful – a great listen!
12. She (KISS)
The bonus track is a KISS classic.Quite close to the original sound – not too surprisingly…
Ace Frehley – Origins Vol. 2 – Spotify
Here is the Spotify widget to Origins Vol. 2:
Ace Frehley – Origins Vol. 2 – My View
I feel it is very difficult to judge on albums like Origins Vol. 2. Definitely, Ace Freshley adds value to these songs (so it is not a cheap bootleg). There is a lot of power added and the overall sound is much more modern than the original arrangements. I also liked that he tried to stay close to the original sound. On the other hand, this also means that we talk about wisely selected, minimal adoptions of the song. I thus feel that Origins Vol. 2 is a  good listen for classic hard rock fans, definitely.
Hard Rock & Metal Album Reviews on Flyctory.com
Here are all Media Reviews of the Hard Rock and Metal genres:

New York on Flyctory.com
Here are all postings about the "Big Apple":