No doubt – Carrie Underwood is one of the really big names in the international country music scene. On the female country artist side, she might even be very close to the top. Nonetheless, Carrie did not really have an easy time in Flyctory.com reviews so far. I absolutely struggled with her 2020 Christmas album My Gift. Six months later, My Savior, a gospel album, did not do significantly better. On 10th June 2022, Carrie released a new album with originals. I had a listen to Denim and Rhinestones – and was curious whether I would like Carrie more this time.
Carrie Underwood – About The Artist
Carrie Underwood is one of the biggest female country music artists of the current era. The was born in 1983 in Oklahoma. I gave some more bio information about her amazing career in the My Gift review. Overall, Denim & Rhinestones is her ninth studio album.
Carrie Underwood – Denim & Rhinestones – Track by Track
The twelve song album lasts 38 minutes.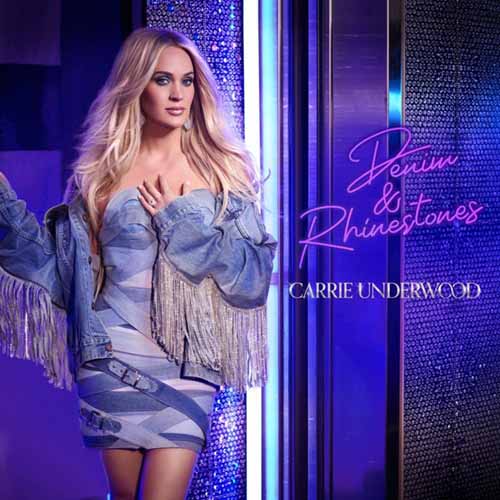 1. Denim & Rhinestones
The title track acts as the opener to Carrie's 2022 album. Denim & Rhinestones is a country track, which is very rhythmic and thus also feels to slightly move towards country-pop. Even though it is not my favorite song of the album, I feel so glad that I have this "Carrie Underwood feeling" again when I listen to these tunes. Like it!
2. Velvet Heartbreak
That velvet heartbreak
Crush you like a fool on a Friday night
Saturday mornin' mistake
Pullin' the wool over your eyes
It's a love you and leave ya, double shot of tequila
Black mascara tears drippin' on ice
So smooth, until it ain't
That velvet heartbreak
That's the sound which Carrie Underwood created, that's a song her fans will love and other might enjoy as well. Especially in the chorus, her powerful voice feels to be driven to its signature sound by the guitar chords. You listen to this song and feel like you have to book flights, tickets and a hotel for her 2023 Las Vegas residency. There is no better marketing for a musician than a great song.
3. Ghost Story
This Ghost Story shows the very gentle side of Carrie Underwood. The chorus had a lot of power and just feels to refuse to go out of your mind once you listened to the track. Many people feel to share my thoughts – the song had some 10 million Spotify streams at album release already. Thus, it was by far the most successful appetizer for Denim & Rhinestones.
4. Hate My Heart
I love when Carrie Underwood is doing country rock – I feel that this just provides the perfect musical environment for her. Thus, Hate My Heart is one of my absolute favorites on the album. If you are are headbanging while this lady is singing country music, don't be ashamed – the song is definitely worth it… there is even a short, slightly more quiet bridge in this song. A brief moment to relax from Carrie Country Rock.
I hate my heart right now
Underneath the covers in the dark right now
Wishin' I was sitting in a bar right now
Two drinks in
Makin' me a last call friend
I want my feel-good back
Instead of feeling bad that I can't get past
The fact that I can't love nobody else
I would if I could, but I don't know how
I hate my heart right now
5. Burn
Burn sounds like another song which is a feast for guitar riff lovers – but Underwood is rather on the gentle side here. The song a slow track with a touch of soul and pop. Very nice with another really fun and great to digest chorus.
6. Crazy Angels
Carrie Underwood does Carrie Underwood – why should you alter too much if it is good. The album features sufficient tracks which show a different side of the artist – but Crazy Angels is Underwood mainstream with a lot of power. Just a great listen.
7. Faster
The sound of the album slows down in the seventh track. Faster does not remind of a country song, it rather feels like a nostalgic pop song. For example, I think of some rather kitschy 1980's ballads. The right song from the female country legend for the romantic moments.
8. Pink Champagne
You should not enjoy romance and intimacy too long, though – after the 3:17 minutes of Faster, Pink Champagne is heading back to rhythmic moments and electric guitars. Still rather a song in the pop range, which makes you move. Nice slow dance track for a summer party, for example.
One more round of you won't hurt me
I need you right now in a hurry, baby
'Cause your love gets me more buzzed than pink champagne
9. Wanted Woman
In this part of the album, Carrie Underwood moves away from her typical country music sound for a couple of songs. Wanted Woman feels a bit too much like a mainstream radio track to me. A touch of soul in this song, but overall, one of the rather weaker spots of the album to me.
10. Poor Everybody Else
Just when I feel a little struggle while listening to her 2022 release, Carrie going for the rock music afterburner. A lot of guitar power, stomping base drums – and a lot of her typical sound. Yeah, this is a harder rocker with a bit of a country background, but it is such an energetic and fun listens. I love it.
11. She Don't Know
Compared to the other single releases, the title track, Ghost Story and Crazy Angels, this song did not feel to work out that well. The song rather leans towards a rather traditional country music sound. It is a nice additional flavor in these twelve songs to me.
12. Garden
The final stage of this twelve song listen is Garden. I like the write, which is centered around the key words of the chorus, If you reap what you sow what kind of garden would you grow?. This dozen of fruits definitely had a bunch of very sweet bites, indeed.
Carrie Underwood – Denim & Rhinestones – Spotify
Here is the album on Spotify:
Carrie Underwood – Denim & Rhinestones – My View
After my first two Carrie Underwood reviews, I somehow felt guilty. Can I really criticize this big name that much twice? The more, I am glad that there is Denim & Rhinestones. You feel how much fun Carrie had to show her talent in very different genres and environments. Even if there are songs which feel a bit of average to you, there are great alternatives in the next tracks soon, for sure. Country (modern and traditional), pop, rock, a bit of soul and nostalgic style songs – this album got 'em all. And it got it in a good way. After dinging her twice, Carrie absolutely deserves this Top Pick! rating.
London Top Pick! Reviews
Here are all my postings about London, which lead to a Top Pick! review:
Flyctory.com Songs of the Week
Here are all my Songs of the Week postings so far: