Giovanni Zarrella is one of these artists I just cannot have negative feelings about. One rationale might be that his family is doing business in the borough of Cologne where I am working (the stuff apart from Flyctory.com, which is really paying money…). This guy is also just too nice as well. Thus, after reviewing his April 2021 release Ciao!, I just had to put him on my list of reviews again, when he announced Per sempre, which will be released on 19th August 2022. The concept is similar: famous hits, transformed into Italian, as a mixture of pop and schlager. This time, Giovanni is rather going for international hits, though.
Giovanni Zarrella – About The Artist
I gave quite a lot of bio information in my Ciao! review already. The 1978-born Giovanni Zarrella grew up in Southern Germany and initially felt to become a promising soccer player before he finally turned into music. His first major band was the talent show-casted Bro'Sis, which has been huge in German-speaking countries in the early 2000's. Zarrella went solo and took the hard route. However, he fought through some less successful releases. Nowadays, the Cologne resident is not only a well-reputed  singer, but also became very popular as a TV host.
Giovanni Zarrella – Per sempre – Track by Track
The 15 track album lasts 55 minutes.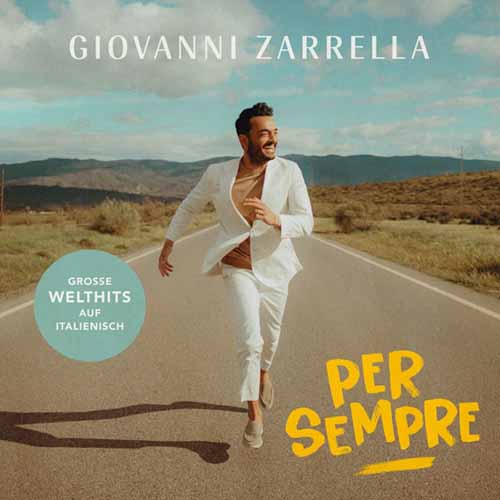 1. Un angelo
Giovanni Zarrella opens his 2022 album with his version of Robbie Williams' Angels. Of course, these kind of cover albums are a typical "love it or hate it" thing – but I feel that the German-Italian artist is treating the originals with a lot of respect – what you also see  when you have a look at the lyrics of the chorus:
E ovunque andrò, lei mi sarà vicino
Leggendo nel mio destino mi proteggerà
E quando io cadrò nel fiume della vita
Pensando che è finita, mi solleverà
Perchè nel cuore io so che un angelo c'è
My Italian skills are not sufficient to go for every detail, but google translate's English version of these words at least feel a bit of familiar – nice listen.
"And wherever I go, she will be close to me
Reading in my destiny will protect me
And when I fall into the river of life
Thinking it's over, she'll lift me up
Because in my heart I know that there is an angel"
2. Melanconia
In Per Sempre, Giovanni Zarrella also goes for some songs, which could easily make it to the Song of my Life category on Flyctory.com. Melanconia is definitely one of them – the original behind the second track is Wicked Game by Chris Isaak. To me, this is one of the best songs of the album. It speads its very own Italo-pop signature on the one, on the other hand it still feels so 1980's and refers to the key elements of the original nicely. Molto bene, Giovanni!
3. Stretti fino al mattino
The title literally translates to something like "Tight until the morning". The original song behind the song is nothing but Careless Whisper by Andrew Ridgeley and George Michael. To me, this song is a bit too soft and loses too much of the energy of the song which has been released by George Michael as well as by Wham!
4. Non puoi lasciarmi cosi
Quit playing games – the 2022 Italo version of the Backstreet Boys classic has already been part of my 5th August 2022 Songs of the Week. It is a perfect choice for the Zarrella song transition machine. In this style, the song is almost feeling like a reggae summer hit.
5. Allora prendi e vai
"Then take it an go"? That's at least what the translator is telling me about the title. Giovanni Zarrella goes for the really big names in his 2022 album – and thus, there is ABBA as well. The winner takes it all is the original. I feel this song would have a great potential to be Zarrella-ized – but maybe a duet or so would have worked out better. The Swedish magic is slightly gone in here.
6. Io scrivo, canto e vivo per te
Just looking forward so much to Richard Marx' 2022 album after having loved his 2020 album Limitless. However, Giovanni is going for Marx' all time classic, Right here waitiing. You automatically compare the 2022 version with the 1980's original – and I feel that the original has much more character and profile. Unfortunately at most close, but definitely no cigar at this listen.
7. Quelli erano i giorni
Those Were the Days, An jedem Tag or – thinking about the artist's residence – also Superjeilezick – the cover of the Mary Hopkin 1968 original is definitely closer to the early versions than to the Cologne party classic. The song is a classic and I feel that it also spreads its magic while listening to this album.
8. A chi mi dice
The literal translation of this title is "Who tells me" – the song behind the eighth track of Per sempre is the beautiful Breathe easy by Blue. Giovanni Zarrella and his team did a wise choice here to stay close to the original. This turns this version to a new and very intense listen.
9. L´amore che ho
When Jennifer Rush recorded this epic one (The Power of Love) in 1984, the original was six minutes long. This version is closer to the short version, which is "just" about 4:30 minutes. L'amore che ho is much softer than the original and thus feels quite different. I would say it is rather close to the 1993 Celine Dion version. Nice.
10. Home (feat. Michael Buble)
Over 250 million streams on Spotify only (some 150m in addition on YouTube, for example) – Michael Buble really cashed in with this early 2000's classic. Now he is doing his song again in an Italian-English duet. Quite a magical moment of the whole album.
11. Per ricominciare
Giovanno Zarrella goes for Can't Take My Eyes Off You, the 1957 Frankie Valli classic, in here. This sounds like party – and it is in fact the very first time, where you really have to dance to his music. 3:35 minutes of fun.
12. La parola piu difficile
Another song which also has been recorded by Blue is on the twelfth spot of the album. Sorry Seems To Be the Hardest Word is however an Elton John song. The Giovannization of the song naturally leads to less power, energy, drama. But I nonetheless feel he is doing a nice job in here.
13. Come la prima sera
Giovanni Zarrella interprets Lionel Richie – and his classic one Easy. The title translates to something like "Like the first night". This track is rather close to the original, keeps the nice influence of blues and rock elements. A very nice listen.
14. Rispondi
Mandy, one of the most beautiful ballads of all times, made famous by Barry Manilow. Fun fact: do you know that Mandy is in fact not the original and Scott English, who is one of the co-writers of the track, originally released it as Brandy three years before Manilow (in 1971)? Saluti, Giovanni! You are doing well in here.
15. Preghero
The album closes with a new version of the classic Stand by Me. The 2022 version is suprisingly pop-ish and comes with a very present beat. Put out your dancing shoes for Giovanni's big finale, guys!
Giovanni Zarrella – Per sempre – Spotify
Here is the album on Spotify:
Giovanni Zarrella – Per sempre – My View
I just cannot ignore that Per sempre does have some weak spots. Nonetheless, Giovanni Zarrella remains true to himself. He is doing is style of songs, his audience will love and praise this album. And I do enjoy it as well most of the time – thus I am much more on the "love it" side of this "love it or hate it" listen.
Travel Postings About Cologne
Here are all my travel postings related to Cologne:
German Schlager in 2022
Here are all my postings related to German schlager published in 2022: