Especially in the curse of the Black Lives Matter protests, Mickey Guyton felt to be very present in media. She is definitely a very talented – but also comes with two characteristics, which feel to give you an additional burdon in a country music artist career: she is colored – and female. Even though I felt that Guyton's presence faded significantly the last month, I expected a really good album Remember Her Name. Release date has been 24th September 2021.
Mickey Guyton – About The Artist
The civil name of Mickey Guyton is Candace Mycale Guyton. She was born in Arlington, Texas, in the Dallas / Fort Worth area on 17th June 1983. After college, she started to pursue a professional career in music. One of her first step was being a candidate in American Idol in 2011. However, her audition has just been shown very briefly in North American TV. Moving to Nashville, she initially rather worked on the songwriting side. Her management on the artist side asked her not to add R&B or soul elements to her songs, so that people are not distracted and feel her songs to be clearly country music.
So far, Guyton released four EPs. The most successful was her debut one, Unbreakable in 2014. The second, self-titled, EP also contained her largest sale so far, the single Better Than You Left Me. However, in 2020, she partnered Dean Brody in his single Boys, which topped the Canadian Country Charts.
Mickey Guyton – Remember Her Name – Track by Track
The sixteen track album lasts 51 minutes.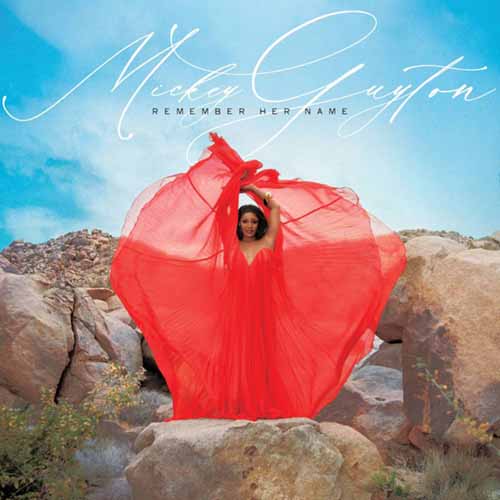 1. Remember Her Name
Remember the fire
Remember her face
She felt the storm and danced out in the pouring rain
Remember her laughing
Through all the pain
Remember the girl that didn't let anything get in her way
Remember her name
Definitely, the message of the title track of Mickey Guyton's debut album is a really strong one – finally, the energy of the song also lead to really good streaming volumes (however, you have to say that Remember Her Name was listened far less than her most successful ones). Good song, which is just having a very decent country flavor. Call it country music if you like it – to me it is more an R&B and soul pop track.
2. All American
We're hand me down, tailor made, daisy dukes, dookie braids
James Brown and James Dean
We're cold beer, champagne, millionaires, spare some change
And everything in between
All American is another strong, energetic – and also unifying song. When you see that this single just had less than a twentieth of the streams of Black Like Me (see below), you need to ask yourself if US country really appreciates this messages. That's exactly what makes this song so valuable.
3. Different
I love my skin, I love my hair
And if it bothers you, I really don't care
The first new song is again rather a pop song. The melody has a nice groove, fitting to Everybody's got their own kinda rhythm in the lyrics, but the lyrics are definitely the key element of this song.
4. Love My Hair
At first sight, this song feels a bit of repetitive after the lyrics of the predecessor song. The song is more personal, also more intimate, as it is slow and also very quiet. Gives a nice focus on Guyton's amazing vocal talent.
5. Lay It on Me
Lay It on Me is a ballad. I have to admit that I feel that it is a nice one, but I don't connect to it too much. Nice pop song.
6. Higher
Remember Her Name has these moments, which give a strong hint that Mickey Guyton is having a country music heart. The song is not a traditional banjo picker with steel guitar, but a song which many country pop / country rock artists could have recorded in a similar way. One of the best song, which haven't been a single release yet, on the album.
7. Dancing in the Living Room
The pandemic situation produced quite a bunch of Dancing in the kitchen and Dancing in the living room songs. Here is another one. A deep and slow song. Nice, but not on the upper half of my list of this album.
8. Do You Really Wanna Know
But if I tell you the truth
Will your heart be big enough to hold it?
Let my guard down and let you in
Will you believe it or see it as weakness?
'Cause I got a lot on my mind
Tonight
So don't ask me why
If you don't really wanna know
Another nice modern country song. Well-produced, well-written, but not a blast.
9. Black Like Me
I guess it is pretty needless to say too much about the song – it was a good song released at the right point point in time – and that's what boosts it to almost eight million streams. Far beyond country music.
10. Words
The more I listened to Words, the more I felt it is a really good one. A song which deals with words which hurt you – with bullying being more and more a part of our life, especially on social media, a valuable and well-arranged message.
Yeah, I am strong but I still cry
There's still darkness in my light
There's some days I just can't do it
Oh, what can I say?
I'm only human
11. What Are You Gonna Tell Her?
At the time of releasing the album, all other singles together / summed up had less Spotify streams than Black Like Me only. Without this ballad, the comparison would be even more massive – What Are You Gonna Tell Her? has been consumed about four million times on the platform. Definitely a good ballad with very well-written lyrics. Overall, though, I feel it is not the second best song on this album.
12. Smoke
Smoke comes with a lot of support from different kinds of guitars, a lot of rhythm and a strong groove. It does not come with too much melody, though. Somewhere betwen traditional country, hip-hop and R&B. I like the lyrics, but overall, the song cannot really touch me.
13. Rosé
This song always makes me smile, because I feel it so much feels like Kelsea Ballerini doesn't it? Nice song with a summer groove.
14. Indigo
Indigo is a beautiful piano song with some rhythm, Guyton's great voice and a magical melody. To me, the song is something like the hidden gem of this album. Really lovely.
15. If I Were a Boy
Mickey Guyton featuring Beyonce. Guyton's version feels even more intimate, more personal than the global hit. Nice cover, even though I would love to have even more Guyton touch in it.
16. Better Than You Left Me (Fly Higher Version)
Six years after it has been a huge single success, Better Than You Left Me closes her debut album with an alternative version of Better Than You Left Me. Lovely ballad adoption – Feel that Guyton did it just right in here.
Mickey Guyton – Remember Her Name – Spotify
Here is the album on Spotify:
Mickey Guyton – Remember Her Name – My View
I do have some difficulties to judge on Remember Her Name. In a review by the Lyric Magazine, I read that Guyton is "revolutionizing" country music. I cannot agree to that – simply because at least half of the album is no country music no me (and I typically use rather wide definitions). It is a debut album of an artist, who is having a lot of talent and – especially at the beginning of the album – comes up with some really strong messages. The second half of the album cannot always even barely keep up with it. It is good, but not genius.
On top of that, I am afraid that Nashville tries to stick the "country music" label on Mickey Guyton to distract from the problems in country music business and the country music scene. Let Mickey Guyton be Mickey Guyton, regardless what genre you assign to her – she is an amazingly talented musician, who does not feel to be at her best when she is pushed into "just" one genre. Remember Her Name is the proof for that.
2021 Women Country Reviews
Here are all my media reviews related to women country music and published in 2021:
Flyctory.com in Dubai
Here are all postings about the entertainment wonderland Dubai: