There were quite a lot of new songs by Brett Eldredge during the last weeks. This feels to be a strong indicator: new album approaching. The 2020 long-play by the Illinois artist, whom I saw the last time live on stage during his January 2020 Amsterdam show alongside Lauren Jenkins, is named Sunday Drive and has been released on 10th July 2020.
Brett Eldredge – About The Artist
I will keep the bio short, for two reasons: first of all, you find some information about Brett Ryan Eldredge, who was born on 23rd March 1986, in other postings on this blog anyway. For example, there is some stuff in the review of his January 2020 show in Cologne. Secondly, the week before the album release was very busy to me. Mist of you know more about Eldredge than myself anyway – bad luck if you are writing about an artist whose worst US Country album chart peak position was the second spot so far. After his self-titled 2017 album, Sunday Drive is Eldredge's fifth major release. So far, the most successful song taken from the album is Gabrielle, which still just peaked the Billboard Country at #27.
Brett Eldredge – Sunday Drive – Track by Track
The twelve song album lasts 43 minutes.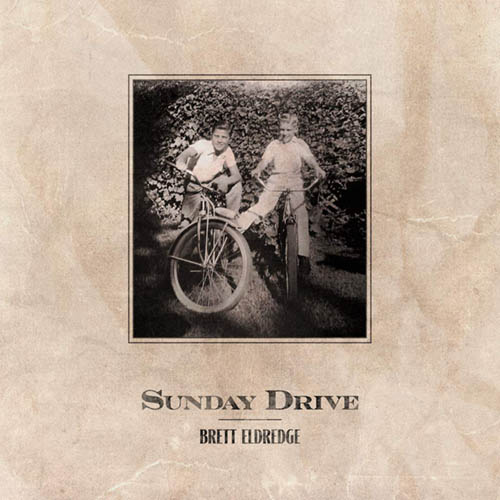 1. Where the Heart Is
Acoustic guitar, even some string sounds – Sunday Drive definitely starts with a very intense and intimately-feeling track. Very repetitive, but extremely catching arrangement. Masterpiece!
Show me where the heart is
Would you show me where the heart is?
I need to feel right where the heart is
Show me where the heart is
The heart is
2. The One You Need
While Where The Heart is is a quite rhythmic track, Eldredge combines a very similar instrumentation to a deep and die-hard ballad. He is great in that discipline. Sportsmen would receive a golden medal for a performance like that.
3. Magnolia
Magnolia has that intense, powerful, characteristic Brett Eldredge sound to me. Good hearts don't grow on trees. Good songs require a lot of "gardening" as well. Great start of his 2020 album campaign.
4. Crowd My Mind
Crowd My Mind is another ballad track – this one is a piano track, however. After the strong start of the album, the song is not touching me as much as the songs before. Still a positive experience, though.
5. Good Day
Good Day is one of these tracks I would choose to get some air time in German radios. It feels a lot of country, but on the other hand, it is just a good and catchy listen. Not the best song of the album, but a really enjoyable 3:25 minutes time.
6. Fall for Me
I definitely like Fall For Me. It has a very class Eldredge-alike atmosphere and I like the contrast between very slow, intense parts and very rhythmic, happy-feeling sections.
7. Sunday Drive
Cause we were watching the world through an open window
Trees lined up like dominoes
This old car could find its own way home
It's the ordinary things that mean so much
And that's where I learned it all from them
To fight, to love, to laugh again
Man, I thought we were only wasting time
Out on a Sunday drive
This is a very special song on the album, as it is the only one which is not written by Eldredge, who stated about it it, This is the only song on the album that I didn't write, but I felt like I wrote it and then some. I felt like I lived it. It is a Barry Dean write. Good track
8. When I Die
Interesting topic… Better shoot Eldredge to the sky rather than putting him down in the dirt. It was definitely one of these songs which make you listen. Mr Eldredge caught me with it quite a lot.
9. Gabrielle
Okay, that one is already some sort of classic, ain't it? And it is well deserved – just a lovely song – Brett Eldredge at his best.
10. Fix a Hear
This is one of the seven tracks of the album which have not been released before the album release – and it is one of my favorites. Nice arrangement of piano, background instrumentation and intense vocals.
11. Then You Do
Then You Do is one of the weaker songs of the album to me. It does have atmosphere, but it just does not give me that Shut up – I want to listen to that story feeling. Sorry, Brett.
12. Paris Illinois
The album concludes with Brett Eldredge's musical trip to his home town. A very slow and thoughtful track. Hmm, I don't get the song too much.
Brett Eldredge – Sunday Drive – Spotify
Here is the Spotify widget for Sunday Drive:
Brett Eldredge – Sunday Drive – My View
Brett Eldredge is definitely creating a very straight and reliable sound in Sunday Drive. There are a few really great songs and quite some good songs – but overall, there are just three or four sounds on this Sunday Drive. I unfortunately see very good songwriting craftsmanship on the one hand, but on the other, it is a bit like Asian plagiarism: It is good, people like it, let's do it again. The more you do it, the more you risk that things get boring or the quality decreases. Eldredge's talent is too high to allow for quality decreases and that saves the album. It is simply good – it is just a bit too repetitive.
Chicago Postings
Here is all Flyctory.com contents about Greater Chicago:
Spotlight – Flyctory.com Interviews
Here are all postings of my interview section Spotlight: