It is hard to believe that Chris Stapleton's 13th November 2020 release Starting Over is indeed his fourth studio album only. While he is a very successful songwriter since many years at the Cumberland River, his solo career started comparably late. Here is my album review.
Chris Stapleton – About The Artist
Chistopher Alvin Stapleton was born on 15th April 1978. Though Starting Over is just his fourth studio album, he is very well reputed in Nashville as a songwriter – he has co-written six number one country songs. His first major Nashville band did bluegrass: with The Steeldrivers, he had two number 2 bluegrass hits before he left the band in 2010. While his band work just had average success, his solo debut was already a huge success: Traveler topped the US and US country charts in 2015. Chart placements like #53 in Germany, which is all but a major country music market, illustrate the quality and reputation of the album. In 2017, he released two volumes of an album double called From A Room, both topped the US country charts as well. Each volume features one very successful track, Broken Halos and Millionaire. 
Chris Stapleton – Starting Over – Track by Track
The 14 songs of Starting Over take 53 minutes. And yes, the picture below is indeed the cover 🙂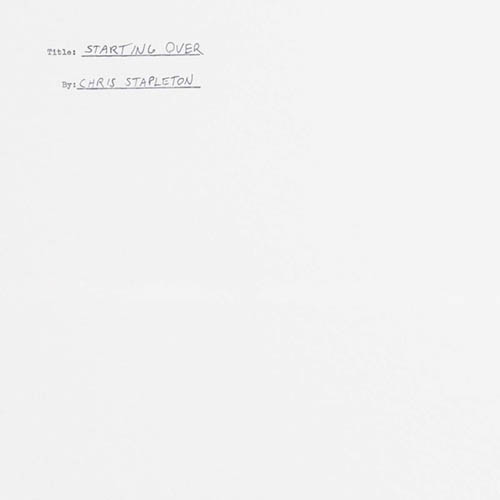 1. Starting Over
And it don't matter to me
Wherever we are is where I wanna be
And Honey, for once in our life
Let's take our chances and roll the dice
I can be your lucky penny, you can be my four-leaf clover
Starting over
The album is starting right with the title track – and it is a beauty! Acoustic guitars and Stapleton't vocals are the key elements of this track, which leads to a very classic and intimate touch. Love it.
2. Devil Always Made Me Think Twice
For the second track, Stapleton is replacing the acoustic guitar by the electric one. Devil Always Make Me Think Twice feels dark, but also very powerful. A great track for the road.
Mama always set a good example
My daddy always gave me good advice
And Jesus tried to steer me in the right direction
But the devil always made me think twice
The devil always made me think twice
3. Cold
Cold, which has already been a single release, starts with piano tunes and then becomes a lovely slow track. Feels a lot like blues. Amazing track, which is so much profiting from Stapleton's outstanding voice.
4. When I'm With You
But when I'm with you
I feel like a dreamer
That's had all his dreams come true
Like my skies are all blue
When I'm with you
This beautiful love song comes in the style of a soft 1960's country ballad. The first four tracks are so diverse, so different – Chris Stapleton just gives no doubt that these fifty minutes with him will be great ones.
5. Arkansas
If you did not happen to know the song before the album release, it starts the bang: after the guitars may make you assume, there will be another track like Devil Always Made Me Think Twice, Stapleton just blows you away with his trip to Arkansas. Is there a genre like Southern Hard Rock? This one is just powerful. Great guitar riffs as well.
6. Joy of My Life
On top of eleven originals, the album also presents three covers. Joy of My Life is the first one, a John Fogerty original. Interpreted by Chris Stapleton, it stays a beautiful love song. Lovely listen.
7. Hillbilly Blood
Hillbilly Blood is another dark sound country song, but it is quite slow and soft – apart from vocals, of course, which feel to be a Joe Cocker of country music thing, especially in this song. Again, the song rather links to traditional country music sounds. Very good one.
8. Maggie's Song
Run, Maggie run
With the heart of a rebel child
Oh, run, Maggie run
Be just as free as you are wild
This track is about about Chris Stapleton's dog Maggie. Chris Stapleton found her as an abandoned animal, she lived with the family for 14 years and finally died. Touching and beautiful.
9. Whiskey Sunrise
So I drink all night
But the hurtin' won't stop
And every shot I take just turns into teardrops
And I lay down to sleep
And I pray I don't open my eyes
To a whiskey sunrise
Country, blues, whiskey … and a lot of power. This song is just awesome. No more words, I will share the video with you. Full stop.
10. Worry B Gone
The Starting Over album is full of references – and having two Guy Clark songs in a row on this album, is definitely also a lovely musical shout-out to the country music legend, who passed away in 2016. Worry B Gone thereby still has a very classic sound, but comes with the Chris Stapleton rock-and-power upgrade. Cool one!
11. Old Friends
Old friends, they shine like diamonds
Old friends, you can always call
Old friends, Lord, you can't buy 'em
You know it's old friends, after all
The second Guy Clark cover definitely does not come with the rock-and-power upgrade I mentioned above. Chris Stapleton does it very intimate with a lot of acoustic sounds. Beauty.
12. Watch You Burn
I just cannot stand thinking of Joe Cocker when Chris Stapleton's husky voice is shouting the verses in a blues-alike atmosphere. The chorus and the bridge are Chris Stapleton country rock style. Nice contrast – and another great song.
13. You Should Probably Leave
There's still time for you to finish your wine
Then you should probably leave
And it's hard to resist, alright, just one kiss
Then you should probably leave
I won't tell you how this story is gonna, but the song is a lovely one. Quite a nice rhythm and groove. Love it.
14. Nashville, TN
Ain't there a better local reference to finish a country album with than Music City? And with a slow, acoustic track, this song is simply a beautiful and deep love and thank you letter to the town which created so many country stars. This album leaves no doubt Stapleton is one of them.
So long, Nashville, Tennessee
You can't have what's left of me
And as far as I can tell
It's high time, I wish you well
You build me up, you set me free
You tore down my memories
So you be you and I'll be me
So long, Nashville, Tennessee
Chris Stapleton – Starting Over – Spotify
Here is Starting Over on Spotify:
Chris Stapleton – Starting Over – My View
Quite likely, you know before even listening to a single note of Starting Over that this album is likely a good one. It's a Stapleton – and this guy is just too good as an artist and too gifted as a songwriter to produce poor music. After a few songs you recognize that this one is going to be great – and finally, after 14 songs, you feel like being on a lovely musical travel with a lot of country, rock and a touch of blues. Stapleton is magic – and this album is one of the best of the year, indeed.
Top Pick Country Media Reviews
Here are all other country music media reviews, which have been awarded with Top Pick! status:
Country Music Interviews on Flyctory.com
Here are all country music related postings in my Spotlight interview section: