The have been the Cool Kids in 2013 and had worldwide success – since this hit, Echosmith did not leave too much impact in the worldwide music market. After a couple of EPs, they are back with their second studio album Lonely Generation, which they released on 10th January 2020.
Echosmith – About the Band
Echosmith is a band of siblings, originated in Toluca Lake, California. The original lineup of the band consisted of Sydney, Noah, Graham and Jamie Sierota. The eldest sibling Jamie left the band in 2016. The band formed in 2009. Some four years later, they received the first major reputation, by being named as one the 100 Bands You Need to Know by Alternative Press. Cool Kids has been released in 2013 as well. However, the song started slowly and reached their chart peak positions in 2014 or even 2015. In Germany, for example, you find the song in the Top 100 of 2015, but neither of 2014 or 2013. The song has 120 million impressions on YouTube only. The latest releases of the band are dated as of  2017, with the EPs Inside a Dream (September 2017) and An Echosmith Christmas in November 2017. Only the non-album single Over My Head produced a chart placement in this period, though, peaking 23rd in the US Adult Billboard charts.
Echosmith – Lonely Generation – Track by Track
The album contains of 12 tracks. The playing time is 41 minutes.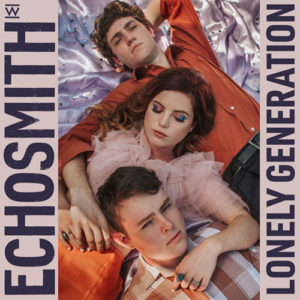 1. Lonely Generation
Do it the classic way – the title track is the opener of the album. The song has been released before the album already. It does have a certain touch and nice melody.
2. Diamonds
The melody of this one somehow gives me a light Cool Kids feeling… But in a way like you are eating a cold hamburger and imagining how it has been like two hours ago when it was made. Such a shame, I like what I am listening to – somehow – but I feel it could be much better.
3. Cracked
Echosmith are able to produce nice pop music, for sure. In  a song like Cracked, I just deeply miss these special moments. And keep on missing them til the songs end.
4. Shut Up and Kiss Me
With a bit more rhythm, this is having a bit more of a dancing song touch, which makes it easier to get into the song.  Unfortunately, the voice of Sydney Sierota is doing one of the weakest performances of the whole album. Still, it has a certain stay-in-mind potential.
5. Stuck
Stuck is one of the best tracks of the album to me. Very catchy melodies, easy and lovely to listen to. Good one.
6. Last Forever
To me, Last Forever is a typical song, which not bad at all, but even if you listen to it ten times, it just does not want to touch you.
7. Everyone Cries
A ballad, just played with the piano. Just makes it an impressive and memorable track. Also in that combination, the voice of Sydney Sierota is outstanding to me, compared to her siblings. Especially in this song, some passages her brothers sound too untalented to me.
8. Scared To Be Alone
I don't like the beginning of the song at all. With the first chorus, it gets slightly better, but overall, it is not a song which really adds value to the album to me.
I'm pulling up to an empty street
Nothing to hear but myself breathe
I'm too afraid of what I might be
I'm too scared to be alone right now
Headlights on with nothing to see
Radio's on just to give me some peace
Wish I could say it's a figure of speech
But I'm too scared to be alone right now
9. Lost Somebody
Lost Somebody is an interesting track (in a straight sense, not using it as another word for crap). Especially the beginning sounds good, but is quite unusual. One of the best melodies of the album, definitely. Lyrics are like a Vengaboys song, though.
10. Love You Better
Towards the end of the album, Lonely Generation becomes a bit more widespread and experimental. I like that. Love You Better is a nice song – and in contrast to its predecessor, there are at least some lyrics.
11. Follow You
I love Sydney Sierota's voice – thus, this track has an easy chance to hit me right in the heart. Simple arrangement with classic and electronic soft sounds in the background and huge concentration on the vocals. Love it!
12. I Don't Wanna Lose My Love
The album concludes with the longest track of the album. It tries to work with atmopsheric sounds, electric sounds, with a strong voice – but finally, it does not catch me at all.
Echosmith – Lonely Generation – Spotify
Here is the Spotify widget to pre-listen to Lonely Generation:
Echosmith – Lonely Generation – My View
So far, Echosmith have a definite "One Hit Wonder Label". Sometimes, a song like Cool Kids feels like a sword of Damocles to your career. Whenever you release new music, it will be compared to this one song. To make it short: Lonely Generation has some good songs, some average and also the other ones. I personally would love to have Sydney Sierota solo, she could be amazing.I doubt that this album will bring Echosmith back to the top of the charts, but after I was not at all fond after listening to it the first time, I have to admit they did a very decent job.
Flyctory.com Media Reviews
Here are all CD, book and movie reviews: