Which album would suit better this week to be the preview on Flyctory.com than Stephen Jay's Vita Beata? Just in line with the tour start of Weird Al Yankovic, Jay released a new album, which you can already order (and pre-listen) an Stephen's website since a week – on 1st May 2022, it will also be available on streaming platforms. I just had to write the review after the Weird Al show on Day 2 in Poughkeepsie of my April 2022 trip. Here is my review of the new solo works by the parody superstar's groove machine.
Stephen Jay – About The Artist
Eugene Stephen Jay (sometimes also Steve Jay) is an US-American bassist. He is born on 26th January 1951 in Detroit. He is most well known to be part of Weird Al's band, which he joined in 1982 after answering to a newspaper ad. However, he also lived in Africa and studied African dances and drumming there, which lead to three albums. Another rather famous collaboration is Ak & Zuie, an ethno-funk duo he is part of. Since the 1997 Sea Never Dry, he is also releasing solo albums. Nine of them can be listened to on his website, but his Wikipedia page lists a total of sixteen long-play recordings, excluding Vita Beata.
Stephen Jay – Vita Beata – Track by Track
The ten track album lasts 33 minutes.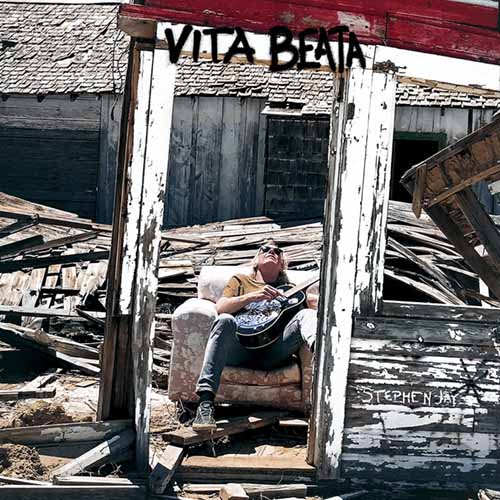 1. Vita Beata
In this opener, Jay works with Will Magid on the trumpet and percussionist Luke Notary. The track is having a African / world music touch, with a strong bass groove. A bit of funk as well. Hard to describe, but definitely a cool listen.
2. Short Sleeves
Many of the songs on the album concentrate on the instrumental performance – but Short Sleeves is working with two vocalists, Victor Wooten and Hannah Jay. Another family member, Stephen's son Ian, is drumming. The key melodic line of the song is provided by Howard Levy on the harmonica, though. The almost three minute track has a lovely groove. Finally, Stephen Jay is just the mastermind in these ten songs.
3. Two Potato
For the third track, Stephen is joining his daughter-in-law at the microphone. The eight string bass is creating such a powerful groove. A lot of funk touch again, but also with a strong indie-touch. Great demonstration of the artist's musical talent, even though I prefer some of the "straighter" tracks.
4. What Town it is
Two Weird Al melodic masters collaborating: Ruben Valtierra on the keyboard and Stephen Jay on the bass and piccolo bass is just an amazing musical treat. Gives a bit of jazz feeling. Love it!
5. Ataraxia (The Perfect Fifth)
Ataraxia (The Perfect Fifth) just using bass instruments, the piano organ and drums is another instrumental track. A four minute track, which works with developing melodic lines and thus also might be a favorite for jazz lovers as well. I definitely enjoy the listen, too.
6. Alone and Confident (The Minor Chord)
Miles Jay playing the bouzoq leads to a very different listening experience in this sixth song. Family collaboration with Ian on the drums and daddy Stephen doing the rest of the stuff. Strong indie touch.
7. Fortunate Ways
The 2:20 minute Fortunate Ways is the shortest track on the album. A dramatic touch, good storytelling, in which Liz McBryde at the violin is adding the signature sound of the track. One of my favorites, very catchy melody.
8. Shepherd's Pie (The Minor Sixth)
One thing I love about this album is the vast range of instruments used. Stephen Jay is not only a massive bass player, but also such a great expert in knowing and using exotic musical instruments. This eighth track features the lyra as well as the masenko (or masenqo), a single stringed bowed lute typically used in Ethiopia. The song just feels new, exciting – you have to listen to these uncommon sound.
9. To Intuition
To Intuition is a lovely folk music track, which is a beautiful duet of Hannah and Stephen Jay just using a very limited range of instruments (Stephen playing tenor guitar and bouzouki as well as Howard Levy on the harmonica). This turns this second last song to one of the most intense listens on the album.
10. Telenergy Remix
"Me, myself and I" – the closing song is solely featuring Stephen Jay himself. The song is really feeling like a remix, working with a lot of sounds and samples. A bit of chaotic, but also very fascinating.
Stephen Jay – Vita Beata – Streaming
You can listen to the album and purchase it on Stephen Jay's website. As said above, streaming platforms will join on 1st May 2022.
Stephen Jay – Vita Beata – Track by Track
If you listen to this album, you are either a die-hard Weird Al fan and just feel obliged to do so – or you love excellently produced songs. If you need a party soundtrack for your Saturday night dance, this is not the album you are looking for – and you know it in advance. Vita Beata is masterful, even though it feels rather simple. It shows a wide range of music. And it illustrates the great skills of Stephen Jay (and his whole family, by the way). Yeah, I am a bit of balanced, but I don't need to be so to state that this one is excellent.
Best Media Reviews in 2022
Here are all my Media Reviews of 2022, which ended up with a rating better than 4.5:
Instrumental Music
Here are all postings about Instrumental Music: