Sarah Lombardi's career started with a bit ups and downs in the German version of American Idol. Three years after her last longer solo release, she has been releasing a new album on 23rd April 2021. It is called Im Augenblick ("Currently"). Here is my review.
Sarah Lombardi – About the Artist
Sarah Lombardi was born as Sarah Engels on 15th October 1982 in Cologne. She grew up in Hürth South of the Rhineland metropolis. She became famous for taking part in Deutschland Sucht den Superstar, the German equivalent of American Idol. While she struggled with learning lyrics and thus had to leave the show in early stages twice, in 2009 and 2010. She made it to the Top 15 in 2011. Even though the did not get sufficient public votes for the Top 10 live shows, the jury pushed her into the shows. She did not survive the public vote again, but came back as another contestant had to withdraw due to medial reasons later. Thereafter, the public loved her. She made it into the final show, where she lost against her future husband, Pietro Lombardi. They married in 2013 and split up in 2016.
After the talent show, Sarah Lombardi's debut album Heartbeat made it to the second spot in the album charts in Germany. The album placed fifth in Austria as well. Two singles, Call My Name and I Miss You (with P. Lombardi) made it to the the second place in the German charts. After Heartbeat, she recorded two albums with Pietro Lombardi, sold as Sarah & Pietro. The albums had average success. The songs were recorded in German. Sarah Lombardi released a second solo album, Zurück zu mir ("Back to me") in 2018, which made it roughly to the 20th place in Germany, Austria and Switzerland.
Sarah Lombardi – Im Augenblick – Track by Track
The twelve song album lasts 35 minutes.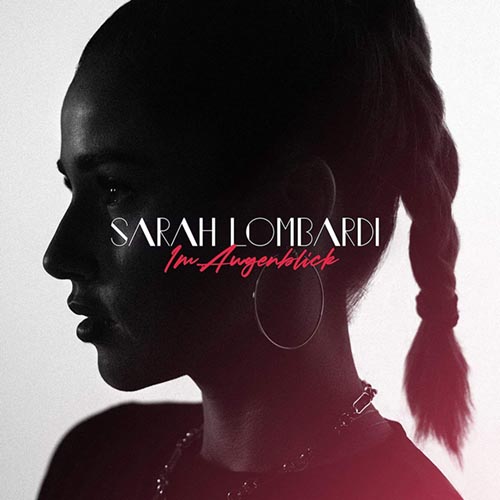 1. Te amo mi amor
Even though the title of the opener is Spanish, the song is quite German – apart from this one sentence, which is used as often as possible in the track. The song is a nice schlager-pop track with a touch of sunshine and Latin rhythm. Good one.
2. Flügel in Gedanken
Ich trage Flügel in Gedanken
Zeit, sie endlich aufzuspannen
Steige nach oben, will nicht landen
Weil ich mehr erreichen kann
("I carry wings in my thoughts
Time to span them finally
Raising high, I don't want to land
As I can manage to reach more.")
Sarah's voice feels a bit of thin in this song to me. Overall, it is not a too bad song. Very rhythmic song with different moods – sometimes melancholic and thoughtful and sometimes quite energetic. Especially the background sounds and music give a very nice and characteristic touch. Not too bad at all.
3. Love Is Love
The third song Love is Love is too close to Haddaway's 1990's dance track What Is Love. If I look into the reviews on streaming platforms, people seem to love this sound of Sarah Lombardi – but I have to say that I feel that this song is too thin to me.
4. Bailando con fuego
Fourth song – and after dancing 1990's style in the song before, Lombardi is now dancing with fire.
Bailando con fuego, bailando con fuego
Ich bin das Feuer, du das Benzin
Komm'n wir zusamm'n, dann wird's explosiv
Bailando con fuego, bailando con fuego
Du weißt, wir beide tun uns nicht gut
Haben es mehr als zweimal versucht
("Dancing with fire, dancing with fire,
I am the fire, you're the gasoline,
If we get together, it is becoming explosive
Dancing with fire, dancing with fire,
You know that we're not good for each other,
we tried it more than twice.")
The song is a typical schlager track. I would sometimes wish for better lyrics. But Lombardi spreads some positive moods here. Thus, she feels to be be fulfilling her artist's mission with Im Augenblick so far.
5. Ich
Ich ("I") is a rather slow song, again coming with a Latin / Spanish music touch (even though it comes without Spanish lyrics this time). Sarah Lombardi does magical work here: I really cannot say that I feel that the song is great… On the other hand, it is quite an "earworm" and you keep it in mind and move and enjoy it. Thus, she is doing well.
6. Verliebt
Verliebt ("In Love") is a nice ballad. Again, I struggle a bit with the vocal performance, but overall, it is a nice song and a nice intimate contrast to the rhythmic tracks before.
7. Roter Faden
Roter Faden may not be the most catching song of the album, but it is a pretty good production. The song is a nice composition, which is not too kitschy, but comes with a nice pop vibe. Really enjoy the listen.
8. Im freien Fall nach oben
A bit of grotesque: the song is about "Free falling upwards". I would see this track to be one of the weakest ones of the Im Augenblick collection.
9. Zoom
Oh, oh, es hat zoom gemacht
Ich denk' an dich im Minutentakt, yeah
Oh, oh, was hast du gemacht?
Du knockst mich aus wie ein Uppercut
("Oh, oh, it has made "Zoom"
I think about you every minute, yeah
Oh, Oh, what have you done?
You knock me out like an uppercut.")
The song comes with a really beautiful summer vibe. I would, however, love to be less proficient in German. Is that a law that any German schlager album needs to have at least one song which has absolutely nonsense lyrics?
10. Alles auf Rot
Alles auf Rot almost has a touch of electronic pop. This one the one hand leads to a nice new touch and a song with a different feeling – on the other hand, the song is not really strong.
11. Einen Anruf entfernt
The last song on the album (before an alternative version recording) means "A call away". The song is a beautiful piano ballad. Good one.
12. Ich (Acoustic Version)
The album closes with the acoustic version of Ich. Not too bad, this recording leads to a really nice, intimate touch – and it is a suitable finale of these 35 schlager minutes.
Sarah Lombardi – Im Augenblick – Spotify
Here is Im Augenblick on Spotify:
Sarah Lombardi – Im Augenblick – My View
Yeah, here and there, I am struggling with Im Augenblick. Some songs are a bit too easy, too thin – and some just do not sound like an artist, who almost won Germany's most popular talent show (here is a posting about the 2021 edition of DSDS). But apart from that, I feel that Sarah Lombardi is doing really good. I like that there are just a few schlager songs and that most of the songs rather come with a pop music touch. Not that slobbery, too emotionalized kind of music. I definitely enjoy listening to her 2021 album.
Music & Media Postings of the Cologne Region
Here are all my Music & Media postings related to the region around Cologne.
Traveling in Italy
Here are all travel-related postings about Italy: