Neil Young – one of the very big names in music business. Whenever Young is releasing new music or a new album, this is definitely a special moment for the industry. On 19th June 2020, he released Homegrown – in fact, the album has been recorded in 1974 and should have been released in 1975. It just "felt to be a bit too private". 45 years later, the legend reveals this piece of intimacy.
Neil Young – About The Artist
Neil Percival Young was born on 12th October 1945 in Toronto, Ontario, Canada. His musical life is just amazing, he also worked in several projects like Crosby, Stills, Nash, and Young and wrote and produced for a lot of well-known acts.He won three Grammy Awards, seven Junos and This Note's for You was the Video of the Year at the MTV Video Music Awards in 1989. He partially grew up in Winnipeg, where he also made the first steps of his musical career. In his early years, we went solo, but also was part of Buffalo Springfield, which was a quite successful band in the later 1960's. One of his most legendary solo albums is the 1972 Harvest, which is also the first one to top the charts in his home country. He also recorded frequent albums with certain bands – the most prominent one is definitely Crazy Horse, but Lukas Nelson's Promise of the Real joined Young in the studio and on tour twice as well. Young's most successful single is Heart of Gold, which is part of Harvest.
Neil Young – Homegrown – Track by Track
The twelve track album lasts 35 minutes.Between 1975 and 1980, six tracks of the Homegrown recording session made it to other albums. Three of them, Star of Bethlehem, Love Is a Rose and Little Wing are part of the Homegrown album.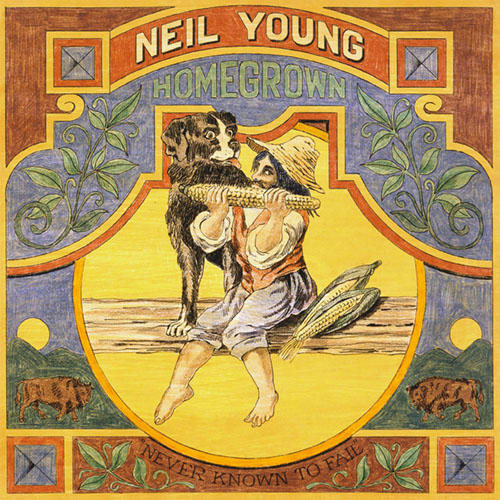 1. Separate Ways
And it's all because of that love we knew, babe
That makes the world go 'round
Yes, it do, yes, it do
Well, it's all because of that love we knew, babe
That makes the world go 'round
Separate ways
It was clear that the album would be a very personal look back in time. A breakup album – Separate Ways thereby sets the initial mood, a direction, for the twelve tracks.  Good one.
2. Try (feat. Emmylou Harris)
Try feels comparably light and easy. Not the heavy and deep stuff which I was rather expecting. Is this music really 45 years old? The song feels quite modern, still.
3. Mexico
Mexico feels like an interlude of the album. A deep, melancholic 1:40 minute track. I said that Try feels quite light and easy – this song is definitely on sad side.
Think I'll go to Mexico
Gonna take my time and go down slow
Making love in Mexico
Think I'll go to Mexico
Oh, those sandy beaches
Daddy is a travelin' man
4. Love Is A Rose
Love is a rose but you better not pick it
It only grows when it's on the vine
A handful of thorns and you'll know you've missed it
You lose your love when you say the word mine
A track with acoustic guitar and harmonica. The track is again quite short, just 2:17 minutes.The harmonica gives some ease and happiness, but also the arrangement (which feels quite old-fashioned) and the lyrics go quite deep.
5. Homegrown
The title track of the album is the first track which really gives me a deep 1970's feeling. Again, a compact production, but really nice song, which I enjoy listening to.
Homegrown's alright with me
Homegrown is the way it should be
Homegrown is a good thing
Plant that bell and let it ring
6. Florida
Florida is a unique part of Homegrown, definitely. Just some background sounds, Neil Young and Ben Keith and telling a strange story about a sailplane crash.
7. Kansas
Kansas is another track, which feels just like a small fragment, an episode.
I feel like I just woke up from a bad dream
And it's so good to have you sleepin' by my side
Just guitars and harmonica again. Deep – and then it is done.
8. We Don't Smoke It No More
After all the quite short, sometimes also quite strange songs, it is good that Homegrown offers some melodic parts again. We Don't Smoke It No More gives a classic blues touch. Close to an instrumental track, the vocals are nearly just the title, We don't smoke it no more (there are two verses at the beginning). Nice atmopshere, good guitar play.
9. White Line
White Line is another quite melodic track. The track has already been released in another version on the Ragged Glory album by Crazy Horse, here it is quite minimalist and intimate, though. Nice one.
10. Vacancy
Vacancy has been released before the album, but in fact, it is the last of the "lost tracks" of this album. That's classic Neil Young rock music style – fans will love it!
11. Little Wing
As said, Neil Young fans know the last two songs, as they have been released in other albums already. Little Wing has been published in 1980. Classic Neil Young sound, the harmonica part at the end is giving a special touch, definitely.
12. Star Of Bethlehem
Yet still a light is shining from that lamp on down the hall
Maybe the star of Bethlehem wasn't a star at all
Star of Bethlehem just feels like the perfect fit, the perfect finish for Homegrown. A travel back in time.
Neil Young – Homegrown – Spotify
Here is the Spotify link to Homegrown:
Neil Young – Homegrown – My View
Interesting to go back in time by 45 years. Thrilling to feel the feelings of Neil Yound in the mid-1970's. But of course, it is also confusing. If you are a Neil Young fans, you will praise this album, which is just like a missing link in the Harvest era. It may also today work as a perfect illustration of great 1970's music. That's what the album is: a great one – but a bit out of time. If you are open-minded enough, you will enjoy a great time travel.
Canadian Media/Music Reviews
Here are all my media review postings related to Canada:
Postings about Concerts
All postings about concerts I visited: