Drug abuse, being jailed for robbery – Jaime Wyatt already had quite some negative experience arriving in Nashville as a very young artist. But her talent feels to be outstanding – she survived all that and is now a growing recording and touring artist. Neon Cross is her debut album, which Wyatt released on 29th May 2020.
Jaime Wyatt – About The Artist
Jaime Wyatt was born in Los Angeles, but grew up in the state of Washington. At the age of 17, she decided to pursue her musical career and move to Nashville. Her first steps were very mixed. After she lost two record deals, she ran into a drug problem and finally even was jailed due to robbing her dealer. She survived this time and ran into songwriter John Durrill, wo suggested her to perform Misery and Gin, which he originally wrote for Merle Haggard in the late 1970's. This track became her first single and also part of her debut EP in 2017, Felony Blues. Neon Cross is Wyatt's debut album.
Jaime Wyatt – Neon Cross – Track by Track
The eleven track album lasts 43 minutes.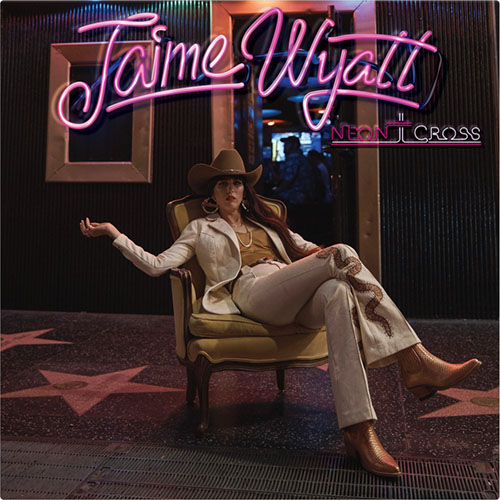 1. Sweet Mess
The album starts with that slow piano ballad. Very moody, nice track – definitely enjoy listening to it. By the way, the song is also comparably long – 5:45 minute.
2. Neon Cross
Neon Cross has definitely more speed and rhythm, compared to Sweet Mess. The title track is a nice modern country track – good listen.
3. L I V I N
Three songs, three very different styles: L I V I N is very classic country music style, touch of bluegrass. Jaime Wyatt shows great talent and variety already in the first third of the album.
4. Make Something Outta Me
What I love about this album, at least so far: Jaime Wyatt is doing her thing. You have four very different styles of music – but it feels absolutely authentic and not like a struggle for musical orientation. Again, the song is a great listen.
5. By Your Side
The more I listen to Neon Cross, the more I love the album. And By Your Side is again a very different musical aspect Wyatt is presenting: we are back in the slower songs, very accentuated and extremely intense. The song embraces me, catches me with his soul-style classic country sound. Five minute masterpiece!
6. Just A Woman (feat. Jessi Colter)
What a duet – Jaime Wyatt pairs up with the 1943 country music legend Jessi Colter. The track is a four minute slow lovely duet. I'm just a women – what do I know? At least you know how to write damn good songs!
7. Goodbye Queen
After that section of slow and thoughtful track, Goodbye Queen is presenting happier sounds. Honestly, when I listened to the album the first time, the track did not catch me too much – which was definitely a fail. The more I listen to it, the more I love it.
8. Mercy
I just feel I have to mention that I love that Jaime Wyatt takes her time. During the last weeks, I got a bit tired of these Nashville-streamlined 3:00 to 3:30 minute productions, where you find each chorus on the Amazon player with a quick click. Mercy is 4:17 minutes long. Wyatt's voice is dominant on that track, which gives a very intimate atmosphere. Cool!
9. Rattlesnake Girl
The lively Rattlesnake Girl makes you feel like dancing again! After a couple of slower songs it is good to be back on the move.
10. Hurt So Bad (feat. Shooter Jennings)
Shooter Jennings, who produced this album, joins Jaime Wyatt, for a very straight country duet. A lovely track for a drink at a honky tonk.
11. Demon Tied To A Chair In My Brain
Strings attached – the final track feels very dark and also gives a new sound to Neon Cross. Wow, I fell in love to Jaime Wyatt's tunes in eleven tracks. Nice finish!
Jaime Wyatt – Neon Cross – Spotify
Here is the Spotify widget for Neon Cross:
Jaime Wyatt – Neon Cross – My View
Jaime Wyatt, I feel bad towards you. The first time I listened to Neon Cross, I thought like "Damn, why did I chose this album for review?". The reason is so simple: because it is damn good… I more and more love what I hear. The album has so many facets and different aspects – and it is always high quality. That is songwriting how I love it. And an album which you should definitely give a listen to.
Media Reviews – Women Country
Here are all my music reviews of female country music artists:
Other Top Picks
Here are all other reviews which I rated as excellent and assigned the Top Pick! Award: