One week – three albums: Just two weaks after the Easter bunny gave us a bunch of lovely Easter eggs and maybe some presents, the late delivery is by Eric Church. A trilogy by "The Chief" – three albums within eight days – just feels to good to be true. The starter will be Heart on 16th, followed by & (and) on 20th and completed by Soul on 23rd April 2021. Some bad news for "normal" country fans: the middle part of the Heart & Soul triple, is an exclusive release for Church's fanclub members. This is the review of Heart, the two other albums will follow on a daily basis (or are already linked if you don't read this posting on the day of publication). Enjoy the first part of 24 songs and 86 minutes country music by Eric Church!
Eric Church – About The Artist
Kenneth Eric Church is originally from Granite Falls, North Carolina, Northwest of Charlotte. He was born there on 3rd May 1977 and is now – of course – living in Nashville. He started to become a professional musician quite late, in 2005. One of is first big steps into the country music scene was a co-write of Terri Clark's 2005 single The World Needs a Drink. However, in 2006, Church already released his debut album. Sinners Like Me made it into the Top 10 of the US Country charts. This was also due to the fact that the debut single How 'Bout You went into the Top 25 in the USA and Canada. Later, Guys Like Me was Church's first platinum record in the USA. After the album Carolina in 2009, which peaked fourth in the US Country charts, Church released for albums in the 2010's. Chief was his absolute breakthrough topping the US and the US country alvum charts and selling close to two million songs in the US only. None of his four 2010's albums places worse than second in the US country charts (and 5th in the overall charts)
Heart & Soul are his seventh to ninth albums.
Eric Church – Heart – Track by Track
Heart contains nine songs and lasts 31 minutes.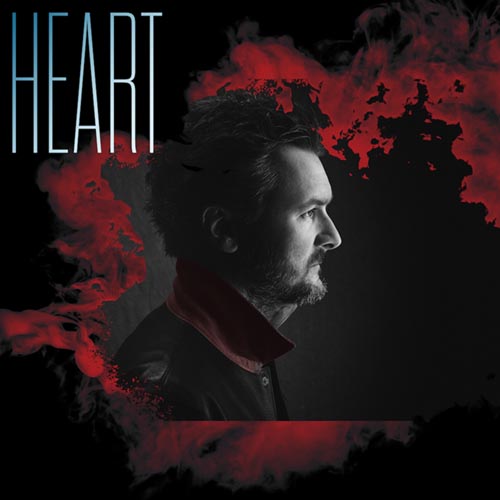 1. Heart On Fire
The trilogy starts with a powerful country rocker: Heart on Fire is a typical Eric Church song – fans will love it, others might become fans and join. A very straight song, which bears the hallmarks of "The Chief" over all four minutes. Promising start.
2. Heart Of The Night
Heart Of The Night is quite a contrast to the opener. The song feels almost angry here and there, while it has other parts, which are very fluent, melodic, harmonic. Pwerful guitar chords change with piano sounds in the background. A three minute Eric Church symphony, which more feels like rock than like Americana / country music. But definitely one of my favorite listens of the album.
3. Russian Roulette
Ain't nothing gonna kill these horses tonight
But a song like a bullet from a dashboard light
Gettin' shot through the speakers both left and right in stereo
Messin' up my head, playin' Russian Roulette with the radio
Russian Roulette reminds me of some Billy Joel songs – but the song definitely also comes with the Eric Church sound signature. The piano partially feels to take over the role of the key rhythm machine, when the same chord is hit into the keys again and again. After the bridge, the song might also be a good option for classic rock lovers. Eric Church offers tunes for everyone.
4. People Break
The fourth song of Heart comes with a lovely acoustic guitar melody line.
People break people try
Things happen people cry
Someone leaves love dies
Someone changes their mind
Baby I get it I really do
But now I gotta go and do the hardest part
Break the news to a broken hеart
The song comes with a lovely beauty and concentration on the feelings of the story told. Four very different songs of this album so far – and even though there are still twenty more tracks ahead of me, I feel it will be a great time!
5. Stick That In Your Country Song
Take me on up to Detroit City
Jails are full, the factories empty
Mama's crying, young boys dying
Under that red, white, and blue still flying
Drop me off in Baltimore
Where every other window's got a plywood board
Where dreams become drugs and guns
The only way out is to shoot or run
Stick That In Your Country Song was the first appetizer to this epic project – and it is one of the best messages in a country song in the last. Church challenges the (country) music industry to care more about the really socially relevant topics. Not just his lyrics and his vocals feel to be angry about the too mainstream-ish and stereotype type of songs released. Even the guitars feel to cry angrily. Masterpiece!
6. Never Break Heart
Don't let fear steal your brave heart
Don't let doubt take your faith heart
It's okay to cry
But don't never break heart
I just had to smile about this combination of song: right after his powerful message to the music industry, Church presents a song, which is having a comparably mainstream touch. Finally, it is of course still a Church, the masterly expertise in songwriting and arranging skills of Church lead to a very insistent listener's experience.
7. Crazyland
The seventh song is again a song, which fascinate me in the wide range of style and moods, which Crazyland is pushing into just 2:39 minutes. A lovely piano bridge, very thoughtful episodes – and one part even feels like a slowed down Luke Bryan song. It never sounds put on, it is never chumming up, it always feels classic and mature. High class music with a bit of a more classic country touch.
8. Bunch Of Nothing
Bunch Of Nothing is a traditional country song, which is very uptempo and could thus be a nice honky-tonk one for country fans with quick feet. In these first eight songs, Eric Church gave me so many different kinds of emotions. While this song, I want to dance and listen to the lovely instrumental performance.
9. Love Shine Down
Love Shine Down is a fascinating track at the end of stage 1 of Heart & Soul. It has the the iterations and the style of a prayer song or gospel, the melody reminds me of some 1980's happy mood albums. In the final minute, the song has much more powerful moments and the multi-vocal outro is definitely a catching moment which feels like a farewell to Heart but also like a motivation to keep on and listen to Through My Ray Bans (at least if you are a Church Choir members).
Eric Church – Heart & Soul – Trilogy (Links)
Here are the links to all albums of the trilogy. I will add them once the reviews have been published:
Eric Church – Heart – Spotify
Here is the Spotify widget to the album:
Eric Church – Heart – My View
Episode 1 completed – the first nine songs of this trilogy is done. I already listened to a great album, which is maybe a bit of short. But Eric Church gives me a tough task to identfify any weakness in Heart. I am so much looking forward to what lies ahead – and am thankful to what I was gifted to experience with him already. As I rate all three albums separately, it feels needless to say that Hearts is in the Top Pick! ranking zone. It is just too good.
Country Music Interviews on Flyctory.com
Here are all country music related postings in my Spotlight interview section:
USA Travel Top Picks
Here is my list of travel reviews about the US, which lead to my Top Pick! rating award: