I try to improve Flyctory.com steadily and enlarge your visitor's experience. I felt that there is so much music on the website that it might be cool to share some of my music with you in other channels. Thus, I decided to introduce the Flyctory.com Country Music Playlist on Amazon Music Unlimited and Spotify. There is also a designated page, which also gives you the current selection of songs. You can access it via the Music & Media menu: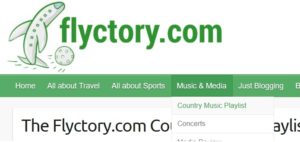 Idea of the Flyctory.com Country Music Playlists
For those of you who like the genre already, I felt to share my favorite songs with you – maybe you like them as much as I do. Flyctory.com, however, is especially focused to promote country music (and other emerging artists). Thus, I hope that the Flyctory.com Country Music Playlist gives you an impression about how versatile country music is – and maybe also that it is not as bad as you thought it to be.
40 Song Playlist
The playlist contains 40 songs. I felt that this is not a too bad size – it will lead to a playing time of some 2:00 to 2:30 hours. I want to present you a good mix of tunes which I feel are worth listening to. In my initial setup, there are big names of the business like Miranda Lambert or Keith Urban, but also young artists like Christina Taylor, the Dutch Sylvia Aimee or Andy Clark, whose debut album will be reviewed on the website next week. There are new songs as well as more classic ones like Drunk On A Plane by Dierks Bentley. Of course, there are songs by the Flyctory.com Featured Artists (if they are country) like Kenny Foster, Sarah Darling, Twinnie or Lauren Jenkins. The playlists on Amazon and Spotify are equivalent.
Weekly Rotation
Boring? I will try to update the playlists on both platforms in parallel once a week. Currently, I feel to replace three songs each week (edit: Finally, I felt that a rotation of five is better). By that, I hope that there is always a nice mix of reliability and new songs.
Share Playlist?
Want to share the playlist? The link is https://open.spotify.com/playlist/5ZadTwneocm6EeDmLMP4cG?si=hknVxNxDToKhh-JkfQU3eg
Ten Weeks Later
On 3rd November 2019, I published this review over the first ten weeks of the playlists.
The Links
I added a designated page for the playlists in the Music & Media menu, on the very top. I plan to weekly inform you about my playlist updates there as well. The banners below directly lead you to the playlists on Amazon and Spotify
Please Feedback!
I am completely new to managing playlists, so I might not always meet your expectations. I am very thankful for every feedback, either via the feedback form of the website or social media.
Flyctory.com on Social Media
Flyctory.com is active on the following social media platforms:
Furthermore, you can follow the weekly updated Country Music Playlists on