So good to have a new one from The Cumberland River Project: one of Germany's finest manufacturers of country music is releasing a new album on 24th June 2022. I already had a listen to A Smell of Gravy and share my thoughts with you.
The Cumberland River Project – About The Artist
The Cumberland River Project is in fact located at the rivers Ruhr and Lenne: the mastermind behind the project is Frank Renfordt. The Hagen resident founded the project, which works with different studio musicians and vocalists. The initial long-play release, a self-titled album in 2020, was already a huge listen. You can also learn more about the project in a Spotlight interview I had with Frank in April 2020. A Smell of Gravy is the second album under that label.
The Cumberland River Project – A Smell of Gravy – Track by Track
The fourteen track album lasts 47 minutes.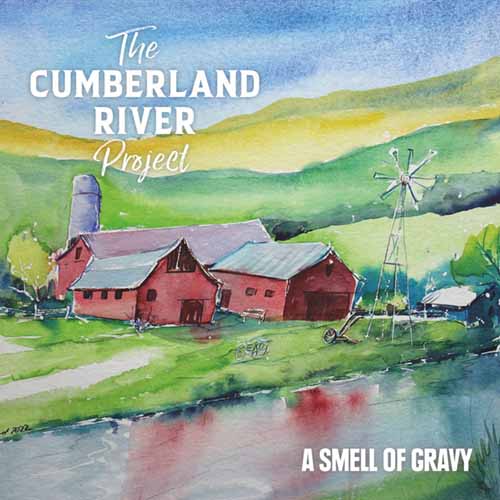 1. A Little Love (feat. Brittini Black)
The opener of the Frank's 2022 song edition is a bummer already: the gentle voice of Brittini Black creates a beautiful country-pop sound, which is just so good. German radio stations, why don't you feature this one more frequently? Amazing song – I feel much more than just A Little Love for it.
2. Missing Girl
Missing Girl feels much more country – not only due to the strong influence of the steel guitar in the background. Frank Renfordt illustrates his beautiful, picturesque songwriting skills in this track (and in many more ones of the album).
My missing girl
My vanished fantasy
Forever, there will be
A burning in my life
This constant thorn
In my ever-bleeding heart
We live worlds apart
No one can make it right – any more.
3. She Drives Her Own Truck (feat. Matt Dame)
The first three songs already illustrate another big skill of this project: the songs are very different, lay out different stories and sound. One factor that the album feels so entertainign and versatile is – of course – the altering set up on the microphone. But She Drives Her Own Truck is also just a beautiful-to-listen country rocker.
4. Those Moments
The song is opening with a keyboard melody, while there are some marimba-alike tunes later during the track. They give a nice touch of sun, Caribbean and summer in this pop-alike song, which just cannot deny a certain level of kitsch.
5. Joanne (feat. Dave Demay)
Not really an increase in kitsch level, but an emotional ballad. Dave Demay makes the listener fall in love with Joanne as much as the songwriter. The song feels a bit nostalgic and traditional, but is a nice listen.
6. House In A Row (feat. Misko)
The versatility of A Smell of Gravy is not only defined by the different kinds of atmosphere The Cumberland River Project is presenting. Frank Renfordt is also nicely working with different instruments – for House In A Row, he is using the warmth of the pan flute. The album stays at the emotional side – together with Misko, it presents a flowing folk-ish melody in here.
7. Back You Up (feat. Jessie Morgan)
I'll back you up when no one else will fight beside you
I'll keep you safe in the lowest place you find yourself
No matter how deep the swamp we have to wade through
How ever long it takes to help your dreams come true
I'll be your tailwind when you're running out of luck
I will always back you up.
Do I need to say more about this song? Again, an amazing write by the German artist, which perfectly works out with the acoustic guitar and the strings in the background and Jessie Morgan on the microphone. Close your eyes for these 3:14 minutes and enjoy.
8. You Can't Make Someone Love You (feat. Michael Antony Austin)
For this track, Frank Renfordt joined forces with Michael Antony Austin. The tenor from Essen, Germany, was one of the contestants at the German version of The Voice. His vocals again add a very different touch to the album. A really nice track somewhere between pop and rock.
9. Mount Everest
From the German Ruhrgebiet to Mount Everest in 4:21 minutes? The ninth song has a lot of potential for a beautiful radio listen. Again, the project has a precise to present the story with a great backing on the melodic side. Even though this song is a country track, the high guitar notes (ukulele?) give a very special and characteristic touch.
10. Aunt Marian
What makes you feel something's wrong, Aunt Marian? Definitely not this song. The tenth song on the album has a slightly darker touch, but is overall a nice, fluent country song. Nice work on the bass, which is creating a waving groove.
11. Your Fanciest Ring Tone (feat. Dave Demay)
Dave Demay is back in the role of the vocals. When he is stating that I wanna be your fanciest ring tone, there is a touch of kitsch and schlager again. Nice slow track, which is written about emotions with a lot of emotions.
12. Red River Girl (feat. Eric Trent)
Glad that I got some credits while writing the review – the voice of Eric Trent strongly reminded me of David Hasselhoff. But Trent is the better (and likely: the cheaper) choice for this slow, thoughtful song.
13. Blown Away (feat. Dave Demay)
After this almost melancholic listen, Blown Away comes with quick fiddle lines and is thus making you feel to dance. A nice contrast, which makes me smile – and also happy that Dave Demay is also being part of this album with a very different style of song.
14. Brighter Day
The closer Brighter Day is a slow, acoustic guitar track which also lives from the rather present female background vocalist. Especially in the chorus, the song has the character of a beautiful duet. Lovely one.
The Cumberland River Project – A Smell of Gravy – Spotify
Here is the album on Spotify:
The Cumberland River Project – A Smell of Gravy – My View
Okay, there is one critical key question I have about the album: why is the silo on the cover looking like a … ??? I better don't influence your imagination… The fact that I am questioning the album on this kind of level tells you already: Frank Renfordt did great again. He and the team around the album have a lovely touch to write good stories and put them into the right atmosphere. There are a lot of different stories in A Smell of Gravy – the 14 tracks of The Cumberland River Project simply cannot become bothering. A release in the very upper Top Pick! ranges.
The Cumberland River Project
Here are all my postings about the German country music The Cumberland River Project:
Ruhrgebiet
From Duisburg to Hamm – here are all postings related to the Ruhrgebiet in Germany: